Nov 19, 2010 — by LinuxDevices Staff — from the LinuxDevices Archive — 2 views
Corporate types with small fingers will find much to like in Verizon's Android 2.2-based Motorola Droid Pro, says this eWEEK review. Most business users, however, will have trouble with the tiny keyboard, let alone the small screen, and would do better with a BlackBerry.
Motorola's Droid Pro — which Verizon Wireless is now selling for $180 after a $100 rebate with a two-year deal — presents a case study in smartphones that look great, feel great in the hand, but whose user experience is wanting. That sums up the Droid Pro hardware, which I will circle back to after covering the basics of the device and what worked for me.

Weighing at an industry average 4.73 ounces, the Droid Pro (pictured) comes with a 1GHz processor and measures 4.7 inches long, 2.4 inches wide, and about a half inch thick. The screen is a compact 3.1-inch, HVGA 480 x 320 pixel display.
I used the Droid Pro as my main phone during a trip to San Francisco this week, grabbing directions and recommendations aplenty from the phone. Web browsing was decent, and I tested the Flash support by frequently using ESPN.com.
Google Search, voice search, and Google Maps did not disappoint, but the real fun happened with the new Google Places widget highlighted as a Google app. The local search app aims to connect local businesses with consumers on the go. The app taps the user's coordinates to help them find not only restaurants, bars, and other establishments nearby, but reviews, ratings, and other info about those places.
I'm not entirely unfamiliar with San Francisco, but Places helped segment eateries by cuisine type, whether they were open, and how far they are from us.
I quickly installed the new Twitter for Android and Facebook for Android apps from the Android Market, both of which were improved from the last handset I tested, the Samsung Fascinate. These apps are looking more and more like their desktop counterparts.
I used the Droid Pro to easily sync these feeds with Motorola's social networking app. I find on these Android gadgets that once you sync your social feeds by entering your ID, it makes life a lot easier to sit back and wait for the streams to come to one of the five home screens. You never have to dial up the app on the browser.
The hardware is handsome and fit snugly in the palm of my hand, bracketed by a metal band around the device as if it were a gladiator's belt. Calls were crisp and clear; I didn't get any dropped calls in San Francisco or here in Connecticut on Verizon. The device is also "global," meaning it will run in 220 countries for voice and 200 countries for data, courtesy of the GSM and HSPA radios.
The camera, a standard five-megapixel utility, was serviceable, as was the video, which is listed at "DVD quality." However, I really felt the degradation after using the eight-megapixel camera and HD videos apparatus offered on the Motorola Droid X and HTC Evo 4G. That was to be expected; this is not a media-savvy phone.
I still enjoyed snapping photos with the virtual camera button — there is no physical button for the camera (more on that later) — and "quick uploading" them to Facebook, Gmail, etc.
Battery life was below what I've been accustomed to of late with other Android units, but accurately reflected its listed life of 390 minutes. I turned it on at 8 a.m. and had to recharge it by 6 p.m. Also, the Droid Pro felt really hot when I held it up to my ear later in the day. That can't be good, especially for such a little phone.
But this is a business phone, so let's get down to business. There is 2GB of internal memory, useful for e-mail, text and applications. There's a 2GB microSD so you won't lack for room for your content.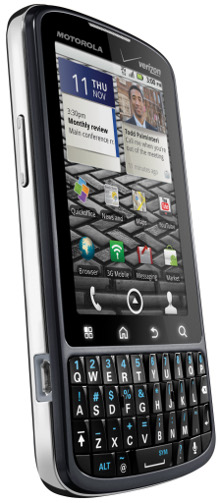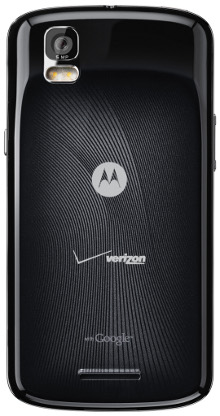 Droid Pro, front and back


(Click on either to enlarge)

I easily linked Gmail, social network updates, and Exchange accounts through the Motorola messaging widget, similar to the social network stream. Corporate directory look-up, unified Outlook calendar and sync with Google Calendar was standard, accessible by a button on the right side of the phone — the one normally used for picture-taking.
I didn't test these, but I understand there is "AuthenTec IPSec multi-headed VPN integration," remote wipe of both the device and SD card, and complex password support.
The Quickoffice Mobile Suite also comes standard on the device. One tap of this widget surfaced buttons for accessing Microsoft Word, PowerPoint, and Excel files, as well as Adobe PDFs. I expect most of us corporate road warriors still use some or all of those on-premise apps (sorry, Google), so having them so readily accessible was a bonus.
Small screen, wretched keyboard
Here are my main problems with the Droid Pro and why I wouldn't be able to use it for work or play.
The small display made it tough to work with after using the four-inch Super AMOLED screen of the Samsung Fascinate, and was positively dwarfed by the 4.3-inch palettes of the Droid X and Evo 4G.
The typing experience on the QWERTY keyboard, which aims to mimic the RIM BlackBerry experience, was terrible for me. Despite the bevels, my average-size fingers kept slipping off the keys. I would try to type a question mark, but would activate the voice search button instead.
Whether typing a business e-mail, a tweet, or Facebook status update, I longed for the flat keys on the Droid 2 I used this summer. I was stuck sucking it up because, unlike with the Droid 2, there is no virtual keyboard.
I thought it was me. But my 11-year-old couldn't get a handle on the Droid Pro keyboard, either. We were stuck — and you will be too — unless you can master the keyboard. At least the BlackBerrys are equipped with trackballs for navigation.
Overall, this was not my favorite Android phone. I loved the software, loathed the keyboard. Want a work phone for messaging, calendar sync, and top-shelf security? Go for the BlackBerry Torch, Bold, or almost anything else by RIM.
Further information
An eWEEK slide show accompaniment for this Motorola Droid Pro review may be found here.
Clint Boulton is a writer for our sister publication eWEEK.
---
This article was originally published on LinuxDevices.com and has been donated to the open source community by QuinStreet Inc. Please visit LinuxToday.com for up-to-date news and articles about Linux and open source.