Aug 2, 2010 — by Eric Brown — from the LinuxDevices Archive — views
Android has jumped past Apple for a second-place 27 percent market share among new smartphone subscribers in the U.S. during the second quarter, says The Nielsen Company. According to Canalys, meanwhile, Android subscriptions have grown 886 percent worldwide in the second quarter, while unit sales in the U.S. gave the operating system a market-leading 34 percent share.
Android phones bested Apple and its iPhone for second-place ranking in new U.S. smartphone subscribers in 2Q 2010, with a 27 percent share compared to Apple's 23 percent, says The Nielsen Company. Research in Motion (RIM) won top honors in the category for its BlackBerry OS with 33 percent, although that was down from 36 percent in the previous quarter, says the research firm.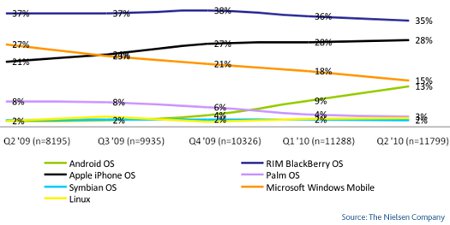 OS share of U.S. smartphone subscribers, six-month recent acquirers in 2Q 2010
Source: The Nielsen Company
(Click to enlarge)
Apple, too, dropped — from 27 percent to 23 percent — while Android rose from 17 percent to 27 percent of new U.S. smartphone subscribers during the period, says the study. Microsoft's Windows Mobile, meanwhile, trailed considerably at 11 percent for fourth place, although this was only a modest drop from the previous quarter's 14 percent.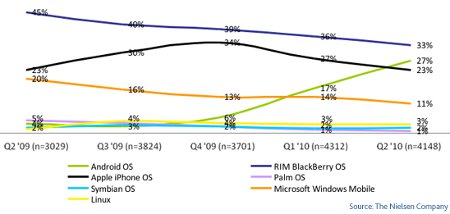 OS share of U.S. smartphone subscribers, total, in 2Q 2010
Source: The Nielsen Company
(Click to enlarge)
Not surprisingly, Android's market share for all U.S. subscribers also rose, this time from nine percent in the first quarter to 13 percent share, putting it at fourth place just under Windows Mobile (which managed to retain 15 percent share). Leading the way was RIM with 35 percent of subscribers, followed by Apple's iPhone with 28 percent, says the study.
Nielsen did not break down the market by individu

al vendors or phones, but reports have suggested that sales of the market-leading Motorola Droid (pictured at right) continued to be strong into the second quarter. Other popular phones during the period include the HTC Evo 4G (pictured below, at left), offered by Sprint.
In addition, Nielsen asks smartphone users which OS phone they're likely to choose for their next phone. Here, the iPhone was said to remain the most desired phone, finding loyalty with nearly 90 percent of current iPhone users, as well as 21 percent of Android users, and 29 percent of Blackberry owners.

Android users show the second highest degree of loyalty, says Nielsen. Some 71 percent say they will buy an Android phone again, compared to 42 percent for Blackberry users willing to return to RIM, says the report.
Aside from its merits as a phone and app platform, the iPhone is likely listed more often on the wish lists of Android and BlackBerry customers than vice versa because it's only offered by a single carrier, AT&T. Many consumers who may not want to switch carriers for other reasons, such as existing contracts, network availability, and the like, appear to still prefer the iPhone if it were available with their chosen carrier.
By contrast, Android and BlackBerry phones are widely offered by numerous carriers, although most of the highly desired models, such as the new Motorola Droid X and the HTC Evo 4G, are offered only on single carriers.
Smartphones have now risen to represent 25 percent of total U.S. mobile subscribers, up from 23 percent in the previous quarter, says Nielsen. This high-end segment should overtake feature phones by the end of 2011, says the research firm.
Canalys: Android up 886 percent worldwide
Canalys' report, which reflects global smartphone sales, shows similar strong sales for the segment in the second quarter, representing a 64 percent increase year-over-year. Android was the star of the smartphone show, posting growth of 886 percent, says the research firm, which notes "impressive momentum" around the world for the open source OS.
In the U.S., Android devices represented a 34 percent share of the US market in the quarter, growing 851 percent in the quarter, says Canalys. This percentage led other mobile OS platforms, says the research firm.
"In the United States, for example, we have see

n the largest carrier, Verizon Wireless, heavily promoting high-profile Android devices," stated Canalys Principal Analyst Chris Jones, specifically mentioning the Motorola Droid and the HTC Droid Incredible (pictured). "These products have been well received by the market, with consumers eager to download and engage with mobile applications and services, such as Internet browsing, social networking, games and navigation."
Android jumps up in China
China and South Korea both came up big for Android in the quarter, says the Canalys report. Over the last year, Android went from having almost zero market share in China to selling 475,000 units during the second quarter, says the study. And that doesn't count sales of China Mobile phones with the Android-based OMS, which is based on Android, said to represent an additional 174,000 in sales.
According to Canalys, Google's recent rapprochement with China over search censorship issues will continue to pave the way for Android growth in China.
China's smartphone market, which is the second largest in the world after that of the U.S., saw shipments of 6.9 million units, or 11 percent of the worldwide total, says the report. Symbian and Nokia still dominate in China, but Android is projected by Canalys to continue its strong growth in China.
Stated Canalys Senior Analyst TY Lau, "Motorola and Samsung, as well as local vendors, such as Dopod, Lenovo and Huawei, are achieving promising volumes on the platform, and Android devices held a seven percent share in China this quarter."
China's interest in smartphones in general is part of a wider trend toward the segment, says Canalys. This trend is projected to continue.
Stated Canalys Senior Analyst Pete Cunningham, "By 2013, smartphones will grow to represent over 27 percent of shipments worldwide, with the proportion in some developed markets in Western Europe surpassing 60 percent and 48 percent in North America."
Availability
The Nielsen press release for its 2Q U.S. smarthphone subscriber report may be found here.
The Canalys press release for its second quarter smartphone study may be found here, and additional information may be found here.
A story in our sister publication eWEEK, with additional details on the Canalys report, may be found here.
---
This article was originally published on LinuxDevices.com and has been donated to the open source community by QuinStreet Inc. Please visit LinuxToday.com for up-to-date news and articles about Linux and open source.