May 31, 2011 — by LinuxDevices Staff — from the LinuxDevices Archive — views
Though it came late to the growing tablet space, AMD is apparently about to announce a set of Z-Series ("Desna") chips for this market. The announcement, expected at a June 1 press conference, follows the May 27 leak of a company slide show on the Android Community website.
AMD has not officially said what it will reveal at Computex, but the company has announced a June 1 press conference for 10:30 a.m. in Taipei. Already confirmed via leaks from motherboard vendors are the "Llano" A-Series processors for mainstream laptops and desktops, along with companion A75 and A55 I/O controllers. But it also appears AMD will be making its' first full-throttle move into the laptop market.
According to a leaked company slide show posted on the Android Community website, AMD's Z-Series "Desna" APU (accelerated processing unit) is being designed to offer high performance and long battery life while driving down power consumption.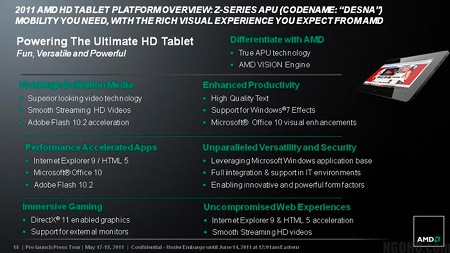 AMD's Z-Series "Desna" APU
Source: Android Community
(Click to enlarge)
The Z-Series chips are being aimed at both the consumer market — where low power consumption is critical in devices such as tablets — and the commercial space, with high productivity and security capabilities, according to the slides. The chips reportedly will offer increased battery life of up to 10.5 hours, and the performance capabilities to handle such compute-intensive workloads as high-definition video.
AMD has been aggressive in driving up the energy efficiency of its APUs. Since January, the company has released a number of Fusion chip lines, including its C-Series "Ontario" and E-Series "Zacate" chips. Both based on the "Bobcat" core design, the APUs offer low-power designs that are aimed at such devices as ultra-mobile notebooks. However, AMD officials have said they can be used in tablets, and Acer earlier this year unveiled a 10.1-inch Windows tablet — the Iconia Tab W500 (below) — that is powered by an AMD C-50 dual-core processor.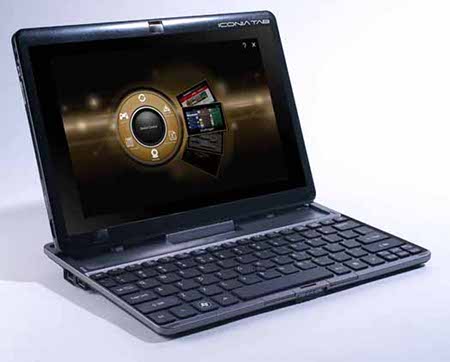 Acer's Iconia Tab W500 comes with a removable keyboard
(Click to enlarge)
In the AMD presentation, the company lists both the C-Series and Z-Series as designs for ultra-mobile notebooks and tablets.
AMD doesn't go into much depth on the Z-Series in the presentation, but it's clear that company officials see tablets as an opportunity to expand their business. Both AMD and rival Intel are looking to grow beyond their core PC and server bases.
Intel in April rolled out its Atom Z670 "Oak Trail" chips, which are specifically targeting tablets. Intel officials have said they expect as many as 35 system designs powered by Oak Trail to reach the market this year, and on May 31, they put at least 10 of these devices on display at Computex.
At the event, Intel officials also talked about the company's next-generation Atom chip, dubbed "Cedar Trail," which will offer higher performance and better energy efficiency than Oak Trail.
Intel has been pushing in the tablet direction for at least a year, and CEO Paul Otellini said in September 2010 that the company will be a major player in the space, which market research firm Gartner expects to grow from 70 million units this year to 294 million units in 2015.
Currently, chips designed by ARM Holdings and made by the likes of Samsung, Qualcomm and Texas Instruments dominate the space, but Intel officials say they are confident that their Atom and Core processors will gain traction over the next few years.
AMD has been less aggressive in the tablet market until this year. Former CEO Dirk Meyer said his plan was to continue to grow the company's Fusion offerings — APUs offer both the CPU and graphics capabilities on the same piece of silicon — while waiting for the tablet space to mature.
However, that plan appeared to run counter to what the company's board of directors was pushing for, and in January, Meyer resigned. A month later, interim CEO Thomas Seifert told The Wall Street Journal that the tablet space held opportunity for AMD, and that the demands of the tablet market — in particular, high performance, high-end video and multimedia capabilities, and low power consumption — dovetail with AMD Fusion efforts.
At the time, he acknowledged Acer's decision to use AMD's C-50 chip in its new tablet, but said AMD's real opportunity will come in 2012, with its second-generation APUs.
Jeffrey Burt is a writer for eWEEK.
---
This article was originally published on LinuxDevices.com and has been donated to the open source community by QuinStreet Inc. Please visit LinuxToday.com for up-to-date news and articles about Linux and open source.