May 24, 2011 — by Eric Brown — from the LinuxDevices Archive — 8 views
Four vendors have promised support for the latest low-power 1GHz T40E (dual-core, 6.4 Watt TDP) and T40R (single-core, 5.5 Watt TDP) AMD G-Series processors announced yesterday. Products based on the chips will include DataKamp's Q7bd-GT40N Qseven module, Axiomtek's Pico100 Pico-ITX single board computer (SBC), a revamp of Ibase's SI-18 signage computer, and an unnamed industrial tablet from Amtek, says AMD.
On May 23, AMD announced the availability of two new Embedded G-Series processors with TDP ratings of 5.5 and 6.4 Watts, said to be up to 39 percent more power efficient than an earlier 1.2GHz G-Series processor. Aimed at fanless, multimedia-ready devices, the dual-core T40E and single-core T40R are clocked at only 1GHz, but feature the usual G-Series DirectX 11-capable graphics and 64-bit memory controller.
Already several vendors have vowed support for the low-power processors, AMD now points out. As the "Q7bd-GT40N" product name suggests, DataKamp is revising an as-yet-unannounced Qseven board that had previously been under development using the earlier T40N G-Series chip, according to an AMD spokesperson. Ibase, meanwhile, is revising its earlier T56N-based SI-18 signage computer to take advantage of the greater power savings, said the spokesperson.
Axiomtek's Pico100 SBC appears to be a new design, meanwhile. As for the Amtek tablet also highlighted by AMD, it's still under deep cover.
DataKamp Q7bd-GT40N
Datakamp's Q7bd-GT40N appears to be the first announced Qseven form-factor computer-on-module (COM) based on the AMD G-Series family of Fusion/Bobcat processors. We imagine it will be renamed the Q7bd-GT40E and Q7bd-GT40R, respectively. AMD has confirmed that Datakamp is building new versions supporting the T40E and T40R G-Series variants.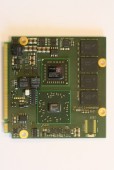 The Q7bd-GT40N is aimed at applications including medical care, automation, image recognition, security, and a variety of graphics-enabled applications, says Datakamp. The German embedded manufacturer offered only preliminary information and a photo (right) in its AMD blog announcement.
Measuring a Qseven-standard 2.75 x 2.75-inch (70 x 70mm), the Q7bd-GT40N will build on the G-Series processors' Radeon graphics to support OpenCL 1.1 and DirectCompute. In addition, says Datakamp, the processor can speed up vector processing applications such as situation awareness and video surveillance via parallel processing execution.
Datakamp, which has been in business since 1985, says it will offer the devices with a high degree of customization, letting users pick different combinations of I/O. To support this, Datakamp will offer a "FeaturePak" module, insertable on an upcoming Rock-Q7 Qseven baseboard, which uses a Spartan-6 FPGA (field programmable gate array) with an integrated PCI Express interface to the Qseven module.
The specific I/O interface needed for the target application can be integrated in the FPGA, explains Datakamp. The Q7bd-GT40N module will be broadly available in the third quarter of 2011, and will be followed by a Qseven "Rock-Q7" baseboard, also due in the third quarter, says Datakamp.
No operating system support was listed, but Linux and Windows are both likely. More information should eventually appear on the Datakamp website.
Axiomtek Pico100
In a separate blog announcement on AMD's site, Axiomtek announced its Pico100 SBC, based on the Pico-ITX form-factor. The device measures a wee 3.94 x 2.83 inches (10 x 7.2cm), according to the company. Earlier Axiomtek Pico-ITX SBCs include the Intel Atom Z5xx-powered Pico820.
The Pico100 is aimed at fanless car PCs, in-flight entertainment systems, digital signage platforms, portable thin clients, and high-end medical imaging devices, says the company. The SBC will feature either the dual-core T40E or single-core T40R single-core G-Series processor, as well as the accompanying AMD Fusion Controller Hub A50M, says Axiomtek.
The SBC is said to support up to 4GB of DDR3 1066 memory via a SODIMM socket, and offers LVDS support, as well as a choice between VGA or DisplayPort. I/O includes dual RS-232 ports, a SATA-600 port, a gigabit Ethernet port, and four USB 2.0 ports, says Axiomtek. An HD audio codec and a watchdog timer are also said to be available.
Axiomtek did not say when the Pico100 would be available, but says it will support Linux, Windows 7, Windows Vista, and Windows XP Embedded. The SBC should eventually appear on the manufacturer's Pico-ITX page.
Ibase to update SI-18 signage computer
Although Ibase did not supply an AMD blog announcement on its upcoming "fanless digital signage platform" based on the latest low-power G-Series processors, an AMD spokesperson said the unit will be based in part on the earlier SI-18 digital signage computer, announced in March.
The SI-18 was based on the top-of-the-line, dual-core 1.6GHz T56N G-Series processor. The new, as-yet-unnamed product will likely take advantage of the lower-power, dual-core 1GHz T40E. This will enable Ibase to dispense with the unit's fan, which should make for a more compact unit, as well as a more silent and reliable signage PC.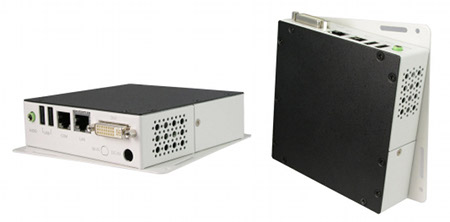 Ibase' earlier SI-18: switching to the T40E will enable Ibase to lose the fan.
Pictured above, the SI-18 measures 4.9 x 4.9 x 1.4 inches, and offers 2GB to 4GB of RAM and a 2.5-inch hard disk drive (HDD) in capacities from 160GB to 1TB, says Ibase. The computer is said to offer a gigabit Ethernet port, dual USB 2.0 ports, and a serial port. A DVI-I port is available for video, and a Mini PCI slot features optional Wi-Fi or Bluetooth connections, the company says.
The SI-18 operates in temperatures ranging from 32 to 133 deg. F. and consumes a maximum of 25 Watts. Presumably, the latter figure will be reduced significantly on the new T40E-based device. Operating support was not listed.
More information on Ibase's upcoming signage platform should eventually appear on the Ibase embedded systems site.
Amtek's mystery computer
Finally, Amtek offered its own blog testimonial, but said only that the latest G-Series processors would be featured in its industrial tablet PCs. The company says the tablets will exploit the procesors' low power consumption for better battery life, and also offer DirectX 11-capable graphics, with "multiple options for I/O."
Amtek has previously supplied an "Elego" netbook design that made its way into the Digital Gadgets g netbook MESO netbook in 2008. The company has also made UMPC (ultra mobile PC) designs that have incorporated Via processors.
More information should eventually appear on the Amtek website.
---
This article was originally published on LinuxDevices.com and has been donated to the open source community by QuinStreet Inc. Please visit LinuxToday.com for up-to-date news and articles about Linux and open source.