Mar 8, 2011 — by LinuxDevices Staff — from the LinuxDevices Archive — views
AMD plans to add two chips and "Turbo Core" acceleration technology to its successful line of E-Series APUs (accelerated processing units) in the third quarter, says the Xbitlabs website. Meanwhile, shipments of high-end, "Bulldozer"-based FX-Series chips will start in June, and mid-range "Llano"-based A-Series devices in July, according to writer Anton Shilov.
AMD announced updated x86 microarchitectures code-named "Bobcat" and "Bulldozer" last fall, promising that chips based on them would be released during 2011. As we review later in this story, Bulldozer is aimed at servers and other high-end devices, whereas Bobcat is intended for portable devices and other relatively low-power devices.
AMD's first "Fusion" APUs — which incorporate x86 CPUs and HD video-ready graphics processing units (GPUs) on a single die — were announced in January with single- or dual- Bobcat cores on board. The 2011 low power platform," formerly codenamed "Brazos," combines an E-Series (formerly "Zacate") or C-Series (formerly "Ontario") processor with the A50M "Hudson" controller hub, a southbridge based on the previously released SB800.
Both the C-Series and E-Series have been showing up in a plethora of portable computers (and tablets, too). Devices adopting them already include Acer's Aspire One 522, Asus' Eee PC 1015B and 1215B HP's Pavilion dm1z, Lenovo's ThinkPad X120e, MSI's U270, and Toshiba's Satellite C655D. (We reviewed the Pavilion dm1z favorably last month, noting laudable battery life, decent performance, and even the ability to run Ubuntu Linux and Windows XP Professional in virtual machines.)
AMD quickly built on its initial success by releasing G-Series variants — the 1.6GHz T56N, 1.4GHz T48N, 1.0GHz T40N, 1.5GHz T52R, and 1.2GHz T44R — for embedded devices, touting TDPs of either 9 Watts or 18 Watts. And at last week's Embedded World conference in Germany, the chipmaker announced un-named "headless" versions that omit the other Fusion chips' ATI-derived GPUs, cutting power claimed consumption to as little as 5 Watts.
Now, says Xbitlabs writer Anton Shilov, AMD is responding to demand by preparing two new E-Series offerings for release in the third quarter. Shown in context in the table below, they're both dual core: the 1.3GHz E-300 and the 1.6GHz E-450, he claims.
| | | | | | |
| --- | --- | --- | --- | --- | --- |
| Model | CPU Cores | CPU Clock Speed | Radeon brand | GPU clock Speed | TDP |
| E450 | 2 | 1.65GHz | HD 6320 | 508/600MHz | 18W |
| E-350 | 2 | 1.6GHz | HD 6310 | 492MHz | 18W |
| E-300 | 2 | 1.3GHz | HD 6310 | 488MHz | 18W |
| E-240 | 1 | 1.5GHz | HD 6310 | 500MHz | 18W |
| C-50 | 2 | 1.0GHz | HD 6310 | 280MHz | 9W |
| C-30 | 1 | 1.2GHz | HD 6250 | 280MHz | 9W |
AMD's E-Series and C-Series APUs
(Xbitlabs additions highlighted in red)
Shilov says the E-300 and E450 will both sport AMD's Turbo Core, a clock speed boosting technology that also features in Bulldozer (see later) and is similar to Intel's Turbo Boost. His March 8 report adds that both APUs will have 18-Watt TDPs, as does the existing E-350.
In a March 7 report, meanwhile, Shilov claims AMD will start shipping its high-end "Bulldozer"-based chips in the second half of June. They'll include four eight-core AMD FX8000-series chips, two six-core AMD FX6000-series microprocessors, and two quad-core AMD FX4000-series CPUs, he writes.
Xbitlabs adds that A-Series ("Llano") processors, intended for mid-range desktops and mobile devices, will begin shipping in early July. If AMD sticks to its plans, a total of 11 dual- and quad-core A-Series APUs will be released this year, according to Shilov.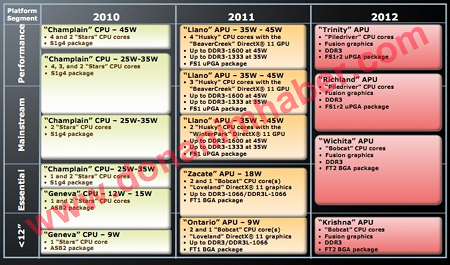 This slide is said to come from a leaked AMD presentation
Source: Donanim Haber
(Click to enlarge)
Some previous reports have suggested the A-Series would use the same Bobcat cores that the E-Series, C-Series, and G-series. But, a slide (above) purportedly leaked from an AMD presentation (posted yesterday by the Turkish Donanim Haber website) refers instead to "Husky" cores. AMD hasn't released any information on the latter, but they'll presumably be more sophisticated than Bobcat but less so than Bulldozer.
Background
Unlike Intel's Atom — with which it's now competing in netbooks, notebooks, computer-on-modules, and other devices — AMD's Bobcat features an out-of-order execution engine. This breaks data apart and allows instructions to run in parallel, as well offering improved performance, the chipmaker says.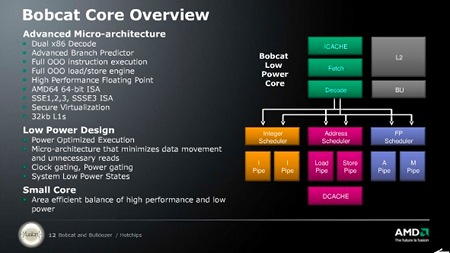 AMD's Bobcat architecture
(Click to enlarge)
According to AMD, Bobcat (above) further features clock and power gating, allowing it to save battery life in portable devices. And, notably, it was the first x86 processor core to work with the chipmaker's APU (accelerated processing unit) design, in which the CPU and graphics are combined on one piece of silicon.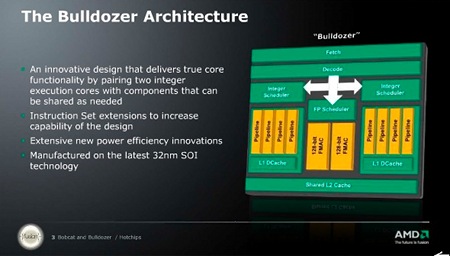 AMD's Bulldozer architecture
(Click to enlarge)
A more complicated microarchitecture, meanwhile, is Bulldozer, which promises to deliver 33 percent more cores and a 50 percent increase in throughput compared to AMD's 12-core Opteron 6100, previously code-named Magny-Cours. Bulldozer — which, like Bobcat, is being built with 32-nanometer manufacturing — also promises better energy efficiency.
AMD says Bulldozer will support up to 256-bit floating point execution. And, the chipmaker adds, while most high-performance chips use either SMT (simultaneous multithreading), which places two instructional threads on one core to allow for two tasks to execute at the same, or CMP (core multiprocessing), which essentially just increases the core count, Bulldozer combines both techniques.
Jonathan Angel can be followed at www.twitter.com/gadgetsense.
---
This article was originally published on LinuxDevices.com and has been donated to the open source community by QuinStreet Inc. Please visit LinuxToday.com for up-to-date news and articles about Linux and open source.