Oct 31, 2008 — by Eric Brown — from the LinuxDevices Archive — 24 views

A CNET review of the One Laptop Per Child (OLPC) XO netbook explores the dilemma facing customers choosing between the Linux and Windows XP versions. Meanwhile, the Fedora Project has released a Fedora Sugar Spin Live CD incorporating the Linux XO version's Sugar desktop environment.
(Click for larger view of Rwandan children using the OLPC XO)
Championed by MIT's Nicholas Negroponte as a way to seed educational computing opportunities among poorer children around the world, the low-cost XO is manufactured by Quanta of Taiwan. Initially Linux-only when it shipped at the end of last year, the XO features an AMD Geode LX-700 processor clocked at 433MHz, an integrated graphics controller driving a 7.5-inch, 1200 x 900 screen, 256MB of RAM, and 1GB of flash storage. The devices also offer WiFi-based mesh networking.
Although the XO will be offered in the U.S. next month by Amazon, the netbook is primarily sold at a discounted rate to the educational ministries of developing nations, which must agree to distribute it for free to K-12 students.
Over the last year, the XO's price rose to twice the initially touted $100, leading some governments to back off of plans to make high-volume purchases. Despite its troubles, including a rift with Intel and a defection by its team of educational software developers to form a separate Sugar Labs, OLPC's XO continues to be purchased around the world, and recently received a promise from the International Telecommunication Union (ITU) to help distribute the notebooks. What's more, the XO is largely credited for having started the recent boom in small-scale netbooks, which has not only boosted the fortunes of Linux, but contributed to the rebirth of Windows XP.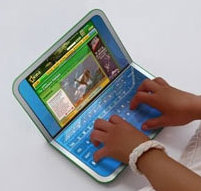 A prototype of the XO-2
Meanwhile, an intriguing XO-2 prototype has also emerged (pictured at right) that offers both tablet and netbook modes. The XO-2 is not expected to ship until 2010, however.
In May, OLPC announced a Windows XP version, which has only recently arrived to market. A dual-boot option is promised for the future, but in the meantime, customers must choose between the Linux and Windows versions.
An August review of the Windows version by Laptop magazine found it wanting. CNET's Ina Fried, however, appears to be more ambivalent when weighing the two versions side by side.
According to Fried, the decision faced by governments choosing between the versions is between the greater library of software available for Windows vs. the Linux version's potential for nurturing independent open source software development. The Sugar desktop environment used in the Linux version of the XO is now maintained by Sugar Labs, a group that spun out of OLPC, and is committed to developing open source GNU/Linux-based educational software.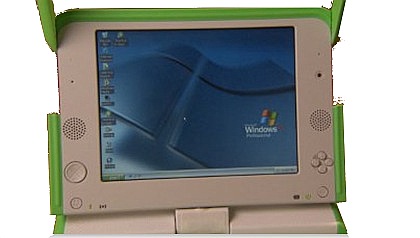 Windows XP version XO-1 mockup
To some potential customer nations, such as Peru, she writes, Windows makes sense because it can lead to proficiency in business applications that they believe can help its kids get better jobs. Others, meanwhile, "have demanded their students work on Linux, arguing open source computers offer a chance for an independent software economy not tied to Microsoft," she writes.
From the point of view of the typical user, however, she appears to give Linux an edge due to the innovative software features of the native Linux Sugar stack. Out of the overall "integrated suite of educational games, programming tools and other software, all built around a kid-friendly OS shell known as Sugar," only the child-oriented Scratch tool is offered on the Windows version, she writes.
The XO's slimmed-down version of Windows XP Professional "can run basically any software that can adjust itself to the mini-laptop's diminutive screen and modest processor," writes Fried. The modified OS can boot from a 2GB flash card, she writes, and offers drivers for XO features, such as its scratch pad, game controller, and camera.
"But what's missing in the Windows version is the personality that oozes out of the Linux incarnation," she continues. "The Windows version of the XO doesn't have much of that built-in sweetness."
That said, Fried says that the large volume of educational software available for Windows is a major benefit that cannot be denied. In the end, she concludes, either OS version could be highly effective if "used properly, as part of a well-thought-out curriculum."
Fedora spins a Sugar Live CD
Yesterday, the Fedora Project announced the availability of Fedora Sugar Spin, which loads the XO's Sugar Desktop Environment onto a Fedora Live CD. The initial version of Fedora Sugar Spin includes Sugar-browse (based on xulrunner), Sugar-write (based on Abiword), and other applications, including chat, says the project. It is now available for free download.
Meanwhile, in other OLPC news of interest to Linux developers, MontaVista has posted a video and presentation from a recent MontaVista Vision 2008 presentation by Deepak Saxena, kernel developer for OLPC. The presentation, called "Linux challenges on the XO laptop and beyond," covers issues, including "unusual power management challenges."
Availability
The full CNET review of the XO by Ina Fried should be available here.
---

This article was originally published on LinuxDevices.com and has been donated to the open source community by QuinStreet Inc. Please visit LinuxToday.com for up-to-date news and articles about Linux and open source.