May 16, 2008 — by LinuxDevices Staff — from the LinuxDevices Archive — 4 views

Microsoft has announced an agreement with One Laptop Per Child (OLPC) that will make Windows XP available on the non-profit's low-cost laptops for third-world children. Thank goodness third world children will no longer have to struggle to learn Linux, one tongue-in-cheek commentator observes.
(Click here for a larger view of the XO laptop running Windows XP Professional)
OLPC does not appear to have given up on its Linux-based XOs. It may be scaling back from its original goal of developing Linux-based educational software, however, following the recent departure of project co-founder Walter Bender. Bender and other contributors to the Sugar user interface have gone on to found a project called SugarLabs that is committed to developing open source educational software. Based on GNU/Linux and using a visual icon-oriented interface, Sugar is said to offer a collaborative, creative learning environment for children.
In a hilarious editorial entitled, "Poor Children Of The World No Longer Will Have To Struggle With Linux," TechCrunch editor Michael Arrington writes, in part, "The pain of having to deal with Windows crashes may make some of these kids excellent technical support people over time. They'd just get lazy with Linux being so stable all the time."
The XO laptop, famously championed by MIT's Nicholas Negroponte, and produced for OLPC by Quanta of Taiwan, began to ship at the end of last year. In addition to the green-and-white case shown above, initial units featured an AMD Geode LX-700 processor clocked at 433MHz, an integrated graphics controller driving a 7.5-inch, 1200 x 900 screen, 256MB of RAM, and 1GB of flash storage.

Sugar icons
The OLPC laptop has been strongly associated with Linux, and shipped with a customized version that offers the Sugar GUI (pictured at right). Disappointing the open-source community, however, Negroponte publicly mulled installing Windows on the device as long ago as 2006. By January of this year, the collaboration with Microsoft was in full swing, leading to backlash from the open source community.
Now, it's a done deal. Says Negroponte, "From the beginning, the goal of OLPC has been to use technology to transform education. Today's announcement, coupled with future plans for a dual-boot version of the XO laptop, enhances our ability to deliver on this vision. In addition, OLPC will work with third parties to port Sugar to Windows."
In a candid New York Times interview, Negroponte also reportedly commented, "The people who buy the machines are not the children who use them, but government officials in most cases. And those people are much more comfortable with Windows."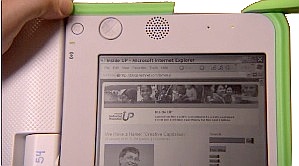 Windows XP supports the XO's power-saving, monochrome e-book mode
The version of Windows XP installed on the XO supports all the laptop's features, says the OLPC, including networking, speakers, microphone, and webcam. It also allows the display to pivot into its "e-book" configuration and change into a power-saving, sunlight-readable monochrome mode (above), according to Microsoft. James Utzschneider, GM of marketing and communications for Microsoft's Unlimited Potential group, blogged that "the Windows port to the XO is a snappy release that doesn't cut features or functionality in order to work in the constrained memory and storage environment of the XO."
Demonstrating the new software on video (19MB WMV file), Unlimited Potential's Bohdan Raciborski said the XO can boot Windows XP in about 50 seconds, four times faster than its previously standard Linux environment. By tapping into the device's power-saving capabilities, it can also offer up to 20 hours of battery life, he added.
Those who have already purchased XO laptops — perhaps through OLPC's limited-duration "give one, get one" program, or off of eBay, where they regularly sell for around $350 — will not be able to run Windows, however. According to Raciborski, Windows could not fit on the XO's 1GB of flash storage, so Microsoft worked with OLPC and Quanta to add an SD slot to the device. Now, thanks to a BIOS newly developed in conjunction with Insyde Software, the laptop boots Windows from a preinstalled, 2GB SD card.
Microsoft had once planned for Windows XP to be off the market by the end of June, but has given it a stay of execution until at least June 2010, thanks to burgeoning sales of mini-laptops — not just the XO, but also Asus' Eee, HP's Mini-Note, and Intel's Classmate. With 900MHz Celeron processors at best, and limited storage, these devices lack the power to run Windows Vista well.
Accusing the open-source community of a "let the kids fix their own computers mindset," Utzschneider claimed "it's easier to find Windows system administrators in places like India and Africa than it is to find Linux system administrators." Because Windows is used by businesses around the world, it can also lead to better employment opportunities for children who have encountered it in school, he added.
On the other hand, a Penguinista might argue, the chances of needing technical support at all is likely to be reduced with a Linux system, and at a basic level at least, computer skills transfer easily between operating systems. When the OLPC announced its grand vision several years ago, the idea of distributing a Linux-based laptop on a massive scale was far more radical than it is today. Since then, the OLPC has inspired Linux-based laptops such as the gOS Cloudbook, manufactured by Everex; the "Jisus" UMPC from Van Der Led (VDL) Designs; and the highly successful Asus Eee, mentioned above. Meanwhile, other Linux-based laptops that are following in OLPC's footsteps to target developing-world markets include the Nohrtec/Quanta Gecko Laptop, which runs Linpus Linux; Hacao's Linux-based version of the Intel Classmate, the Hacao Classmate PC; and the Ink MC from InkMedia. Meanwhile, a startup called Literacy Bridge is planning to introduce a $5 iPod-sized flash-based mp3 player called the "Talking Book" for the developing-world educational market, backed up with a Linux-based laptop that acts as a content distribution kiosk.
Availability
Microsoft said trials of the XO running Windows would begin as soon as next month in "key emerging markets," but announced no plans to make the configuration available worldwide. For more background, visit James Utzschneider's blog, here. For more information on OLPC, see the organization's website, here.
---

This article was originally published on LinuxDevices.com and has been donated to the open source community by QuinStreet Inc. Please visit LinuxToday.com for up-to-date news and articles about Linux and open source.