Dec 22, 2004 — by Henry Kingman — from the LinuxDevices Archive — views
Venture Development Corp. (VDC) says it has confirmed a trend toward smaller form-factors in its latest study of the market for embedded single-board computers (SBCs) and "active backplane motherboards." Overall, the global market for embedded SBCs and motherboards will grow from $357.3 million to $442.8 million between 2004 and 2008.
For the study, VDC divided standard form-factors into two categories — above and below 70 square-inches in surface area. According to VDC, those in the above-70-square-inch category include: ATX, EmbeddedATX, BabyAT, BTX, LPX, MicroATX, and NLX. The under-70-square-inch group includes the so-called 3.5-inch and 5.25-inch SBC form-factors, as well as EBX, FlexATX, MiniITX, and the EPIC standard unveiled earlier this year.
Standard Form Factor Embedded Motherboard Shipment Shares
Segmented by Surface Area, 2004 & 2008
(Percent of Dollar Volume Shipments)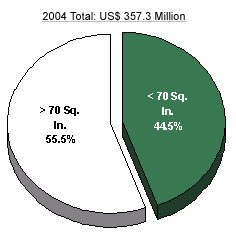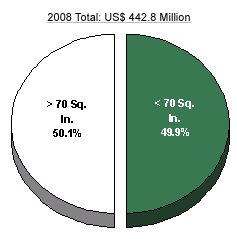 (Source: Venture Development Corp.)
According to VDC, market share for the larger form-factors will shrink by 9.7 percent over the 2004-2008 period, although overall market growth will more than compensate for that decline, resulting in an increase in sales for this sector of 11.8 percent. However, among this group, only NLX, MicroATX, and BTX are expected to show increased revenue, VDC says.
Overall, VDC's highest projected growth rates are for the BTX, EPIC, and MiniITX form factors, according to J. Eric Gulliksen, Director of VDC's Embedded Hardware Practice. "Of course, these are quite new with low base-year shipment values, which somewhat skews the data," Gulliksen said. "Nevertheless, we expect at least EPIC and MiniITX to make significant penetrations over the period of the study."
"EPIC, which provides PC/104 family expansion capability and has provision for PCI Express, may provide a 'shot in the arm' for the PC/104 industry," added Gulliksen. "This form-factor provides an attractive middle-ground size alternative between EBX and standard PC/104 CPU modules."
"A trend toward use of smaller form-factor motherboards is certainly understandable, because available space has become increasingly constrained," Gulliksen explained. "Recent improvements in densification technologies are allowing this shift to take place. The most notable of these improvements is the advent of the Pentium-M processor, which provides high computing speed and power while maintaining low power consumption and heat generation."
According to Gulliksen, two additional factors enabling the shift from larger to smaller form-factors include: higher levels of on-board integration reduce the need for expansion slots; and, the inclusion of USB ports allows simple peripheral connection, further reducing the need for expansion slots.
VDC's Embedded Motherboards report comprises Volume II of VDC's "Merchant Computer Boards for Embedded/Real-Time Applications Market Intelligence Program." Further details are available here.
---

This article was originally published on LinuxDevices.com and has been donated to the open source community by QuinStreet Inc. Please visit LinuxToday.com for up-to-date news and articles about Linux and open source.