Oct 13, 2011 — by Eric Brown — from the LinuxDevices Archive — 7 views
Variscite announced the industry's first computer on module (COM) based on the Texas Instruments (TI) OMAP4460 processor, which offers dual Cortex-A9 cores clocked at up to 1.5GHz. The VAR-SOM-OM44 features 512MB of DDR2 SDRAM and a microSD socket, I/O including gigabit Ethernet, USB 2.0, 3D camera, and HDMI, and an available VAR-OM44CustomBoard development board and touchscreen-enabled dev kit.
Israel-based Variscite prodces SODIMM-sized modules that are sold under its own name as well as Direct Insight's. The company appears to be justified in claiming its VAR-SOM-OM44 (below) is the first system on module (SOM) to support TI's 1.5GHz OMAP4460.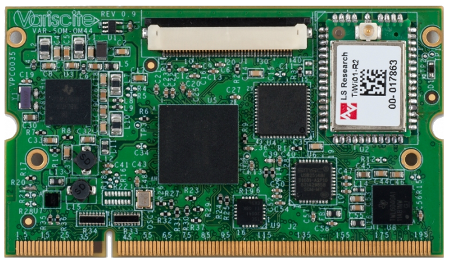 Variscite VAR-SOM-OM44
(Click to enlarge)
As far as we know, no other SOM (system on module, a.k.a. COM) yets support this system on chip (SoC), which was previously called the OMAP4440. Earlier this year, however, Phytec announced a module called the PhyCore-OMAP4430, which is based on the almost identical, but lower-end, 1GHz OMAP4430.
The 1GHz OMAP4430 has attracted plenty of attention in the Android world. The SoC showed up in the LG Optimus 3D and Motorola Droid 3, among other phones, and is rumored to be behind the upcoming, Android Ice Cream Sandwich bearing Samsung Nexus Prime smartphone. The SoC is also scheduled for an appearance in Android tablets such as the the Fujitsu Arrows Tab F-01D and the Toshiba AT200.
Still, we figured it's only a matter of time before the industry turned to the OMAP4460 for a bit more processing oomph. The SoC provides both hardware accelerated 2D and 3D graphics, as well as 1080p HD video playback. The 45nm-fabricated SoC, which is clocked here from between 1.2GHz to 1.5GHz, also includes an Imagination POWERVR SGX540 graphics engine.
In addition, the OMAP4460's power management features are said to help it support up to 120 hours of CD-quality audio playback. Whereas the OMAP4430 supports dual (stereoscopic) five megapixel video cameras, taking 3D movies at up to 720p, the OMAP4440 supports dual 12 megapixel cameras and takes 1080p 3D videos, according to TI.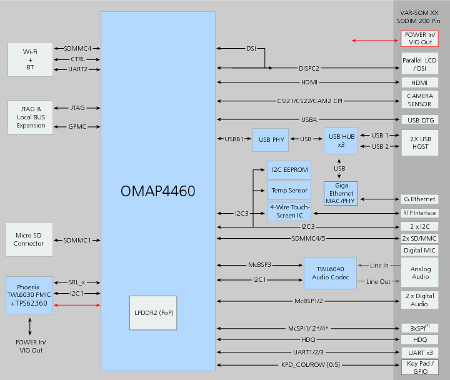 VAR-SOM-OM44 block diagram
(Click to enlarge)
The 2.67 x 1.52-inch VAR-SOM-OM44 is equipped with 512MB of LPDDR2 SDRAM, and ships with a microSD socket, says Variscite. The module is said to offer dual display capability, with both LCD and HDMI interfaces, and includes a 4-wire touchscreen controller.
The OMAP4460's 3D video capability is fully supported by the VAR-SOM-OM44's camera interface. In addition, a TI WiLink 6.0 chip is tossed in to provide Wi-Fi and Bluetooth 2.1 communications, says the company.
Other I/O is fairly similar to that of last year's VAR-SOM-AM35 module, which offers a Cortex-A8, 600MHz TI AM3505 or 3D-accelerated AM3517 processor. The VAR-SOM-OM44 supplies a gigabit Ethernet controller, three SD/MMC/SDIO memory card interfaces, dual USB 2.0 host ports, and a USB 2.0 OTG port, says Variscite. Additional interfaces are said to include audio I/O, McBSP, SPI, I2C, HDQ, and UARTs.
Features and specifications listed for the VAR-SOM-OM44 include:
Processor — TI with OMAP4460 (2 x cores @ 1.2GHz -1.5GHz) with PowerVR SGX540 2D/3D accelerator
Memory — 512MB 400MHz LPDDR2 SDRAM
Memory expansion — microSD socket
Display:

LCD interface
HDMI interface
4-wire touchscreen interface
simultaneous display support

Audio — mic in; line in; headphone out; S/PDIF out
Networking — 10/100/1000 Ethernet controller
Wireless (TI WiLink 6.0 chip) — 802.11b/g/n; Bluetooth 2.1 + EDR
Camera interface:

2 x CSI
CPI
supports 20-megapixel main camera
supports 12-megapixel stereo/3D (dual cameras)

Other I/O:

2 x high speed USB 2.0 host interface
high speed USB OTG interface
McBSP
SPI
I2C
1 wire/HDQ
3 x UARTs (up to 3.6Mbps)
3 x SD/SDIO/MMC

Power — 3.3-5V DC-in supply; RTC backup battery
Dimensions — 2.67 x 1.52 x 0.15 inches (67.8 x 38.5 x 3.7mm; SODIMM-200 connector

VAR-OM44CustomBoard
(Click to enlarge)
The VAR-SOM-OM44 module supports Linux 2.6, Ubuntu Maverick, and Android operating systems, says Variscite. The module is also supported with an optional VAR-OM44CustomBoard (above), which accepts the VAR-SOM-OM44 and extends many of its interfaces with real-world ports.
Key features include an HDMI port, dual gigabit Ethernet ports, four USB host ports, and a USB On-The-Go port. Audio ports and other expansion connectors are also said to be available, along with dual serial ports and a JTAG port. (A full spec list for the board is linked to at the end of this article.)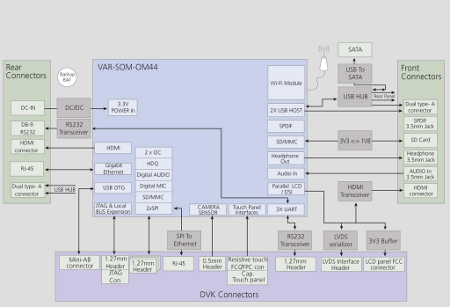 VAR-OM44CustomBoard block diagram
(Click to enlarge)
Variscite's website also lists a more fully featured, touchscreen-enabled VAR-DVK-OM44 development kit. The VAR-DVK-OM44 serves as a complete development kit for evaluation and application development, says Variscite. It appears to combine the VAR-OM44CustomBoard with a capacitive touchscreen (size not listed) and a 12V power supply, as well as serial, Ethernet, and USB cables.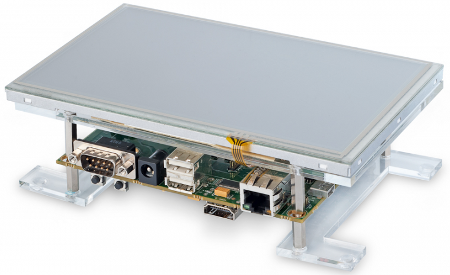 VAR-DVK-OM44
(Click to enlarge)
Stated Michael Schoonover, business development director, Enterprise Business Line, Wireless Business Unit, TI, "We are proud to work with Variscite to provide TI's smart multicore OMAP 4 platform to OEMs developing products that require the highest-performance at ultra low power. This reiterates our team's goal of bringing extraordinary user experiences to game-changing end devices with OMAP processors inside."
Other OMAP4 development options include TI's SVTronics-built Blaze OMAP4x-based smartphone reference platform. In addition, TI and Digi-key also provide the OMAP4430-based PandaBoard open platform development board.
Availability
The VAR-SOM-OM44 and VAR-OM44CustomBoard will be available for order this month, at undisclosed prices. More information may be found at Variscite's VAR-SOM-OM44 product page, its VAR-OM44CustomBoard page, and its page for the full VAR-DVK-OM44 development kit.
---
This article was originally published on LinuxDevices.com and has been donated to the open source community by QuinStreet Inc. Please visit LinuxToday.com for up-to-date news and articles about Linux and open source.