Sep 16, 2009 — by Eric Brown — from the LinuxDevices Archive — 3 views
Google's Android team released Android 1.6 ("Donut"), adding CDMA support, QVGA and WVGA resolutions, a Quick Search Box, and a text-to-speech engine, reports eWEEK. Meanwhile, Linux Kernel 2.6.31 has also emerged, adding USB 3.0, performance improvements, and more.
Android 1.6 was released to developers yesterday and will be available on smartphones next month, says the story by eWEEK's Clint Boulton. The Motorola Cliq and HTC Hero are expected to be some of the first phones to run the Donut code, writes Boulton. The last release was Android 1.5, which arrived in April.
Tipped in late July, the Donut release should give Android developers and users plenty of new toys to play with. Key additions to the open source release include new telephony APIs supporting CDMA cellular networks. The support for higher QVGA (320 x 240) and WVGA (800 x 480) resolutions, meanwhile should help expand coverage to non-smartphone Android devices, such as the new, WVGA-display Archos 5 tablet (pictured), which perhaps not so coincidentally, is also shipping today.
Android finds its voice
The new "Pico" text-to-speech engine appears to be aimed primarily at users interested in listening to text messages. This multi-lingual speech synthesis engine enables Android apps to vocalize text strings "with an accent that matches the language," says the Android release page. The engine currently supports English, in both American and British accents, as well as French, Italian, German, and Spanish. The Pico technology can be seen as sort of a flip side to Google's Voice Search technology, which lets Android and Apple iPhone users find search results via voice commands.
The new Quick Search Box offers some of the universal messaging features touted in HTC's Sense and Motorola's MotoBlur UI add-ons to their Android phones, letting users search for contacts and applications across multiple formats using a search widget. Other new UI elements include an integrated gallery app as well as a new camera and camcorder UI (see below), said to offer faster camera click response. In addition, there is a new VPN control panel, a battery usage feature, and accessibility features that make use of sounds, voice, and vibration.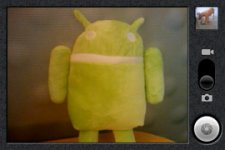 Android 1.6 camera and camcorder UI
Additional new platform technologies include a gesture framework designed to help application developers create, store, load, and recognize gestures and associate them with specific actions. In addition, the release offers an updated OpenCore 2 media engine.
Linux 2.6.31 adds USB 3.0 support
Android 1.6 has moved up to the Linux 2.6.29 kernel, but the latest release, published last week, is Linux 2.6.31. The release is most notable for its support for USB 3.0, otherwise known as "SuperSpeed USB," which boasts performance up to 5Gbps.
The 2.6.31 release is also claimed to run faster, including slightly faster file system reads. Additional enhancements to Linux 2.6.31 are said to include:
Equivalent of FUSE for character devices used for proxying OSS sound to ALSA
Memory management changes that improve interactivity in desktops
Readahead improvements
ATI Radeon mode-setting support
Intel Wireless Multicomm 3200 WiFi support
Performance counter kernel support and userspace tool
Gcov support
Memory checker for uninitialized memory
Memory leak detector
Reimplementation of inotify and dnotify on top of a new filesystem notification infrastructure
Btrfs file-system improvements
IEEE 802.15.4 networking support
IPv4 over Firewire support
"Many new drivers, small improvements and fixes"
Availability
More information on Android 1.6 may be found on this Android Developers page, here.
Clint Boulton's eWEEK story on the release may be found here.
An overview of changes to Linux 2.6.31 may be found here.
---
This article was originally published on LinuxDevices.com and has been donated to the open source community by QuinStreet Inc. Please visit LinuxToday.com for up-to-date news and articles about Linux and open source.