Sep 15, 2009 — by Eric Brown — from the LinuxDevices Archive — 11 views
Archos is shipping the Android version of its media-oriented Archos 5 Internet Tablet. The Archos 5 runs on a Texas Instruments OMAP3x SoC and comes in flash (8GB to 32GB) or hard drive versions (160GB to 500GB), with a 4.8-inch, 800×480 touchscreen, 720p video, GPS, WiFi, and Bluetooth, says Archos.
Announced in February, the Archos 5 Internet Tablet is an upgraded, Android-ready version of a Linux-based tablet first introduced in August 2008 along with a seven-inch screen Archos 7 tablet. Igny, France-based Archos has been making Linux-based PMPs for years, including the PMA400, the Archos 604, and the 7-inch Archos 704.
Archos 5 Internet Tablet


(Click to enlarge)
The Android version of the Archos 5 uses an ARM Cortex-A8-based Texas Instruments (TI) OMAP3x system-on-chip. The company is not specifying the exact model, but in February, Archos said it planned to use the OMAP3440, an 800MHz SoC typically used with smartphones, as opposed to the more general interest 600MHz OMAP35xx SoCs.
According to Archos, the SoC provides 2D/3D hardware graphics acceleration, an IVA 2 video accelerator; and an image signal processor (ISP). The tablet is said to be capable of 720p video playback using H.264 HD, MPEG-4 HD, and WMV HD formats.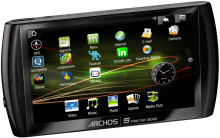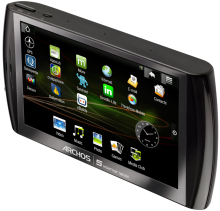 Archos 5 flash version (left) and thicker HDD version (right)


(Click on either to enlarge)
Archos does not list internal RAM, but says the tablet ships with 8GB of flash, expandable to 32GB. This appears to be internal flash, but flash expansion is also available via a micro-SD slot.
This latter feature is not available on a separate, extra-cost hard disk drive (HDD) version that offers 160GB storage, expandable to 500GB. The HDD version is otherwise identical except for being 0.4-inches thicker (0.8 inches), offering MID-like 5.6 x 3.1-inch dimensions.
The Archos tablets have always had a portable media player (PMP) focus, which continues via the 4.8-inch, 800 x 480-resolution touchscreen display. The player lacks a tactile keyboard, but a virtual keyboard is available via Android 1.5. The Linux-based Android OS handles everything except for media playback, which is still controlled by a legacy Linux distro, says the company.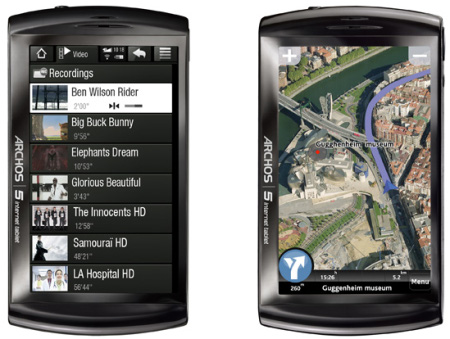 Archos 5 media playback (left) and GPS navigation apps (right)


(Click to enlarge)
For connectivity, the Archos 5 moves up to the longer-range, higher bandwidth 802.11b/g/n version of WiFi, while Bluetooth 2.0 is also included. Unlike last year's 3G version of the Linux-only Archos 5, the new Archos 5 lacks the promised HDSPA connectivity, but the company says a 3G-ready phone can be tethered via Bluetooth.
Wired links are handled via two USB 2.0 ports, one of which is used for charging. As before, an optional DVR Station (see image below) offers the ability to record live TV, and to playback HD movies either on the tablet or on a connected TV, according to Archos.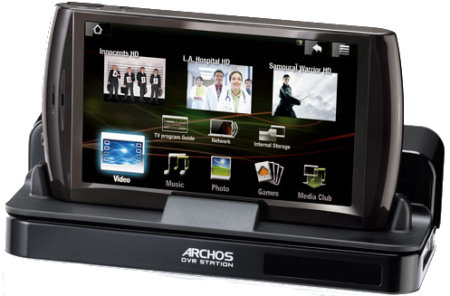 DVR Station accessory
The Archos 5 supplies a GPS radio, which is backed up with an extra-cost navigation application and service that is available in a seven-day free trial, says Archos. The service includes voice assistance, points of interest, multiple-route calculations, TeleAtlas maps with 3D landmarks, and a 3D photo-realistic in-city navigation interface, says the company. Other navigation features are said to include multiple view angles, four zoom levels, and a digital compass.
The dozen pre-installed Android apps include the eBuddy instant messaging app, the Twidroid Twitter app, Craigsphone for posting or accessing classified ads, Quickpedia, and Thinksfree for Microsoft Office document viewing. The tablet also includes Mewbox, billed as the first music download service for Android available in the EU. Mewbox is said to provide about four million DRM-free tracks from over 13,000 labels.
Optional plug-in software available for the Archos 5 is said to include an HD Cinema plug-in for playing WMV HD movies at 720p, as well as well as a plugin for playing movies in MPEG-2/VOB format with AC3 sound.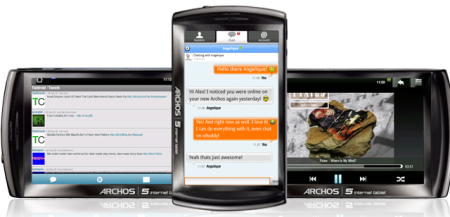 Various apps on the Archos 5, including video playback (right)


(Click to enlarge)
Archos also announced an online store called AppsLib Store, which offers free and paid applications that support the tablet's 4.7-inch screen. According to an early quick-look review of the Archos 5 Internet Tablet on
Laptop,
there will be about 300 Android apps available from the Archos AppsLib store at launch tomorrow, and the company promises to have 1,000 apps compatible with the device by the end of the year. The review also noted that the device lacks the promised "full" Adobe Flash support for watching YouTube or Hulu videos, but that it should arrive once Adobe issues its promised ARM-compatible update for Flash 10.
The Laptop review praised the Archos 5's touchscreen response, the web browser, and the GPS navigation service, among other features. It noted, however, that the roughly $100 DVR Station's 720p video output to a TV set "lagged enough to make us think this particular feature is little more than a gimmick."
Specifications listed for the Archos 5 Internet Tablet with Android include:
Processor — Texas Instruments OMAP3x (ARM Cortex-A8)
Flash memory — 8GB, expandable to 32GB
Flash expansion — SDHC-compatible microSD slot (not available on HDD version)
Storage — 160GB HDD (only in optional HDD version), expandable to 500GB
Display — 4.8-inch, 800 x 480 TFT LCD touchscreen, with 16 million colors
USB — 1 x USB 2.0 port with Media Transport Protocol (MTP); 1 x USB 2.0 Host port with Mass Storage Class (MSC) and Picture Transfer Protocol (PTP)
WiFi — 802.11b/g/n
Bluetooth — Bluetooth 2.0
Audio — Speaker; microphone
Other hardware features:

GPS
FM transmitter and receiver
Built-in leg stand
Stylus
DVR station and docking station (optional)
DVR Snap-On (optional)
TV Snap-On (optional, only in Europe)
Battery dock, HDMI Mini-Dock, GPS In-Car Holder (all optional)

Video playback:

MPEG-4 HD (up to 720p)
MPEG-48 ([email protected] AVI, up to DVD res.)
H.264 HD (up to 720p)
WMV ([email protected], up to DVD) including WMV protected files
M-JPEG (Motion JPEG Video) in QVGA
Cinema (via optional plugin) support for MPEG-2, WMV HD (720p), VOB

Audio playback:

Stereo MP3 decoding @ 30-320 Kbits/s CBR & VBR
WMA and protected WMA
WAV (PCM/ADPCM)
AAC9 (except protected content)
AAC+ stereo audio files
FLAC
OGG Vorbis
AC3 stereo audio and 5.1 sound files (via optional plugin and SPDIF output of optional DVR Station)

Photo formats — JPEG, BMP, PNG, GIF
Video recording — Via optional DVR Station or DVR Snap-on, records NTSC/PAL/SECAM in MPEG-4 AVI with stereo, VGA resolution @ 30fps or 25fps; MPEG-2 TS TV recording (optional TV Snap-on only)
Audio recording — Voice recording via microphone; music recording via optional DVR Station or DVR Snap-on, records via stereo line-in and WAV (IMA ADPCM or PCM)
Battery — Lithium Polymer; USB charging; optional external adapter/charger; up to 22 hours music play; up to 7 hours video
Dimensions — 5.6 x 3.1 x 0.4 inches (143.2 x 78.8 x 10.4mm); HDD version 5.6 x 3.1 x 0.8 inches (143.2 x 78.8 x 20mm)
Weight — 6.4 oz (182 g); HDD version 10.1 oz (286 g)
Operating system — Android and Linux (PMP); min. desktop connectivity requirements Windows XP, Vista with WMP 11; Linux (with Mass Storage Device support)
Other somewhat similar Android-ready tablets include the ARM-based Zii Egg Stemcell Computer from Creative Technology subsidiary ZiiLabs. The Zii Egg offers offers a 3.5-inch display supporting 1080p HD video, plus an HD video camera, WiFi, GPS, Bluetooth, an SDK for its Linux-based Plaszma distribution, and an optional Android install. Meanwhile, GiiNii hopes to ship an Android-based PMP in October called the Movit Mini, which offers a 4.3-inch screen, but at a lower 480 x 272 resolution.
Stated Henri Crohas, Archos CEO. "Android offers to the consumer unlimited ways to customise the tablet with thousands of apps, all easily available on the device or through the AppsLib Store."
Availability
The Archos 5 Internet Tablet will be available from retailers, Amazon, and Archos starting tomorrow, Sept. 16, at prices ranging from 200 British Pounds ($330 US) to 370 Pounds ($610), says the company. More information may be found here.
The Laptop mini-review of the Archos 5 may be found here.
---
This article was originally published on LinuxDevices.com and has been donated to the open source community by QuinStreet Inc. Please visit LinuxToday.com for up-to-date news and articles about Linux and open source.