Apr 9, 2010 — by Eric Brown — from the LinuxDevices Archive — views
Apple might have just tipped its iPhone OS 4.0, but Android has jumped to nine percent of the U.S. smartphone market, according to ComScore. Meanwhile, Nielsen says U.S. smartphone sales will eclipse feature-phone sales by 2011, and ABI Research predicts that over 800 million Android apps will be downloaded this year, making it the fastest-growing OS in app downloads.
Yesterday, the mobile-phone industry focused, for a change, not on Android, but on Apple, which sponsored a sneak peek event version 4.0 of the iPhone operating system. Due to arrive this summer, iPhone OS 4.0 chiefly focuses on adding multitasking, although it remains to be seen whether it will match the multitasking chops of Android or the Linux-based Palm WebOS — neither of which matches desktop PC multitasking performance.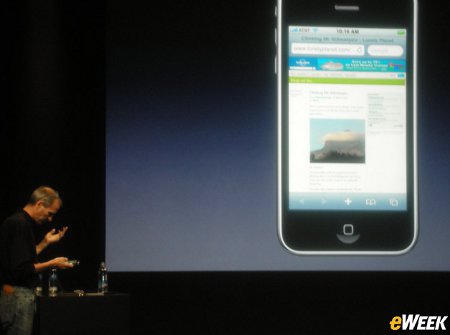 Steve Jobs, trying to summon insanely great multitasking from iPhone OS 4.0
Source: eWEEK
(Click to enlarge)
Other iPhone OS 4.0 enhancements primarily focus on enterprise features, says a story in our sister publication,
eWEEK.
New features are said to include support for multiple Exchange mailboxes, e-mail encryption, SSL VPN support, enhanced mobile device management options, and support for distributing enterprise applications without the intervention of iTunes.
ComScore: Android nears double-digit smartphone share
With version 4.0's enterprise focus, Apple seems to be competing with leading U.S. smartphone vendor Research in Motion (RIM) more than it is with Android. Yet, both the iPhone and RIM's BlackBerry may need all the help they can get to ward off the Android invasion. ComScore released another one of its three-month tallies of the U.S. smartphone market, showing that the Google-backed, Linux-based mobile operating system had risen to a nine percent market share, up from 3.8 percent, moving up to fourth place past Palm.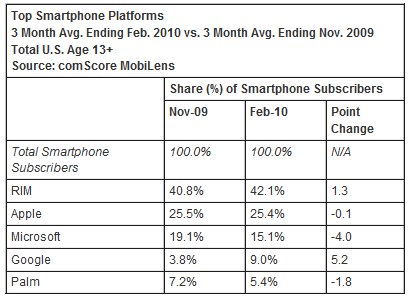 U.S. smartphone share by OS, three month average ending Feb. 28
Source: ComScore
After Android's 5.2 percent increase, RIM enjoyed the second fastest smartphone market share increase in the U.S., with a 1.3 percent rise to 42.1 percent, says ComScore. Apple dropped by a hair (0.1 percent) to 25.4 percent, keeping the iPhone in second place after RIM, while Microsoft held on to third place despite a four point loss, reducing the Windows Mobile share to 15.1 percent.
Palm, meanwhile, dropped from 7.2 percent share to 5.4 percent over the same period, says the research firm. It's unclear how much of Palm's share is WebOS vs. Garnet, or where the losses were felt.

An eWEEK story on the ComScore report by Clint Boulton suggests that the boost in Android's numbers is probably due largely to the fast start of the Motorola Droid (pictured). This would seem to be a reasonable hypothesis considering that Verizon has sold well over a million of them.
Yet, according to ComScore, Motorola dropped 1.9 percent in the total U.S. handset market share during the same period, barely holding on to first place for OEM market share at 22.3 percent. This would suggest that the company's wild success with the Droid and relative success with its other (predominantly Android) smartphones has not overcome its losses in the feature-phone market.
LG and Samsung follow Motorola, with both trailing closely at over 21 percent share, says ComScore. The fastest growing OEM is said to be RIM with a 1.7 percent increase to 8.2 percent, although it's still in fifth place behind Nokia, at 8.7 percent.
Almost a third (29.4 percent) of U.S. mobile subscribers for all handsets, including feature-phones, used a web browser, up 2.4 percent from the previous year, reports ComScore. Some 18 percent of mobile subscribers used social networking sites during the period, up from 15.1 percent, says the research firm.
Nielsen: Smartphones to overtake feature phones in U.S. by 2011
According to ComScore, U.S. smartphone use grew 21 percent during the period. This growth was reflected in a Nielsen smartphone study that came out this week that was also cited by the eWEEK story. The study estimates that 21 percent of American wireless subscribers used smartphones by the end of 2009, compared with 19 percent in the third quarter and 14 percent at the end of 2008.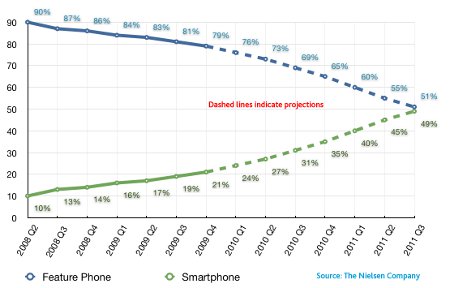 U.S. smartphone penetration and projections, smartphones vs. feature-phones


Source: The Nielsen Company
(Click to enlarge)
The share of smartphones as a proportion of overall device sales is said to have increased to 29 percent for phone purchasers in the last six months. Meanwhile, 45 percent of respondents to a Nielsen survey reportedly said their next device will be a smartphone. Due to falling prices, increasing capabilities, and "an explosion of applications," by the end of 2011, Nielsen expects more smartphones to sell in the U.S. than feature phones.
ABI: Android app downloads to 800 million
The number of apps and the frequency of downloads has become a major indicator of success for smartphones, if not an instigator for more of the same. This week, ABI Research reported that just under six billion mobile applications will be downloaded in 2010, up from an estimated 2.4 billion in 2009 — with Android seeing some of the fastest growth. This year, Android apps will be downloaded 800 million times, according to the study, displacing BlackBerry for second place in app downloads after the clear leader, Apple's iPhone.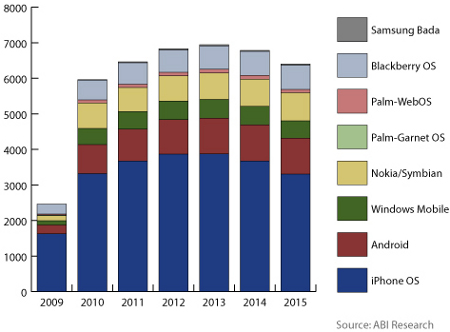 Application downloads, world market, forecast for 2009-2015
Source: ABI Research
"The iPhone will continue to be the leading app platform, with a database of over 125,000 applications offering niche and localized content," stated ABI wireless research associate Bhavya Khanna. "Other platforms are still playing catch-up, with Android being the fastest gainer among them. ABI Research expects that with over 30,000 applications now available, over 800 million Android applications will be downloaded in 2010."
App download increases will continue next year, as Samsung's Bada OS and Microsoft's Windows Phone 7 Series app stores ramp up, says ABI Research. However, revenues for app downloads are expected to decline by 2012 due to growing pricing pressures and more free apps, says the research firm.
Availability
The eWEEK story on Apple's iPhone OS 4.0 may be found here, and a slide show of the sneak peek event should be here.
The ComScore blog on its mobile phone report should be here, and eWEEK's story on both the ComScore and Nielsen reports should be here.
The Nielsen blog on its smartphone study should be here.
The ABI Research announcement of its app download report should be here.
---
This article was originally published on LinuxDevices.com and has been donated to the open source community by QuinStreet Inc. Please visit LinuxToday.com for up-to-date news and articles about Linux and open source.