Aug 8, 2011 — by Eric Brown — from the LinuxDevices Archive — 152 views
Elektrobit Corp. (EB) announced a Android reference platform for vertical-market smartphones and tablets. The EB Specialized Device Platform is available now with a Texas Instruments OMAP3 processor — an OMAP4 version is coming next year — and a 4.0- or 4.3-inch WVGA capacitive touchscreen, plus a wide variety of wireless and sensor options including 4G LTE.
The EB Specialized Device Platform is designed for smartphone and tablet product development for "specialized verticals" in markets including defense, public safety, and security, says EB. Components are designed to support extended product life cycles, says the company.
Rather than offer a single generic reference platform, EB supplies a "made-to-order" mobile device design that incorporates key design options desired for a particular market segment. For example, military vendors can specify MIL-STD-810G mechanics for a ruggedized Android handset, or can order a pre-integrated proprietary security engine or optimized proprietary software application to extend battery life, says the company.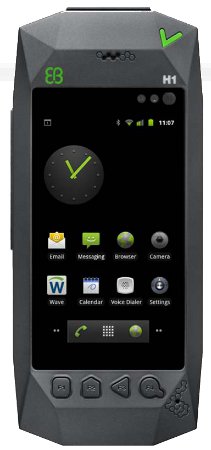 EB Specialized Device Platform
(Click to enlarge)

Currently available is a design based on a Texas Instruments (TI) OMAP 3xxx system on chip (SoC) running Android 2.2. This is most likely the general purpose OMAP3530, which clocks to 720MHz, and/or the similarly ARM Cortex-A8-based, smartphone-specific OMAP3430 or OMAP3440, with the latter adding 720p video support.
Starting in the first half of 2012, customers can also choose a dual-core, Cortex-A9-based OMAP4xxx SoC (most likely the OMAP4430 and/or OMAP4440) clocked at up to 1.5GHz, running Android 2.3. An Angstrom Linux stack is also supplied for either platform, along with an EB Guide HMI development engine and environment.
The OMAP processors are said to have been chosen for their performance, Android support, and integrated TMS320C64x+ digital signal processor (DSP) clocked to 600MHz (OMAP3) or 600MHz (OMAP4). DSPs are said to be particularly in demand by vertical markets: For example, defense or public safety communications can utilize a software defined radio (SDR).


EB Specialized Device Platform block diagram
(Click to enlarge)
The initially available OMAP3 model offers 512MB mDDR RAM and 1GB NAND flash. There's also support for eMMC storage up to 64GB, and an SD/SDHC/SDXC expansion slot, says EB. The upcoming OMAP4 model will feature 1GB of LPDDR2 RAM, as well as the same eMMC and expansion options, says the company.
A four-inch or 4.3-inch capacitive touchscreen with 800 x 480 WVGA resolution and "superior sunlight readability" is also available. The OMAP3 version provides an optional low-resolution auxiliary status display, and the OMAP4 version will offer an optional dual high-resolution display, says EB.
Cellular options are said to include GSM/GPRS/EDGE and UMTS/HSDPA 2G 3G cellular modems, as well as a 4G LTE-FDD modem at 700MHz. The latter is said to offer support for Bands 14, 17, and 13, Category 3. There's also an optional COTS cellular module for adding alternative interfaces such as CDMA2K, says the company.
Other wireless options are said to include 802.11n, Bluetooth 2.1, and an S-Band (2.0/2.2GHz) GMR1-3G satellite receiver. Either GPS or cellular-assisted aGPS are available, as are a variety of accelerometer and sensor options. Standard features include advanced battery and power management technology, says EB.
Customers have a choice of a complete turnkey solution, in which EB will develop and manufacture the product, or pick between two joint development approaches, says the company. In the first, EB and the customer cooperate on the device development, followed by EB handling all aspects of the manufacturing and end-product supply chain cycles. In the second, the companies are said to cooperate on device development, but the customer is responsible for end-device manufacturing and supply.
Stated Jani Lyrintzis, vice president and general manager, EB, "Specific markets such as defense and public safety require unique mobile devices that must meet stringent compliance and regulatory requirements; thereby making it difficult for them to deploy traditional smartphones and tablets across their field teams. EB has solved this problem, by introducing the Specialized Device Platform."
Availability
The EB Specialized Device Platform is available today with an OMAP3 processor and 3G cellular connectivity options. Devices requiring the OMAP4 Series SoCs or the LTE cellular option can be commercialized in the first half of 2012, says the company. More information may be found at the EB Specialized Device Platform page.
---
This article was originally published on LinuxDevices.com and has been donated to the open source community by QuinStreet Inc. Please visit LinuxToday.com for up-to-date news and articles about Linux and open source.