Jun 8, 2009 — by Eric Brown — from the LinuxDevices Archive — views

Elektrobit Corp. (EB) demonstrated a cellular-voice-enabled mobile Internet device (MID) reference design that will run Intel's next-generation Moorestown mobile processor on the "Moblin v2 for MIDs" stack sometime next year. Meanwhile, Red Flag (Midinux) and Move Networks (Media Player plug-in) announced support for Moorestown/Moblin MIDs.
(Click for larger view of EB's Moorestown-based MID reference design)
Finland-based EB claims to have designed the world's first MID reference device in 2007. This appears to be the Atom-based design that was first publicly unveiled at the GSMA show in Barcelona in February 2008. The Linux-ready design supported WiMAX, WiFi, and Bluetooth, and used VirtualLogix's VLX technology to run VoIP functions in a separate environment from Linux for better voice QoS (quality-of-service).
The new design is based on the "Moorestown" processor, a next-generation heir to the Intel Atom that was demonstrated by Intel in April. First promised in a Sep. 2007 IDF keynote, the processor will be available sometime in 2010, according to Intel. Moorestown consists of a SoC (system on chip) codenamed "Lincroft" and an I/O hub codenamed "Langwell." According to Intel, Lincroft integrates a 45nm Atom processor core with a graphics, video, and memory controller. Intel has long promised that Moorestown will have an idle power consumption just 1/10th of today's Atoms.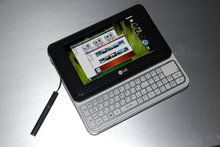 LG's first-gen MID prototype
(Click for details)
In February, Intel announced that it was collaborating with LG Electronics on a Moorestown-based MID due in 2010. Like the LG MID design, the EB design will run a MID-focused version of the Linux-based Moblin v2 distribution that will add cellular voice capability.
A fresh start for MIDs?
So far, MIDs based on the Intel Atom and the first generation of Moblin appear to have had a slow start, although it's hard to tell how well the devices are being received since relatively few manufacturers, retailers, or wireless carriers have pushed the devices in any major way. Shortcomings of the first generation, which were targeted primarily at Asia, include the Moblin v1 stack's immaturity and lack of supporting applications. In addition, the lack of broadband wireless deployments slowed acceptance, and the devices' limited battery life was seen as a major drawback for an "always on" device.
Moblin v2 appears to be far more complete and slick, at least for netbooks, and the MID version is likely to inherit those qualities. With major Linux distros like Ubuntu and Xandros embracing the technology, software availability should be improved. Broadband wireless deployments have accelerated sharply over the last year, and should continue to grow by the time the new MIDs appear next year.
Moorestown, meanwhile, should provide for much better battery life, and judging from the EB design, will also enable a smaller more "pocketable" design that brings the devices closer to the smartphone form-factor than the small-scale ARM-based, "smartbook" netbooks and tablet devices that were shown off last week in Computex. In fact, with the compact footprint and cellular telephony capability of the new designs, Move Networks says its is primarily targeting "high-end smartphones" with its media player designed for the Moblin/Moorestown platform (see farther below).
EB's sleek new MID design
EB's reference design is said to have been developed in collaboration with Intel and Ericsson, and is offered to OEMs along with device customization services, says the company. The design stands out as being considerably smaller than the first generation of MIDs. For example, whereas the BenQ S6 MID measures 6.2 x 3.5 x 0.9 inches, the EB design measures only 5.3 x 2.8 x 0.5 inches (135 x 72 x 14.5mm). The four-inch screen, however, is larger than that of a typical smartphone.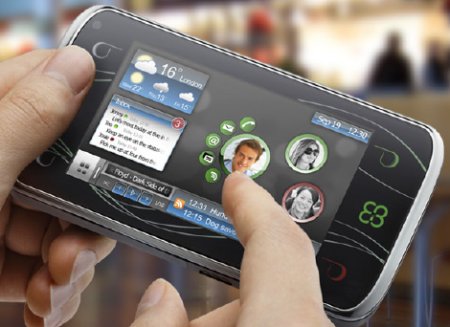 EB's second-generation MID design
Unlike the LG model, which has a slide-out keyboard, the EB design appears to be driven solely by the touchscreen, as well as a speech interface. The device offers "the latest 3D and haptics touch-screen technologies for sensation-based feedback and control," says EB.
The EB MID is equipped with an HDMI port and offers HD quality video playback, "even with dual screen output," says the company. The device offers WiFi and either mobile WiMAX or HSPA 3G cellular, as well as GPS, a micro-USB port, and an SD memory card. Communication connections are said to be available for cellular voice, SMS, IM, email, and video.
The Moblin v2-compliant Linux-based user interface (UI) is said to be based on Qt Software's Qt framework. Software is said to be available for playback of portable digital content, as well as for connecting to social networking forums. The design also ships with the company's EB Street Director application, which it defines as a "customizable white label solution that offers a high-end, speech-enabled, turn-by-turn-navigation experience."
Software for Moorestown-ready Moblin v2 for MIDs
Several software firms have endorsed the Moblin v2-based stack that will run on the new Moorestown chips. China-based Red Flag, whose Midinux distro was the default distribution offered with Intel's original MIDs, announced last week at the Computex show that it was supporting Moblin v2 in its Midinux 3.0 distro. The company apparently demonstrated a MID running Midinux 3.0, which is based on the current beta-level Moblin v2 for Netbooks stack. This will presumably be modified for the upcoming MID- and Moorestown technologies when they ship next year, and should be particularly key in supporting Intel's major MID push in the Asian markets.
Move Networks, meanwhile, announced that its Move Media Player for MIDs plugin will be updated to support Moblin v2- and Moorestown-based MIDs, as well as "high-end smartphones." The Move Media player plugin will leverage the hardware-accelerated codecs available with Moorestown "to enable power efficient video decoding into high-definition resolution," says the company.
The new plugin will enable the media player and programming guide to be pre-loaded and pre-integrated on the devices, and allow easy "turn on" of any Move enabled device, says the company. These capabilities are said to be derived from technology acquired when it bought U.K.-based IPTV and VOIP provider Inuk Networks last month. Move Networks' player is said to work with global broadcasters including ABC, FOX, ESPN, CW, Televisa, and ProSieben.
Stated Vesa Kiviranta, VP, EB Wireless Solutions, "We focused on delivering an Internet-centric, trendsetting device with wireless broadband connectivity that offered a powerful PC-like experience, yet was completely pocket-able."
Stated Amy Schoen, director of Consumer Device Programs at Move Networks, "By supporting Intel's next generation Moorestown platform and the Linux-based Moblin OS, we're reinforcing our commitment to servicing the mobile market and to deliver an Internet television experience to anyone, on any Internet connected device, at any time."
Availability
None of the companies mentioned availability for the products mentioned above, except for Midinux 3.0, which is said to be available now. Presumably, most of the products won't appear until at least later in the year, if not 2010, when the Moorestown begins to sample.
More information on the Elektrobit MID design may be found here. More on Red Flag's Midinux may be found here, and information on Move Networks may be found here.
---

This article was originally published on LinuxDevices.com and has been donated to the open source community by QuinStreet Inc. Please visit LinuxToday.com for up-to-date news and articles about Linux and open source.