Dec 8, 2010 — by LinuxDevices Staff — from the LinuxDevices Archive — 8 views
Texas Instruments (TI) has responded to growing competition in the mobile processor market by goosing the clock speeds of its ARM Cortex-A9 SoCs (system on chips). The dual cores on the OMAP4430 and OMAP4440 will run at 1GHz and 1.5GHz respectively, allowing devices based on them to support dual cameras taking stereoscopic 3D video, the company says.
TI was an early adopter of ARM's Cortex-A9 processor core, which implements the same ARMv7 used on the Cortex-A8, and adds an MPCore interconnect layer for multiple processor support. While as many as four cores are possible with MPCore (see block diagram, here), TI's OMAP4430 and OMAP4440 were announced in February 2009 with two cores apiece, as depicted below.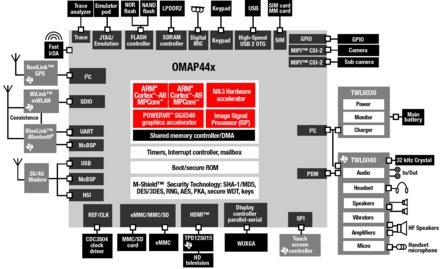 OMAP44x function block diagram
(Click to enlarge)
In its 2009 Mobile World Congress (MWC) announcement, TI said it would begin sampling the OMAP4430 and OMAP4440 during the second half of 2009. That apparently didn't come to pass, but the company's February 2010 followup ambitiously described the OMAP44xx SoCs as "sampling today."
It now appears that, in fact, only the lower-end OMAP4430 actually sampled — and as far as we're aware, that SoC hasn't actually made it into any finished devices. Meanwhile, TI's competitors have been catching up, announcing Cortex-A9 SoCs of their own. (Examples include Nvidia's Tegra 250, Renesas' EMMA Mobile/EV1 and Mobile EV/2, Nufront's NuSmart 2816, and STMicroelectronics' SPEAr1310.)
And, in September Global Foundries announced a "significant milestone" in the production of smaller, power-saving Cortex-A9 implementations, adding that the 28nm parts could reach an Intel Atom-beating 2.5GHz. The company also provided a timeline for the introduction of 22nm and 20nm manufacture, as we reported at the time.
While TI doubtless maintains its real-world lead, the company's 45nm-fabbed OMAP44x devices were perhaps starting to look a little stodgy. But the chipmaker announced Dec. 9 that the OMAP4430 and OMAP4440, originally envisioned as running at 720MHz and 1GHz, will now be clocked at 1GHz and 1.5GHz, respectively.
As before, TI says, both SoCs will provide both hardware accelerated 2D and 3D graphics and 1080p HD video playback. The company now further adds that the OMAP4430 will support dual (stereoscopic) five megapixel video cameras, taking 3D movies at up to 720p. The OMAP4440, meanwhile, will support dual 12 megapixel cameras and take 1080p 3D videos, the chipmaker says.
Other previously announced features include:
10+ hours of 1080p HD video playback
4+ hours of 1080p HD record
POWERVR SGX540 graphics engine
3D UI support
Resolutions up to WSXGA (1680×1050)
HDMI compatible
12 x 12 x 0.4mm POP (package-on-package)
Supports Pico projection technology
The clock speed bumps may have impacted battery life somewhat, since TI originally said the OMAP44xx devices could provide "more than 140 hours" of CD-quality audio playback. The company is now claiming "up to 120 hours," though we didn't see a comparable specification for video.
Remi El-Ouazzane, vice president of TI's OMAP platform business unit, stated, "We seized an opportunity to enhance the platform capabilities driving the OMAP4430 processor's success today. As OMAP4430 processor-based products hit the market in the first half of 2011, we're arming our customers with a huge performance boost via an easy migration to the OMAP4440 processor for their next wave of exciting devices."
Availability
According to TI, the OMAP4440 will begin sampling in the first quarter of 2011, with production expected by the second half of the year. Like the OMAP4430, it will be compatible with Windows Mobile and Linux, including Android and Chrome, the company adds.
More information on the OMAP44xx SoCs may be found on the company's website, here.
---
This article was originally published on LinuxDevices.com and has been donated to the open source community by QuinStreet Inc. Please visit LinuxToday.com for up-to-date news and articles about Linux and open source.