Oct 5, 2009 — by Eric Brown — from the LinuxDevices Archive — views
AdMob has issued a research report on mobile-phone data usage, claiming that the iPhone leads in mobile usage, but that the Linux-based Palm Pre and Android phones are rising fast, says eWEEK.. Meanwhile, Palm released a WebOS 1.2.1 upgrade that reconnects the Pre to Apple's iTunes, says another eWEEK story.
Unlike most mobile-phone research reports, which are based on handset sales, AdMob's study is drawn from analyzing data from ad requests, impressions, and clicks to see which platforms are making the most use of the mobile Web, says a story by Michelle Maisto in our sister publication, eWEEK.
During the last six months, through the end of August, the iPhone OS "usage" marketshare was the largest, growing from a 33 percent share of mobile data to 40 percent, according to AdMob. The only other platform in the same neighborhood was Symbian, but it was moving in the opposite direction, going from 43 percent to 34 percent share, says the story.
The two fastest-growing platforms for mobile traffic were both based on Linux. Traffic from Android phones was said to have risen from two percent to seven percent. The Palm Pre (WebOS), meanwhile, came out of nowhere to hit a four percent share in just three months.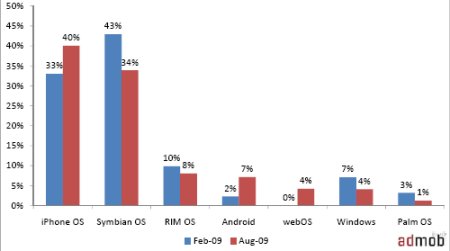 Worldwide operating system share, Admob Network
(Source: Admob)
Stated AdMob, "Android continues its strong growth in both North America and Europe. Ad requests from Android devices grew 17 percent month over month in August, following a 50 percent increase in July. Given the new devices launching in Q4, it could be a huge holiday season for the Android platform."
Alleged losers in mobile traffic included Windows Mobile, which fell from seven to four percent and Palm's other operating system, Palm OS, which fell from three percent to one percent, says eWEEK. Interestingly, the high-flying Research In Motion (RIM) also dropped slightly, from 10 percent to eight percent, says the story.
Looking strictly at August's results, the top four smartphones for mobile traffic were the iPhone, the HTC Dream, the Palm Pre, and RIM's BlackBerry 8300. The HTC Dream, sold by T-Mobile as the G1 (pictured), was the original Android phone, having shipped almost a year ago. The G1 is apparently is still being used in greater numbers than the other major Android phone that has been shipping for awhile, T-Mobile's HTC-made, keyboard-free MyTouch 3G, which has been shipping since July. The two T-Mobile phones are now being joined by a number of other Android models from HTC, Motorola, and others.
In the U.S., the iPhone represented 50 percent of smartphone mobile data use, followed by RIM, with 14 percent and Android with 13 percent, says the story. Palm's WebOS for the Palm Pre (and soon, the Palm Pixi) represented nine percent, according to the Admob numbers. Outside North America, Nokia handsets topped the smartphone lists.
Looking worldwide, AdMob found that the U.S. dominated mobile traffic with 46.5 percent of ad requests, followed by India, with 6.2 percent of requests, and Indonesia with 5.5 percent. The next three positions were said to go to the U.K., the Philippines, and Mexico, respectively.
Palm re- re-connects Pre with iTunes
After Apple blocked the Palm Pre's WebOS from syncing with Apple's iTunes software earlier this summer, Palm issued a WebOS 1.1 update in July that reconnected the iTunes sync. Shortly thereafter, Apple once again updated iTunes to block the Pre from tuning in to the popular music site.
Now, according to a Nicholas Kolakowski story in eWEEK today, Palm has released WebOS 1.2.1, once again syncing up the Linux operating system with iTunes (but probably not for long, one would suppose). The WebOS 1.2.1 update, which is a minor upgrade compared to last week's WebOS 1.2 release, also resolves a glitch that prevented Microsoft Exchange 2007 users from fully synchronizing with their email account for email, contacts, calendar, and tasks, says the story.
Availability
The AdMob report on smartphone mobile phone usage by operating system and region may be found here.
The eWEEK story on the AdMob report may be found here. The eWEEK story on Palm reconnecting WebOS to iTunes should be here.
---
This article was originally published on LinuxDevices.com and has been donated to the open source community by QuinStreet Inc. Please visit LinuxToday.com for up-to-date news and articles about Linux and open source.