Sep 25, 2009 — by Eric Brown — from the LinuxDevices Archive — views
Rumors that Verizon Wireless is backing out of its plans to launch the Palm Pre are now being questioned, says CNET. Meanwhile, Sprint has released Android development tools on the eve of launching the HTC Hero, and Cellular South will offer the Hero for its five-million customer network, says eWEEK.
In May, Verizon Wireless announced it would start offering the Linux-based Palm Pre around the end of the year, when Sprint's exclusivity contract with Palm runs out. Now, the carrier has changed its tune, according to a story in The Street by Scott Moritz. "People close to the discussions" say Verizon has decided not to offer the smartphone, according to the story. When Moritz asked Palm representatives about the story, they were said to have answered that the company has never named Verizon as one of its partners.
Two analysts are questioning the rumor, according to a story by Marguerite Reardon on CNET today, yet no one has definitively rebuked it. The story quotes analysts from Deutsche Bank and Morgan Keegan as suggesting that they have heard no such plans from Verizon Wireless. Morgan Keegan's Tavis McCourt suggested to Reardon that the reversal was unlikely, considering Verizon Wireless' long record of fielding Palm phones, and suggested that the rumor might have been spread to influence stock prices.
If the rumor is true, however, such alleged skittishness about new phone platforms might be "business as usual" for Verizon Wireless. Noted for its conservatism, the carrier has apparently rejected a number of Android contenders, including possibly, Motorola's phones. It has yet to pick a Linux-based model definitively, although it has previously announced plans for phones based on WebOS, Android, and LiMo.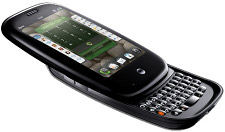 Palm's Pre (left) and Pixi (right)
(Click either to enlarge)
If the reversal holds up, however, it can't be good news for Palm, as it would leave Sprint, Canada's Bell Mobility, and Telefonica's O2 (see below) as the only carriers offering the Palm Pre.
Telefonica's O2 moves forward on the Pre
According to a story by Nathan Eddy at our sister publication, eWEEK, Telefonica's O2 network is moving forward on plans to be the exclusive British distributor of the Palm Pre, starting on Oct. 16. In July, Telefonica had announced intentions to offer the Pre that same month in the U.K., Ireland, and Germany, but its plans were apparently delayed. There was no mention of when the Irish or German launches would move forward.
At the time of Verizon Wireless' announcement, AT&T CEO Randall Stephenson was quoted by Reuters as saying he would like his network to offer the Palm Pre at one point, yet considering the feuding that has erupted between Apple and Palm over iTunes syncing, that might prove a difficult sell for the exclusive U.S. provider of the iPhone. Meanwhile, the scaled-down "mini-Pre," called the Palm Pixi (pictured above, right), will also be offered on Sprint, starting in the fourth quarter.
Palm dumps Windows Mobile
Last week, Palm announced that it will abandon Windows Mobile for its future smartphones in favor of the Pre's homegrown, Linux-based WebOS. According to a story by Jonathan Angel in our sister publication, WindowsForDevices, Palm reported fiscal 1Q 2010 results showing a year-over-year drop in sales of 30 percent. Sales were up 134 percent over the previous quarter, by most accounts due to brisk sales of the Palm Pre, but the sales were not enough to keep the company from losing $164.5 million in the quarter, or $1.17 a share.
Even if Palm's financials were strong, Pre sales might not be high enough to keep the Pre afloat in today's highly competitive smartphone market, suggests eWEEK's Don Reisinger, in an analysis partially inspired by the apparent Verizon snub. In addition to the Pre's relatively modest sales — modest, at least, compared to those of the iPhone and the BlackBerry — other obstacles are the lack of apps, the relatively small Sprint network, and a relatively high price, Reisinger says. In addition, he addes, although innovative in some ways, the Pre and its WebOS lack a single galvanizing differentiator that might have lifted the Pre above the iPhone.
One might argue that WebOS's Palm Synergy, which offers synchronization and social integration features that in some ways exceed those of the iPhone, could be held up as a differentiator. Yet since the Pre arrived, other phones have announced features that at least on the surface appear to match Palm Synergy.
Similar contenders include HTC's Sense UI found on the Android-based HTC Hero, Motorola's MotoBlur service offered for the Android-based Cliq, and the 360 service Vodafone is rolling out for its phones, starting with the new LiMo (Linux Mobile) smartphone from Samsung called the Vodafone 360 H1 (pictured above, at right). Even Moblin's upcoming Moblin v2.1 for Handhelds will offer a "Myzone" social networking interface for smartphone-like devices sometime next year.
Reisinger barely mentions Android in his analysis except for making one key point: Google's Android Market has over 8,000 applications compared to a few dozen for WebOS. Indeed, apps are essential for rising above the fray in the smartphone wars these days, and that means developers are essential as well. Linux developers who have been waiting for years for Palm to develop a cool Linux mobile OS (which WebOS appears to be), were already being wooed by Android by the time the Pre arrived, and Palm's delays in releasing APIs and other essential tools didn't help.
The app gap is a LiMo dilemma, as well. However, the LiMo Foundation is not a company, and the LiMo spec gives ample customization power to carriers, which have the finances to help compensate for the app gap, and win more time to gain developer support.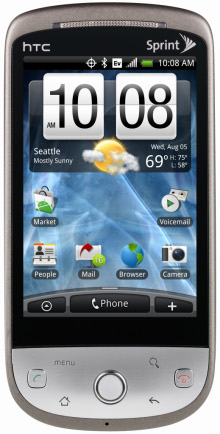 Sprint's version of the HTC Hero
HTC Hero wins some battles
The HTC Hero and its Sense UI appears to be gaining momentum ahead of its expected October launch by Sprint, which will also launch a scaled-down version called the HTC Tattoo. According to an InformationWeek story by Marin Perez, Sprint has posted new development tools this week for Android and HTC's Sense UI on its developers site. The tools are said to include a Sprint developer sandbox, which offers developer access to free network services, plus location, messaging, and geo-location APIs. Sprint will also dedicate portions of its upcoming Open Developer Conference to Android aimed at drawing developer interest, writes Perez.
In a separate story, Perez reports that Cellular South, a regional carrier with five million users in Mississippi, Alabama, Florida, and Tennessee, plans to offer the Hero. The carrier said it would start taking pre-orders for the phone on October 5, but did not announce a launch date, says the story.
Availability
The Scott Moritz story in The Street, alleging the Verizon Wireless' Palm Pre pullback may be found here, and the Marguerite Reardon story on CNET questioning the rumor should be here.
Nathan Eddy's eWEEK story on the O2 launch of the Pre may be found here, and the Don Reisinger eWEEK analysis, "10 Reasons Why Palm Pre May Become the Smartphone Flop of 2009," may be found here.
The Marin Perez story on InformationWeek about Sprint's Android tools should be here, and Perez's story on Cellular South's Hero plans should be here.
---
This article was originally published on LinuxDevices.com and has been donated to the open source community by QuinStreet Inc. Please visit LinuxToday.com for up-to-date news and articles about Linux and open source.