Jul 13, 2011 — by LinuxDevices Staff — from the LinuxDevices Archive — 1 views
Sprint's Motorola Xprt smartphone sports a small display atop a physical QWERTY keyboard. This Android-powered device is low-priced, but only hardcore enterprise e-mail users will bother to buy one, this eWEEK review argues.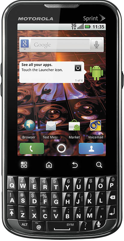 Normally when I lead off a gadget review I note how I've used a phone/tablet as my primary communications or media consumption device for the past X number of days or weeks. but I can't in good conscience claim that with Sprint's Motorola Xprt (right), which you can buy now for $130 on a two-year deal.
I tried using the Xprt regularly for the last week, but kept putting it down in favor of my Motorola Droid X to watch YouTube clips, download apps, and do other things I like to do via a bigger virtual touchscreen.
It's not that the Xprt is a bad phone. On the contrary, the device is solid, running Android 2.2 and capably powering YouTube, Gmail, Facebook, LinkedIn, and all manner of applications with its 1GHz processor. (See additional specs in our previous coverage.)
The device is almost exactly like the Motorola Droid Pro Verizon Wireless launched last November for $180 with contract. Both devices feature 3.1-inch HVGA (320-by-480 resolution) displays perched atop full QWERTY keyboards, and both promise encryption to secure corporate data. Both devices enable international roaming in over 200 countries, which is ideal for the corporate road warrior traveling to and fro for business.
The Xprt's similarity to the Droid Pro isn't the problem. The problem is the form factor; the device, which is business-brisk gray and black enclosed in a pebbled plastic casing, looks and works like a BlackBerry from Research in Motion. As in, the BlackBerries that used to be super-popular all over the country, but are being ignored or tossed aside for Apple's iPhone and other Android smartphones with bigger, crisper touchscreens and even 4G radios.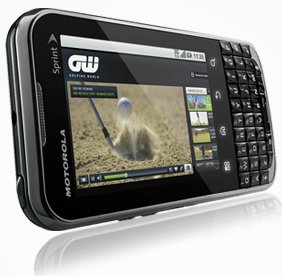 Motorola Xprt
When I tested the Droid Pro last November, I still believed smartphones with physical keyboards have their place in the world for power e-mail users on the go. Since that time, I've tested over a dozen Android smartphones, with most of them featuring a solid-to-great virtual keyboard.
I'm thinking of Sprint's Samsung Nexus S 4G, AT&T's Motorola Atrix 4G, and my current favorite, Verizon Wireless' Samsung Droid Charge. Heck, I'm even thinking of my own Droid X, which turns one year old this Friday (July 15). Old hardware? Maybe, but the phone runs Gingerbread great.
I'm no longer inclined to use, let alone buy, a phone that trades off a four-inch or greater virtual keyboard to split the input work between a Lilliputian touchscreen and a classic, BlackBerry-style QWERTY keyboard. But that's exactly what the Xprt, like the Droid Pro before it, offers.
I'd argue, based on RIM's plummeting BlackBerry market share, that most people agree with me. People want iPhones, with their hand-holding approach to user-friendly apps, and Android handsets with crisp Super AMOLED Plus resolution.
But gadgets are largely subjective, and I can recommend the Xprt for the mobile, power e-mail user who loves typing on a physical keyboard and isn't fond of watching a lot of YouTube or gaming on the go. I also recommend the Xprt for those corporate users whose companies have stringent IT security requirements RIM's Blackberry Enterprise Server may have spurred.
The Xprt includes protection for Microsoft Exchange and Outlook e-mail data with 256-bit AES data encryption. The device also lets IT admins enable a PIN or password lock, recover passwords, and wipe data on both the phone and SD card. These perks are core for enterprise device management practices and policies.
Calls on the Xprt were crisp, if unspectacular, with little echo or tinniess. Messaging on the Xprt is fantastic as mini QWERTY keyboards go: The Xprt is no BlackBerry gold standard, but the beveled keys served me well. And if you need a phone with global roaming, this one will work, since it offers both GSM and CDMA.
If you need a phone with a good camera, go for any other device with an eight megapixel sensor. The Xprt offers merely an old, standard five megapixel sensor, with rudimentary camcorder capabilities. (Motorola offers only a video capture rate of 480p at a time when the standard for capture and playback is now 1080p on Android phones.)
Battery life is excellent thanks to the 1860mAh lithium-ion juicer, which provides up to nine hours of talk time. I was able to use the Xprt for a full day of Web browsing, texting, calls and e-mailing without recharging. Remember, I wasn't inclined to play games or watch videos on this device — screen too small! — so that conserved much power.
RIM's comparable Blackberry Bold 9900 isn't due until August and if the device, which also combines a touchscreen with a keyboard, gets pushed to September or — God forbid for RIM — later, that leaves the Xprt with the possibility of a solid summer sales cycle.
But personally, I'm sticking with a big virtual keyboard with better resolution for good.
Further information
Further pictures of the Motorola Xprt may be found in this eWEEK slide show.
Clint Boulton regularly reviews Android phones for eWEEK.
---
This article was originally published on LinuxDevices.com and has been donated to the open source community by QuinStreet Inc. Please visit LinuxToday.com for up-to-date news and articles about Linux and open source.