Jan 13, 2010 — by Eric Brown — from the LinuxDevices Archive — 2 views
Google's Nexus One has received a rave review today from eWEEK joining many others that have praised the Android smartphone. However, Google has struggled with a first week filled with 3G complaints, suspicious banking apps, a potential lawsuit, and slow sales, says eWEEK.
It's been something of a rough first week for Google's Nexus One since its Jan. 5 launch on T-Mobile's network. Controversial from the start, with some claiming that the first Google-branded phone is an unwarranted power grab that could harm the platform, the fast, stylish device received some early rave reviews.
Since then, Google has struggled with complaints about spotty 3G access, alleged misleading presentation of pricing plans, and the removal by Google of suspicious Android banking apps, says our sister publication, eWEEK. As if that weren't enough, the family of the late sci-fi author Philip K. Dick is preparing a lawsuit over the trademark "Nexus One," and market research firm Flurry has reported disappointing first-week sales of the phone, say various reports.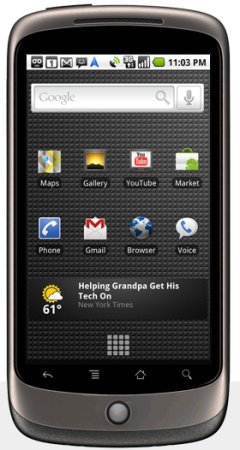 Google's Nexus One
We'll get to the positive reviews farther below, but first we examine the various controversies that have confronted Google over its first week as a hardware vendor.
3G complaints for the Nexus One
By late last week, Google's mobile help forum had "lit up with complaints" about the Nexus One's 3G service, says a Clint Boulton story in eWEEK. There have also been numerous complaints over miscommunication about the first Google-branded Android phone's properties, as well as pricing plans, according to the story. Meanwhile, some finger-pointing back and forth among Google, HTC, and T-Mobile over the service complaints has further riled new Nexus One owners, writes Boulton.
Google sells the Nexus One unlocked for $529 via its new retail channel Nexus One Webstore, or with a two-year service contract with T-Mobile for $179. The search giant has apparently had a tough first week in its new role as hardware service provider, however. Mounting complaints over poor 3G service are being addressed within two days in a triage-like fashion through Google's online support forum, says the story.
Google's redirection of complaints over the 3G problems to HTC and its pledge to answer e-mail inquiries within two days "aren't sitting well with customers accustomed to simply walking into an AT&T store to get help with their Apple iPhones, or owners of the Motorola Droid, who can waltz into a Verizon Wireless outpost and seek aid," writes Boulton.
A Google spokesperson told eWEEK that the company is "investigating these reports."
Google bounces suspicious app
Meanwhile, eWEEK's Brian Prince reports that Google has removed several banking applications from the Android Market app store for violating Google's terms of use. The incident has apparently elicited both criticism over Google's interference with the app store for the open source Android, and concern about the security of Android apps.
Developed by a hacker known as 09Droid, the apps used the names of banks including Chase, Sun Trust, and Bank of America, says the story. According to a First Tech Credit Union post, followed by a similar post by BayPort Credit Union, the apps "created a shell of mobile banking applications and tried to gain access to consumer information," writes Prince. Other developers, however, told Prince that the apps did not misuse or steal user information.
A Google spokesperson told Prince that the apps were removed because: "The Android Market Content Policy clearly states that we don't allow applications on Android Market to identify themselves with third-party marks without permission."
Prince quotes Mikko Hypponen, chief research officer at F-Secure, as predicting there will likely be more rogue applications on mobile devices, stating, "Some of them will try to target online banking, others will try to call premium-rate numbers or send text message spam."
Hypponen noted that signing and certification programs could help protect against such fraudulent apps, although even these efforts can be circumnavigated, says the story.
Philip K. Dick family preps lawsuit over Nexus One name
Last week, the family of deceased author Philip K. Dick last week sent a cease and desist letter to Google for infringement of intellectual property rights over the name of its Nexus One smartphone. Now, according to a story in ComputerWorld by Lexton Snol, Dick's daughter, Isa Dick Hackett, is preparing a trademark lawsuit against Google.
Hackett claims the names Nexus One and Android are lifted from her father's 1968 novel Do Android's Dream of Electric Sheep?, later made into the movie Blade Runner, says the story. Google has stated that the name Nexus was chosen because it reflects the convergent nature of the device, writes Snol.

Flurry report: Slow sales so far for Nexus One
Google may be less concerned with lawsuits than with this week's report from market research firm Flurry: Only 20,000 Google Nexus One phones were sold during the device's first week of sales, according to a PC World story by Daniel Ionescu. By comparison, sales of Verizon's Droid by Motorola (pictured at right) were 12 times higher in its first week, and Apple's iPhone 3GS sold 80 times as many phones in that period, says the story.
Ionescu notes that while the phone got plenty of press coverage, the marketing effort was slim compared to Verizon's Droid launch. Also, "mixed reviews for the Nexus One didn't help," says the story. Meanwhile, the 3G complaints may have also slowed sales, suggests the story.
eWEEK review: Nexus One "best Android device"
While some reviewers have been underwhelmed by the Nexus One (pictured below, at right), eWEEK's Boulton today posted a review of the the smartphone, calling it "easily the best Android device on the market."
The phone "makes the Droid seem clunky by comparison," and its AMOLED display is "crisp and bright," he adds. The 1GHz Qualcomm Snapdragon processor makes the phone "definitely a notch faster than the Droid and the iPhone 3GS," writes Boulton.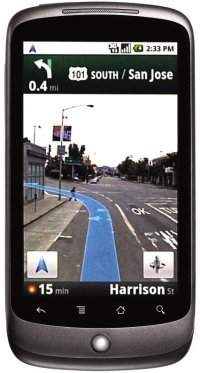 The review also likes the "great" Android 2.1 release, the "excellent" battery life (about nine hours), and the more responsive five-megapixel camera (compared to the Droid). Boulton also goes out of his way to praise the Facebook app, as well as the Nexus One's autosuggest capabilities.
According to the review, the new voice input feature, which lets users fill text fields for Gmail, Facebook, and other apps via voice, may be the most "exciting" feature on the phone, but it has too many problems. In the end, he dubs the feature too "iffy" for reliable use at this point.
Boulton also notes that 3G service is indeed a problem. "I can commiserate with the hundreds of complainants who noted that the service flipped back and forth from 3G to the Edge network," writes Boulton. "One thing you need in any phone is consistency in wireless coverage. It's not to be found here."
Despite, these flaws, Boulton gives the phone high marks and suggests that the problems should be fairly easily cleared up, although maybe not until Google's next self-branded phone, the Nexus Two. (By then, however, if Dick's estate gets its way, it might be called something else entirely.)
iSuppli's Nexus breakdown: $174.15 in "advanced" components
A nice sidebar to Boulton's Nexus One review is the recent Michelle Maisto story on eWEEK, covering iSuppli's recent teardown of the HTC-manufactured phone. According to iSuppli, the phone has a bill of materials (BOM) of approximately $174.15, not counting expenses such as manufacturing, software, box contents, accessories and royalties, says the story.
In addition to breaking down components and prices, iSuppli offered its own review of the Nexus One, which it found to be impressive, according to Maisto. The iSuppli report was said to have praised features such as the phone's "durable unibody construction," as well as the fast Snapdragon processor and AMOLED display. iSuppli was also impressed with the Nexus One's novel audio voice processor chip, from Audience Semiconductor, which helps to cancel noise interference, says the story.
According to Maisto, iSuppli concluded, "This gives the Nexus One the most advanced features of any smartphone ever dissected by iSuppli's Teardown Analysis Service — a remarkable feat given the product's BOM is similar to comparable products introduced during the past year."
iSuppli has previously estimated a BOM of $172.46 for the Apple iPhone 3G S and $170.02 for the Palm Pre, writes Maisto.
iSuppli was said to have found that the Snapdragon processor was the most expensive component in the Nexus One, at $30.50, followed by the 3.7-inch Samsung AMOLED display, at $23.50. The Synaptics capacitive touchscreen component that integrates with the display was said to cost $17.50, and the 512MB of Samsung double-data rate DRAM cost $20.40.
Availability
The eWEEK story on the Nexus One's 3G complaints may be found here, and its story on the suspicious banking app should be here.
ComputerWorld's story on the potential Philip K. Dick lawsuit against Google should be here, and the PC World story on Flurry's report of slow first week sales for the Nexus One should be here.
The eWEEK review of the Nexus One may be found here, and their story on the iSuppli breakdown should be here.
In addition, eWEEK has posted a slide show about the Nexus One, here, and offers evaluations of Google's Nexus One Webstore strategy here and here.
---
This article was originally published on LinuxDevices.com and has been donated to the open source community by QuinStreet Inc. Please visit LinuxToday.com for up-to-date news and articles about Linux and open source.