Jan 8, 2010 — by Eric Brown — from the LinuxDevices Archive — views
Lenovo unveiled a Qualcomm Snapdragon-based Android smartphone aimed for a 1H 2010 release in China, says eWEEK. Meanwhile, Dell officially announced a version of the Mini 3 Android smartphone aimed at AT&T's U.S. network, and showed off a MID-like Android "slate" prototype.
Joining the avalanche of new Android devices at CES this week, Lenovo's LePhone is skipping over the heavy Android phone competition in the U.S. and heading straight for China. Yet the LePhone is not the usual scaled-down model targeted at China, but closer to state of the art, offering the same 1GHz Qualcomm Snapdragon found in Google's new Nexus One phone, says a story in our sister publication, eWEEK.
The LePhone also offers a large 3.7-inch, 800 x 400 touchscreen, WCDMA with 3G cellular, WiFi, Bluetooth, GPS, and a three-megapixel camera, says the story. Measuring less than a half inch thick, the phone also provides integrated Twitter and Facebook applications, writes Maisto.
Leno

vo itself had few details on the product, but several sources reported more information from CES, including TechRadar, which offered a quickie hands-on review of the device and snapped the photo at left. According to the site, the LePhone also offers a secondary webcam, as well as a 3.5mm audio jack.
While eWEEK says the phone is an Androider, according to TechRadar, which seemed impressed with the device, the phone runs a "a proprietary Linux-based OS." PhoneScoop, meanwhile, takes a middle ground, calling the LePhone software a "heavily-customized version of Android."
Several mid-range, China-targeted Android phones, such as the Philips V808, offer a modified version of Android called oPhone, although no report has tied this to the LePhone. PhoneScoop adds that the phone has a "secondary touch area for navigation," which sounds a lot like the "Backtrack" touchpad on Motorola's new Backflip Android phone.
eWEEK's Maisto quotes Avi Greengart, an analyst with Current Analysis, as saying, "Lenovo has made phones for Asian markets before; they just haven't been as well publicized or as competitive. What they launched yesterday has many of the same high-end features as Google's Nexus One by HTC. It's a bit thicker but still feels good in your hand, as it is nicely rounded."
Earlier this week, Lenovo introduced two interesting "smartbook" devices. The Skylight is a 10.1-inch netbook that runs Lenovo's new

"Skylight Linux" distribution on a Snapdragon, while the IdeaPad U1 (pictured at right) is a hybrid mini-notebook that runs Windows 7 on an Intel Core 2 Duo and — when its tablet/display is detached - runs Skylight Linux on a Snapdragon.
Dell Mini3i and Dell Streak
The LePhone will compete with Dell's Android-based Mini 3, which recently debuted in China on China Mobile, as well as on Brazil's Claro network. Earlier this week, AT&T announced that it would exclusively offer a version of the Mini 3 aimed at its U.S. network. At CES, Dell confirmed that arrangement, and for the first time publicly displayed the AT&T version of the Mini 3, pictured below.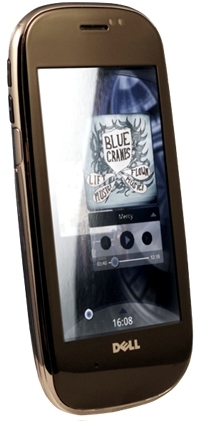 The AT&T-destined Dell Mini 3
Dell did not offer any other details about the product or describe how it might differ from the existing version. However, at Dell's CES event, the company showed some other new products, including Alienware gaming systems, Inspiron laptops and desktops, and upgraded Studio systems, according to an eWEEK report by Jeffrey Burt. Many of the new and enhanced systems are said to come with Intel's newly announced Core processors.

Dell also showed an Android tablet prototype, which is shown at right in a photo taken by SFGate's Tech Chronicles. According to Burt, Dell officials said they were looking at other screen sizes for the "slate," beyond the initial five-inch version.
According to SFGate, Dell had not yet committed to bringing the device to market, but suggested it was highly likely. Dell was said to have shown a video of the Dell slate in action, showing users swiping at the touchscreen to send images to an adjacent tablet. The video was also said to have shown two slate users playing a video game across a wireless connection.
The Dell slate prototype appears to be the same as the much rumored Dell Streak MID (mobile Internet device), which made an appearance on Vietnamese site Tinhte.com in October. The Android-driven Streak (pictured below) was said to offer a five-inch WVGA touchscreen, WiFi, Bluetooth, and 3G connectivity. The Streak also provides a five-megapixel camera with dual-LED flash, a microSD card slot, and a 1,300mAh battery, said Tinhte.com at the time.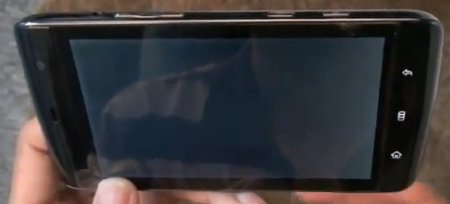 Dell Streak prototype
(Source: Tinhte.com, YouTube)
In addition, Dell revealed some results from a Dell-sponsored study of more than 1,500 people on smartphones and the "mobile experience." The study appears to validate their entrance into the market (as most such market research studies tend to do). Highlights include:
82 percent of smartphone owners said they would not leave home without them.
86 percent of survey respondents under 35 say that personalized software and features on smartphones are important.
More than half of respondents say they wish there were more smartphone options available.
76 percent say they would consider new smartphone devices from a well-known technology brand.
Nearly 90 percent say they would consider purchasing a smartphone from a highly regarded technology company as an alternative to leading smartphone manufacturers.
Stated Ron Garriques, president, Dell Communication Solutions, "The Mini 3 is a result of listening to customers and creating products that allow people to do the things they want, whenever and wherever they want to do them."
Stated David Christopher, CMO, AT&T Mobility and Consumer Markets, "As the leader in smart phones, AT&T makes a great match with Dell to introduce the next Mini 3."
Availability
The Lenovo LePhone will launch in China in the first half of the year, says Lenovo.
The eWEEK story on the LePhone may be found here. The TechRadar story on the LePhone may be found here, and the PhoneScoop story should be here.
The eWEEK story on the Dell Mini 3 and Dell slate prototype may be found here, and the SFGate story on the slate should be here.
---
This article was originally published on LinuxDevices.com and has been donated to the open source community by QuinStreet Inc. Please visit LinuxToday.com for up-to-date news and articles about Linux and open source.