Jan 2, 2012 — by Eric Brown — from the LinuxDevices Archive — views
The holiday shopping season appears to have been very good indeed for Android, with Google claiming that 3.7 million Android devices were activated during the period. Meanwhile, Flurry Analytics reported that Android and iOS activations on Christmas Day soared to 6.8 million, and ComScore announced yet another boost for Android in its Nov. 2011 U.S. smartphone report.
Android racked up another stellar holiday shopping season in 2011, reports Darryl Taft in our sister publication eWEEK. In a Dec. 28 tweet, Andy Rubin, senior vice president of mobile at Google, wrote, "There were 3.7M Android devices activated on 12/24 and 12/25."
Rubin's tweet followed his Dec. 20 tweet in which he wrote, "There are now over 700,000 Android devices activated every day." The Android activation figures of 3.7 million for the holidays more than doubled those of a typical two-day period, according to eWEEK.
Flurry notes Xmas run on Android, iOS devices
Meanwhile, Flurry Analytics released its own analysis of Android and iOS activations over the Christmas holiday. In a Dec. 27 post, Peter Ferago, vice president of engineering at Flurry Analytics, wrote, "On Christmas Day, activations jumped to more than 6.8 million, a 353 percent increase over the baseline."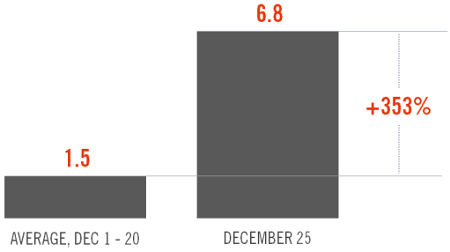 Dec. 25 activations of Android and iOS devices compared to typical December 2011 day
Source: Flurry
According to Flurry, the rate of combined Android and iOS device activations was 140 percent higher on Dec. 25, 2011, compared to the previous year's Christmas, on which there were 2.8 million activations.

Flurry did not detail particular vendors or phones that may have led the Android activations. However, high-profile Android phones announced prior to the holidays include the Motorola Droid Razr and the Samsung Galaxy Nexus (pictured).
Neither did Flurry break down the numbers between the two leading mobile operating systems. It did, however, estimate that Android Market set holiday records, bringing its total number of cumulative downloads to more than 10 billlion.
In addition, Flurry noted that Apple's App Store is on pace to exceed 10 billion downloads in 2011. That's double the number of downloads it achieved in 2008, 2009, and 2010 put together, according to the research firm.
ComScore finds more Android adoption in November
Android continued to gain U.S. smartphone market share las fall, estimates ComScore. The market research firm found that for the three-month period ending in November, the Android OS garnered market share of 46.9 percent, up 3.1 percentage points from the prior three-month period.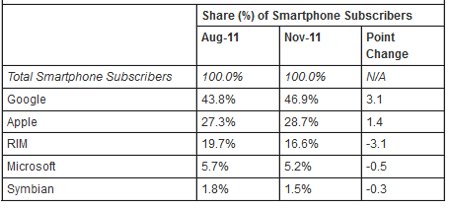 Three-month smartphone market share average ending Nov. 2011, vs. three-month average ending Aug. 2011
(Total U.S. mobile subscribers ages 13+)
Source: ComScore MobiLens
Apple maintained its No. 2 position, growing 1.4 percentage points to 28.7 percent of the smartphone market, says ComScore. BlackBerry maker Research In Motion (RIM) ranked third, dropping to 16.6 percent share, followed by Microsoft, which was said to have fallen to 5.2 percent. Symbian also continued to decline, this time to 1.5 percent, according to the study.
The report found 91.4 million people in the U.S. owned smartphones during the three months ending in November, up 8 percent from the preceding three-month period. Some 234 million Americans aged 13 and older used a mobile device of some kind, says ComScore.
Device manufacturer Samsung ranked as the top OEM, with 25.6 percent of U.S. mobile subscribers (up 0.3 percentage points), followed by LG, with 20.5 percent share, and Motorola, with 13.7 percent share, says ComScore. Apple strengthened its position in fourth place, with 11.2 percent share (up 1.4 percentage points), while RIM rounded out the top five, with 6.5 percent.
A separate report in eWEEK details further ComScore findings, including a focus on mobile social networking.
Oracle Google lawsuit rumbles on
Ironically, Android's high rate of adoption underscores Oracle's claims in its lawsuit versus Google, according to eWEEK. Oracle's legal argument is that Google's Android is rapidly picking up momentum in the market with an allegedly incompatible version of Java, at the expense of Oracle's pure Java technology. Oracle is seeking an early trial to stop what the company says is Google's fragmentation of the Java ecosystem.
Meanwhile, Google won a minor skirmish in the ongoing legal battle, according to DigitalTrends. On Dec. 23, the U.S. Patent and Trademark Office rejected 17 of the 21 claims asserted in U.S. patent 6,192,476. Although only one of those claims — claim 14 — was being leveraged by Oracle against Google, "the rejection of so many claims basically means the entire patent has been invalidated," according to the story.
Google+ adds to the plus column
Google received more good news over the holidays, this time related to its six-month old Google+ social networking service. The Android-ready service gained more than 62 million members as of Dec. 27, according to eWEEK. Nearly one-fourth of those members joined in December, according to market tracker Paul Allen in a Dec. 27 post.
---
This article was originally published on LinuxDevices.com and has been donated to the open source community by QuinStreet Inc. Please visit LinuxToday.com for up-to-date news and articles about Linux and open source.