Jul 15, 2011 — by LinuxDevices Staff — from the LinuxDevices Archive — views
During a Jul. 14 earnings call, Google executives shared plenty of good news — including quick adoption of the Google+ social networking services. But there could be trouble in paradise, with developers defecting from Android to Apple's iOS, claims the mobile analytics firm Flurry.
Google CEO Larry Page announced positive news about the Android platform during its second-quarter earnings call July 14. As we detail later in this story, the good tidings included 550,000 Android devices being activated each day, coupled with a total of more than six billion Android Market downloads.
However, not all may be as rosy as it seems.
Research from mobile analytics firm Flurry suggests Apple's launch of the iPhone 4 on Verizon Wireless in February and the iPad 2 in March helped lure developer support from the Android platform to Apple's iOS.
New Android project starts on Flurry's network, which the researcher counts by the number of platform SDKs downloaded, have dropped from 36 percent in the first quarter to 28 percent in the second quarter.
According to Flurry, this marks the second quarter-over-quarter slide for Android in 2011, following a year of big growth for the platform, which peaked at 39 percent in Q4 last year.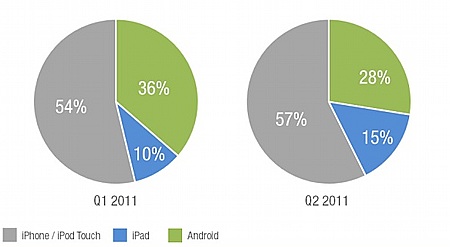 New project starts, iOS vs. Android (January-June 2011)
Source: Flurry Analytics
(Click to enlarge)
In a July 14 blog posting, Flurry researcher Charles Newark-French said Flurry iOS and Android new project starts grew from 9,100 in Q1 to 10,200 in Q2. He attributed this growth to the launch of the iPhone 4 on Verizon, as well as the release of the iPad 2.
Following three years of exclusive sales by AT&T, Verizon moved millions of iPhones. Meanwhile, Apple has sold nearly 30 million iPads to date, including millions of iPad 2 slates — which are thinner, lighter, and provide cameras.
However, any Android developer defections to iOS could be happening as much for what Google and the platform aren't providing programmers as they are for what Apple and partners are doing.
For example, financial analysts have said sales of Android 3.0 "Honeycomb" tablets such as the Motorola Xoom and Samsung Galaxy Tab 10.1 aren't coming anywhere close to the success of either iPad.
Global Equity Research analyst Trip Chowdry has been outspoken in his criticism of Honeycomb as a buggy platform that is hard for the average user to enjoy.
Android handsets, while apparently strong in the U.S. and abroad, suffer from other difficulties. Newark-French noted that the development community is concerned about the rising cost of deploying across the Android installed base, due "to the double whammy of OS and storefront fragmentation."
For example, the Android 2.x handset branch is severely fragmented, with carriers offering their customers upgrades to the latest Android flavor (it's currently Android 2.3 "Gingerbread") at their leisure. Moreover, Android phone apps won't work for every OS build.
"With developers pinched on both sides of the revenue and cost equation, Google must tack aggressively at this stage of the race to ensure that Apple doesn't continue to take its developer-support wind," Newark-French said.
Google is taking steps to alleviate this. It has formed a unnamed group of OEMs and carriers whose goal is ensuring uniform OS versioning for 18 months at a shot.
Google's forthcoming "Ice Cream Sandwich" will unify application aspects across Android handsets and tablets, perhaps by the fourth quarter of this year. Android 3.2 has begun rolling out, meanwhile, including the ability for developers to scale phone apps so they look better on the larger screens of tablets.
Google's second quarter results
Google enjoyed a big second quarter, topping the $9 billion sales market. Profit was $2.1 billion. Moreover, Google CEO Larry Page said Google+ sees 10 million plus users.
Google said it broke the $9 billion sales mark for the first time ever in the second quarter, a 32 percent boost over Q2 2010 revenues of $6.82 billion.
Excluding $2.11 billion in traffic-acquisition costs, the search engine notched $6.92 billion in net revenue in the second quarter of 2011 and non-GAAP earnings per share of $8.74. Analysts polled by Wall Street had expected $6.54 billion in revenue and $7.87 in earnings per share.
Google, which saw company co-founder Larry Page streamline the management team after taking the reins from Eric Schmidt as CEO in April, also recorded a profit of $2.51 billion, up from $1.84 billion in Q2 2010.
"We had a great quarter, with revenue up 32 percent year-on-year for a record breaking over $9 billion of revenue," Google CEO Larry Page said in a statement, adding that he was "super excited about the amazing response to Google+."
So excited was Page about Google+' momentum that he provided user metrics for the social service. Google+, which in a departure from Facebook's initial approach lets users add contacts manually and group them into specific social circles, launched June 28 to limited field testing.
"Not surprisingly this has been very well received because, in real life, we share different things with different people," Page said on the company's Q2 earnings conference call, noting that the invite-only process is necessary to let the company scale the service.
Through the first two weeks of use, Page said Google+ has gained more than 10 million users, which dovetails with estimates offered by Ancestry.com and Google+ user Paul Allen earlier this week.
Page also said Google+ users are sharing and receiving more than one billion items each day. Google's +1 recommendation button, which lets users click a button to share search results and ads they like, is being served 2.3 billion times each day.
Page also reported Android usage numbers. The company is seeing 550,000 devices activated per day, up from 500,000 units just last month.
Moreover, the Android Market has seen more than six billion total downloads. These metrics are happening across 400 different Android smartphones and Honeycomb tablet computers.
Google's search growth remains strong, with paid clicks growing 18 percent over Q2 2010. Average cost-per-click rose 12 percent over Q2 2010 and increased 6 percent over Q1 2011. The company maintained its 65.5 percent search share through June, according to comScore.
Google launched several new search products, including voice and image search on the desktop and Instant Pages search.
Google's Q2 wasn't without its bumps. The company learned the Federal Trade Commission would investigate the company for possible antitrust violations related to its search-ad business. The Justice Department is also scrutinizing the company's bid to buy Admeld for $400 million.
Clint Boulton is a writer for eWEEK.
---
This article was originally published on LinuxDevices.com and has been donated to the open source community by QuinStreet Inc. Please visit LinuxToday.com for up-to-date news and articles about Linux and open source.