Jul 21, 2010 — by Eric Brown — from the LinuxDevices Archive — 1 views
Tattu Mobile is prepping an Android-based tablet based on ZiiLabs' ZMS-05 SoC, with the help of Intrinsyc's RapidRIL telephony technology, says Intrinsyc. Meanwhile, CNET reviewed the Dell Streak Android tablet (pictured) and dubbed it "the best Android-based tablet we've seen so far."
Joining a number of Android tablet announcements this week, Intrinsyc Software International announced a license and services agreement with Tattu Mobile for the use of Intrinsyc's RapidRIL telephony technology in an upcoming Android tablet.
No photograph or details were offered on the tablet, although Intrinsyc says it will be based on the ZiiLabs ZMS-05 processor and will offer telephony features. The ZMS-05, which first appeared in ZiiLabs' Zii Egg StemCell Computer PMP (pictured below) is based on dual ARM9 cores and offers multimedia processing extensions, enabling 1080p HD video. (See farther below for more on the ZMS-05.)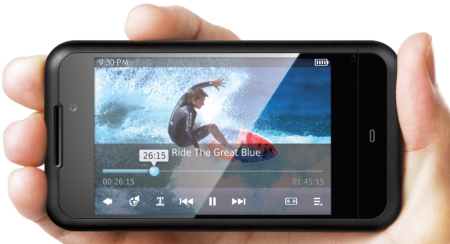 ZiiLabs' ZMS-05-based Zii Egg handheld
Tattu Mobile sells a number of reference designs for cellphones such as the TS500, and also offers a "Hamburger" mini speaker. Most recently it announced a widely reviewed "Octopus Bluetooth "enabler" device and headset used to stream music around the house.
Intrinsyc's RapidRIL
RapidRIL was used along with other Intrinsyc tools to develop key portions of the embedded software stack of Barnes & Noble's Android-based Nook e-reader. While Intrinsyc and Barnes & Noble used RapidRIL to develop the Nook's 3G cellular connection to AT&T, the device does not offer telephony features.
The Tattu tablet, however, will provide telephony, says Intrinsyc. RapidRIL will enable Tattu to integrate a cellular radio "and handle the unique features needed for their platform and targeted carriers," says the company.
RapidRIL is also being used by MIPS Technologies to add 3.5G voice telephony to Android-based mobile devices based on MIPS processors.
RapidRIL is said to accelerate Radio Interface Layer (RIL) development on connected devices with out-of-the-box modem support, says Intrinsyc. RapidRIL supports several radio baseband solutions, such as Infineon, Sierra Wireless, and Novatel Wireless, covering various UMTS and CDMA technologies, says the company.
The technology's multi-channel architecture is said to support multiple or removable radios, and its API set supports features such as location-based services and power management. There is also support for advanced telephony features such as push-to-talk, says the company.
ZiiLabs' ZMS-05 SoC
Creative Technology subsidiary ZiiLabs announced the dual ARM9 core ZMS-05 processor a year ago. The system-on-chip (SoC) was built into ZiiLabs' Zii Egg, a developer-focused portable media player (PMP) with a 3.5-inch touchscreen (see photo farther above). The Zii Egg is also equipped with an HD video camera, Wi-Fi, GPS, Bluetooth, an SDK, and a choice of its "Plaszma" Linux distribution and Android, according to Zii Labs.
Despite the lowly ARM9 basis, the ZMS-05's dual-core design, as well as the addition of ZiiLabs' "Stemcell Computing" architecture, enables multimedia features including 3D graphics and 1080p video playback, says ZiiLabs. The SoC is equipped with 24 floating-point processors that deliver up to 8 GFLOPS of raw processing power, and the Stemmcell Architecture offloads multi-format video, graphics and image processing, says ZiiLabs.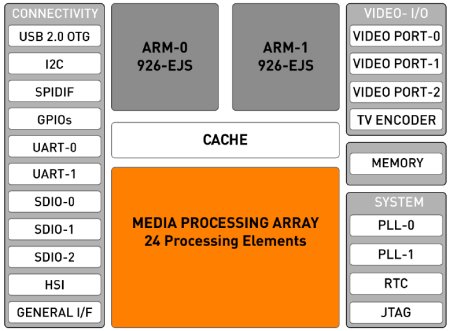 ZMS-05 block diagram
The SoC is also said to be available in a computer module called the ZMS-05 System Module. In addition, in December, ZiiLabs released a mid-range smartphone development platform based on the processor for Android and Plaszma Linux called the
Zii Trinity
.
In November of last year, ZiiLabs said it was sampling a 1GHz, Cortex-A8 based version of the ZMS-05 called the ZMS-08. Offering the same Stemcell Computing multimedia extensions as the ZMS-05, the ZMS-08 also incorporates 3D OpenGL ES 2.0 graphics processing, says the company. In January, ZiiLabs announced a a ZMS-08-based media hub reference design called the Zii SiVo Digital Home Platform.
Stated Andy Press, chief operating officer, Tattu Mobile, "Using RapidRIL provides significant cost savings compared with developing this technology from scratch and will result in the product reaching market several weeks faster. Intrinsyc's solution flexibility and dedicated engineering department will help us to meet our deadlines and provide a better product."
Dell Streak: Best Android tablet yet?
Judging from the Tattu tablet's telephony focus and the small-sized format of the Zii Egg reference design, the tablet is likely to be one of the smaller, MID-sized tablets. If so, it would join mini-tablets such as the Android-ready Archos 5 and the soon-to-ship Dell Streak, both of which offer five-inch touchscreens.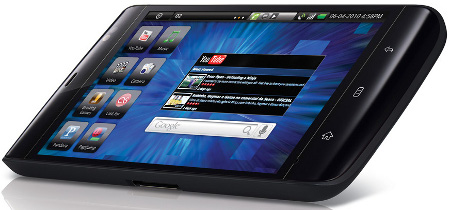 Dell Streak
Now,
CNET
has tested a review unit of the Streak and concludes that despite some drawbacks, the Streak is "the best Android-based tablet we've seen so far."
Rumored since last October, the Dell Streak was formally announced in late May. In early June, Dell announced that the device was available via O2 and at The Carphone Warehouse in the U.K., and that it would launch the Streak in the U.S. for $500 at the end of July.
The Dell Streak is equipped with a 1GHz Qualcomm Snapdragon processor, with 2GB of internal flash memory and a 16GB memory card in an SD slot capable of holding up to 32GB, says Dell. The tablet offers a five-inch capacitive, multitouch display with WVGA resolution, says the company.
The Streak is further loaded with Wi-Fi (802.11b/g), Bluetooth 2.1, and 3G connectivity. The latter is a UMTS/GPRS/EDGE class 12 GSM radio with speeds of up to 7.2Mbps (HSDPA), says the company. The Streak also offers a five-megapixel autofocus camera with dual LED flash, a front-facing VGA-resolution webcam, speakers, and a microphone.
Unlike most tablets, the Streak also supports voice telephony, making it in many ways more of a large smartphone than a tablet. CNET reviewer Donald Bell makes note of this, saying that he is uncertain whether to recommend the phone due to its unique size. Bell also notes that a final recommendation will await final pricing via a U.S. carrier. The unlocked version goes for $500, which "doesn't strike us as a screaming deal," he adds.
A smartphone? A tablet? You make the call.
Reasonably enough, Bell seems confused as to whether to review the device as a smartphone or a tablet, and finds that it has flaws and advantages compared to either format.
Compared to other Android smartphones, the Streak's large size, dwarfing the 4.3-inch Evo 4G, for example, is a bit of an oddity, writes Bell. For example, he seemed somewhat embarrassed taking photographs in public using a huge device that "appears to be a Sony PSP."
"It's awkward, it's fun, it's a freak of nature, it's your new best friend, it's a paradox wrapped in an enigma," he writes.
The added size of the Streak does carry some advantages, adds Bell, making Google Maps sessions more workable, and requiring "less resizing and fiddling" with web pages. In addition, photo slideshows and videos "are given the pixels they deserve," Bell adds.
The Streak is currently imbued with Android 1.6, but it offers Android Market and a number of Google apps, and it will see Android 2.2 later this year, promises Dell.
Bell praises the five-megapixel camera (although not the webcam) and other hardware details, which he says have been well implemented. Performance also seemed to be up to snuff.
Still, compared to the Streak, "the Apple iPad makes a better map, better photo frame, better video player, better Web browser, and better repository for all things 'app'," he writes.
That said, compared to the admittedly small number of Android tablets reviewed by CNET — including the Archos 5, Archos 7 Home Tablet, and Pandigital Reader — the Dell Streak wins out, says the review. "Dell's insistence on high-end hardware has placed it far ahead of its peers," he concludes.
Availability
Tattu Mobile's tablet is expected to be available in global markets beginning in the fourth quarter, says Intrinsyc. Tattu Mobile's website, which currently lacks information on the tablet, may be found here.
More information on RapidRIL may be found at Intrinsyc, here.
The CNET review of the Dell Streak may be found here.
In another tablet-related development, our sister site WindowsForDevices.com reports that, despite rumors to the contrary, HP's Windows 7-powered Slate appears to be on track for release. For further information, see here.
---
This article was originally published on LinuxDevices.com and has been donated to the open source community by QuinStreet Inc. Please visit LinuxToday.com for up-to-date news and articles about Linux and open source.