Jul 21, 2011 — by Eric Brown — from the LinuxDevices Archive — views
Android tablets took a 30 percent share of global tablet shipments in the second quarter, compared to 61 percent for Apple, as part of a 331 percent growth in total sales since Q2 2010, says Strategy Analytics. According to a Good Technology study, however, Android tablets still trail the iPad significantly in the enterprise — where Apple represented 95 percent of second-quarter sales.
In the second quarter, global tablet shipments reached 15 million units, representing a 331 percent growth from 3.5 million units since Q2 2010, says Strategy Analytics. Apple's iPad was on top at 61 percent share, but dropped from 94 percent a year earlier, says the research firm.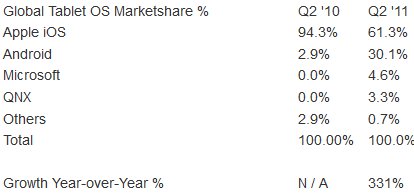 Global tablet market share by OS, 2Q 2011


Source: Strategy Analytics
After second place Android, at 30 percent, came Microsoft with a 1 percent share for its Windows 7 tablets, sold "through partners such as Fujitsu," says Strategy Analytics. Research in Motion (RIM) and its QNX-based PlayBook captured 2 percent share. According to the research firm, the first-generation PlayBook "experienced a lackluster launch due to product design issues surrounding native email support."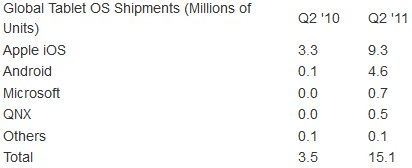 Global tablet shipments (millions of unit) by OS, 2Q 2011


Source: Strategy Analytics
Android is growing fast due more to strength in numbers than to any perceived parity with the iPad 2, suggests Strategy Analytics. "Multiple Android models distributed across multiple countries by multiple brands such as Samsung, Acer, Asus, Motorola and others are driving volume," stated Neil Mawston, Director at Strategy Analytics. "However, no Android vendor yet offers a blockbuster model to rival the iPad, and demand for many Android vendors' products remains patchy."

Strategy Analytics did not say which Android models were leading its tablet surge. A March study by IDC on 4Q 2010 global tablet sales said that Samsung's Android 2.2-based, seven-inch Galaxy Tab (pictured) closed out the year with 17 percent share, for second place behind the first-generation iPad.
As a result of the Galaxy Tab and some other seven-inch Android tablets, Android was said by IDC to have risen to 27 percent share total by year's end, dropping Apple to 73 percent. Despite Android's surge, the research firm projected that Apple's iPad and iPad 2 would maintain a 70 percent to 80 percent share of the fast-growing market in 2011.
Since relatively few 10.1-inch Android 3.x ("Honeycomb") tablets shipped in the second quarter, and most of those came late in the quarter, one would imagine that the seven-inch Galaxy Tab and other smaller tablets continued to lead the way. Cut-rate, no-name tablets from China may also be having an impact on the global market, although Strategy Analytics did not mention this aspect.

The most prominent Honeycomb tablet to ship throughout the entire quarter — the Motorola Xoom (pictured) — was said to have at least initially experienced modest sales. It will be interesting to see if Honeycomb tablet sales increase in the third quarter, especially now that a wide variety of contenders are available, and Android 3.1 and 3.2 releases have come along to fix bugs and address other gaps.
Many expected the Honeycomb-based Samsung Galaxy Tab 10.1 to be a contender, and it may have spurred Android's 2Q surge, even though it was only available for the last month of the quarter.
A fuller understanding of just how deeply Android can cut into iPad sales won't arrive until after this year's holiday season. In fact, Strategy Analytics analyst Mawston could not resist joining in this year's favorite analyst parlor game: speculating about Amazon.com's upcoming Android tablet(s), expected to ship this fall.
"If Amazon decides to enter the Android tablet category later this year, that will bring fresh excitement and buzz to the Android community," stated Mawston. "But Amazon will need to deliver a truly standout offering if it really wants to make headway against the popular iPad."
An RBC study released in March projected that 40 percent of the 185 million tablets expected to ship in 2014 will run Android, followed by the iPad with 34 percent.
iPad dominates enterprise, says Good Technology
If Android tablets are on the march globally, anecdotal evidence suggests that they represent a somewhat smaller share in the iPad-crazed U.S. This is apparently especially true of the enterprise, according to a new Good Technology study on tablets. A survey of "thousands of" its enterprise mobile device services customers, presumably most of them in the U.S., found that the iPad and iPad 2 represented 95 percent of the tablets activated in the second quarter.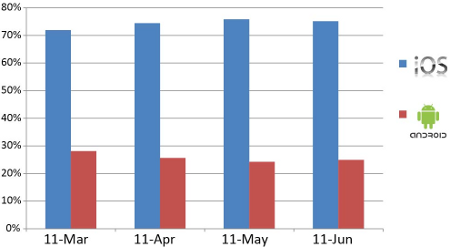 Enterprise tablet activations by OS, March through June 2011
Source: Good Technology
(Click to enlarge)
Good Technology, whose customers are said include 49 of the Fortune 100 and 182 of the Fortune 500, also said Android tablet activations actually declined slightly to 3.1 percent share during the quarter. The iPad, however, surpassed even the accumulated number of Android phones activated during the period, 27.2 percent to 24 percent respectively, says the company. (Somewhat confusingly, the company includes March totals in with the April-June 2Q figures, although the study is said to cover only those last three months.)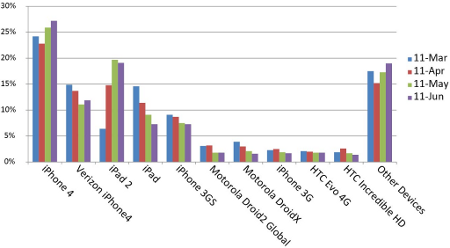 Top 10 activations by device, March through June 2011
Source: Good Technology
(Click to enlarge)
The Motorola Xoom was the most frequently activated Android tablet during the period, says Good. Yet, it didn't even make the list of top 10 devices overall. Somewhat surprisingly, the
Motorola Droid2 Global
smartphone was said to be the leading Android device. Ahead of it, however, were both the AT&T and Verizon versions of the iPhone 4, both the iPad2 and iPad, and even the iPhone 3GS, says Good.
The financial services industry activated iPads at more than triple the rate of any of the other nine vertical industries measured, says the study.
Availability
More information on "Global Tablet OS Market Share: Q2 2011," may be found at Strategy Analytics web-page. The "Good Technology Device Activations Report" may be found in this Good Technology PDF report.
---
This article was originally published on LinuxDevices.com and has been donated to the open source community by QuinStreet Inc. Please visit LinuxToday.com for up-to-date news and articles about Linux and open source.