Mar 15, 2011 — by Eric Brown — from the LinuxDevices Archive — views
A leaked Staples training guide suggests HTC and Dell are each prepping 10-inch tablets, and Samsung is readying an 8.9-inch tablet, all running Android 3.0 "Honeycomb", while HP will offer a seven-inch WebOS tablet. Meanwhile, an analyst says early sales of the Motorola Xoom tablet have been disappointing, in large part due to the bugs and complex UI of Honeycomb.
The latest tablet tips come from a Staples training guide slide uncovered by DroidLife. The publication posted one slide, shown below, that reveals a number of tablet introductions, most already announced, some tipped, and some simply imagined.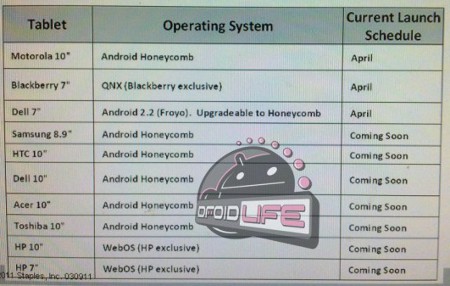 Staples training guide slide


Source: DroidLife

Known tablets slated for an April release, according to the document, include the Honeycomb-based, already released Motorola Xoom, which went on sale Feb. 24 to great acclaim, but has gotten off to a slow start, according to two analysts (see farther below).
Also scheduled for an April appearance on Staples shelves is the previously announced Dell Streak 7 (pictured below, at right), which is currently available from T-Mobile running Android 2.2, but is said to be upgradable to Honeycomb. Staples will also apparently offer the Research in Motion (RIM) seven-inch PlayBook, which may at a later date become capable of running Android apps, according to some reports.

Among the tablets Staples says are "coming soon," most have been announced or leaked. So far, however, HTC has kept its rumored 10-inch tablet under wraps. As was previously rumored, the Staples document suggests that the tablet runs Android 3.0. DroidLife speculates that it may be "the rumored EVO tablet that Sprint is expected to announce in the near future."

A 10-inch tablet from HTC was tipped with few details by Digitimes in January. The report suggested that three "Flyer" branded tablets were coming from the Taiwanese manufacturer this year. The first of those tablets appeared in February in the form of the seven-inch HTC Flyer (pictured at left).
The Flyer features a new version of HTC's Sense UI layer atop a hybrid version of Android 2.4, and offers a new 1.4MHz version of the Qualcomm Snapdragon, along with 1GB RAM, 32GB of flash, and microSD expansion. Other features are said to include a stylus-optimized seven-inch touchscreen, five-megapixel and 1.3-megapixel cameras, HSPA+, 802.11n, GPS, and Bluetooth 3.0.
According to a new report from Digitimes, based in turn on a Commercial Times report, HTC has already received orders for a million Flyer tablets. The report also says that when the seven-inch Flyer ships in the second quarter, it will sell for about $600.
8.9-inch Samsung Tab rumor bolstered
The other major revelation from the Staples training guide is the confirmation of a previously rumored 8.9-inch version of the Samsung Galaxy Tab. This would be the third new version of the popular Galaxy Tab announced this year after the seven-inch, Android 2.2-based Galaxy 4G LTE, due to arrive on Verizon, and the 10.1-inch, Honeycomb-based Galaxy Tab 10.1, which is expected to be announced soon on Vodafone's network in Europe, among other possible debuts.
The 10.1-inch model is said by Samsung to be on schedule despite earlier comments from a Samsung exec suggesting it might need to be revamped after Apple shipped its surprisingly thin and low-cost iPad 2. Speculation about an 8.9-inch Tab was fueled Mar. 3, when Samsung invited journalists to a Mar. 22 event in Orlando, Fla. related to the Samsung tablet portfolio.
The Staples report also lists three other 10-inch Honeycomb tablets said to be coming soon. These include a 10-inch Dell tablet that has been rumored as far back as September. As far as we know, however, the Dell 10-inch model was not mentioned when Dell announced its Dell Streak 7.

The other two Honeycomb tablets on the list are already announced. These include the Acer Iconia Tab A500, which was announced last month along with a seven-inch Iconia Tab A100. Both models run Android 3.0 on a dual-core 1GHz Nvidia Tegra 2 processor, and feature five-megapixel and two-megapixel cameras.
Also previously announced was the Toshiba Tablet (pictured at right), another Tegra-on-Honeycomb 10.1-inch model. The tablet, which is likely to ship with another name, offers a swappable battery, dual cameras, and other high-end features.
HP prepping seven-inch WebOS tablet?
Finally, the Staples document mentions both 10- and seven-inch WebOS-based tablets coming from HP. The 10.1-inch TouchPad (pictured below, at left) was announced last month, but the company made no mention at the time of the rumored seven-inch model code-named "Opal."

HP CEO Leo Apotheker, however, did confirm HP was planning on offering the Linux-based WebOS as an alternate OS available on all of its Windows PCs starting next year. At a Mar. 14 press event, Apotheker confirmed his earlier comments, but said that the WebOS dual-boot systems would await the next OS after Windows 7, presumably Windows 8.
"There will be wave after wave of technology coming out for the WebOS platform," Apotheker was quoted as saying in a report from our sister publication eWEEK. "You will see us put our WebOS on our Windows PCs. Starting with our smartphones and tablets, we hope to reach 100 million devices [sold] per year. We'll put the same technology on our printers … we see this as a massive, very global platform."
Motorola Xoom struggling out of the gate, says analyst
The world's first available tablet running Android 3.0, the Motorola Xoom, has generally received glowing reviews, including one from eWEEK. However, Motorola Mobility's tablet computer is struggling from weak demand due to the bugginess and complexity of the Android 3.0 "Honeycomb" OS, according to several analyst reports sampled in a Mar. 14 story in eWEEK.
The story quotes Global Equities analyst Trip Chowdry and Jefferies and Co. analyst Peter Misek as saying that Xoom sales have been weak. The slow start was placed in stark contrast by the arrival of Apple's iPad 2 which sold at least 500,000 units on its Mar. 11 launch day. Verizon Wireless declined to comment on Xoom sales numbers, says eWEEK.
V

erizon Wireless and Best Buy began selling the 10.1-inch Xoom (pictured at left) Feb. 24 for $600 with a two-year contract and $800 off contract. The tablet has a dual-core, 1GHz Nvidia Tegra 2 processor, dual cameras, and 4G upgrade capabilities.
According to Global Equities analyst Chowdry, writing in a Mar. 9 research note, Honeycomb is the Xoom's weakest link, as it is buggy, "extremely complicated and confusing." Problems with the Xoom include frequent freezes and crashes, inconsistent battery life ranging from two to six hours, and auto-wrap unavailable with magnified type, writes Chowdry.
In addition, he says, Android 3.0 is difficult to learn. As a result, the tablet will be relegated to the geek tech community and not gain mass adoption, Chowdry projects.
In a Mar. 11 note, meanwhile, Jefferies and Co. analyst Peter Misek writes that Xoom sales have been underwhelming. He goes on to suggest that Motorola Mobility will likely have to cut production if it already has not done so.
"We believe the device has been a bit buggy and did not meet the magic price point of $500," Misek writes. "We believe management knows this and is hurrying development and production of lower cost tablets. Importantly we believe management will likely have to make the painful decision to accept little to no margin initially in order to match iPad 2's wholesale pricing."
IDC recently released a tablet market report projecting that despite losing share to Android tablets such as the Galaxy Tab in the fourth quarter, the iPad and iPad 2 would maintain a 70-80 percent share of the worldwide media tablet market in 2011. The above link also covers a recent Forrester report that projects that the iPad 2 alone will claim 80 percent of the U.S. tablet market this year.
The Forrester report speculated that the only player that stands to change the iPad domination would be Android. The notion of a hot-selling Android version of the Kindle has considerable backing among other analysts, says a follow-up report by eWEEK.
One reason for the slow start for the Xoom may be that customers are waiting for the arrival of Adobe Flash 10.2 on the tablet. That release, which will support Android 3.0, is now slated for arrival Mar. 18, according to Adobe.
---
This article was originally published on LinuxDevices.com and has been donated to the open source community by QuinStreet Inc. Please visit LinuxToday.com for up-to-date news and articles about Linux and open source.