Aug 31, 2010 — by Eric Brown — from the LinuxDevices Archive — 1 views
Toshiba is prepping a "Folio 100" tablet that will run Android 2.2 on an Nvidia Tegra 2 processor and offer a 10.1-inch, WSVGA display, says a report. Meanwhile, the Tegra 2 scored strongly in benchmarks, the Android-based Samsung Galaxy Tab is tipped for a Thursday release, and Korea's KT announced an "Identity Tab" Android tablet, say reports.
An Android-powered Toshiba tablet first came to light in July when Managing Director of Toshiba Australia Mark Whittard briefly showed off a prototype tablet and remarked that Toshiba would be releasing both Android- and Windows 7-based tablets. Now, NotebookItalia has posted photos of a tablet called the Toshiba Tablet Folio 100 (code-named the "SmartPad"), and has also published specs for the device.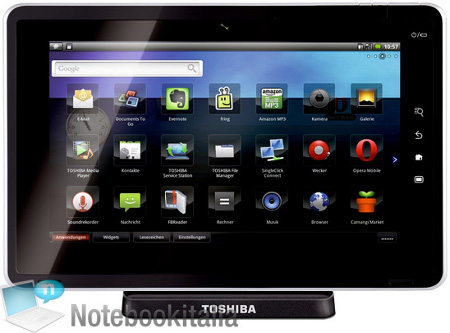 Toshiba Tablet Folio 100
Source: NotebookItalia

The Folio 100 will run Android 2.2 on the Nvidia Tegra 2, according to Notebook Italia. A clock rate wasn't listed, but the ARM Cortex-A9-based Tegra 2 processor is generally clocked to either 1GHz or 1.2GHz.

Toshiba previously paired Android 2.1 with a 1GHz Tegra 2 on its Toshiba AC100 netbook (pictured at left), which just started shipping in Japan.
Like the alleged Folio 100, the AC100 features a 10.1-inch, 1024 x 600 display, although the netbook lacks the multitouch touchscreen listed for the tablet. Except for the lack of a keyboard on the Folio 100, the AC100 specs are almost identical to those listed by NotebookItalia for the Toshiba tablet.
RAM is not listed for the Folio 100, but there's 512MB of DDR2 memory on the AC100. According to NotebookItalia, the Folio 100 is equipped with up to 16GB of internal flash, while the AC100 is listed with 32GB of storage via the supplied SD/MMC card reader, a feature that is also said to be available with the tablet.
Assuming the legitimacy of the NotebookItalia report, identical features on both devices include 802.11b/g/n, Bluetooth, and 3G (and option on the netbook), as well as both a USB 2.0 port and a mini-USB port. Both devices appear to offer a 1.3-megapixel webcam, an HDMI port, a microphone, speakers, and an audio jack.
The Folio 100's 1020mAh battery is said to offer up to seven hours of life with mixed use. The tablet has a slightly more rectangular shape than the netbook, at 281 x 181 x 14mm, says the story, and unsurprisingly, it weighs less than the netbook at 760 grams, compared to 870 grams.
Toshiba AC100 and its Tegra 2 blows away rivals in benchmarks
On Sunday, Carrypad ran CPU benchmarks on the aforementioned Android 2.1-based Toshiba AC100 netbook, which is one of the first shipping products with an Nvidia Tegra 2 processor. Carrypad compared the Android 2.1-based netbook with leading Android smartphones, and found it to be much faster. It was particularly fast in the Quadrant benchmark, where it was about three times faster than the average score for the phones (see chart below).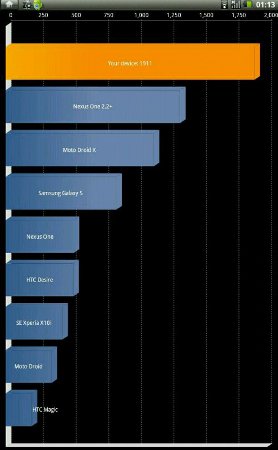 Toshiba AC100 Quadrant benchmark results, showing Nvidia Tegra 2 performance compared to leading Android smartphones


Source: Carrypad
(Click to enlarge)
Most of the AC100's smartphone competitors in the benchmarks run on ARM Cortex-A8 processors from Texas Instruments (TI) or Samsung, as well as the Cortex-A8-derived Qualcomm Snapdragon.
The latter processor, as used in the HTC/Google Nexus One with Android 2.2, came in second, although the Android 2.1-powered Nexus One trailed in fifth place on the Quadrant test. Second place on the benchmark went to the Droid X, which runs TI's OMAP3630, says CarryPad.
The story notes that Android 2.2 is much better optimized for the Cortex-A architecture than Android 2.1. This would suggest that if the AC100 were to upgrade to Android 2.2, it would run even faster. And keep in mind that the AC100 runs the 1GHz version of the Tegra 2, not the 1.2GHz version promised by several tablet vendors.
Samsung Galaxy Tab tipped for Thursday unveiling
Samsung's long-tipped and rumored Galaxy Tab Android tablet will be formally unveiled on Thursday, judging from a teaser announcement by Samsung. The Sept. 2 announcement at the IFA show in Berlin will reveal a seven-inch tablet featuring Android 2.2, augmented reality, video calling, and web browsing, according to Samsung.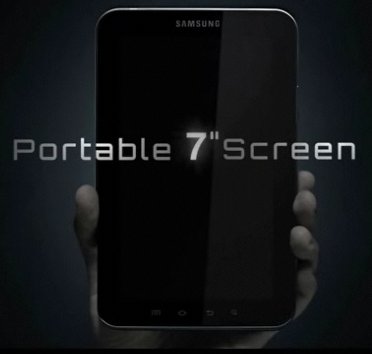 Samsung's latest teaser announcement for the Samsung Galaxy Tab
The teaser follows the
posting
of a Galaxy Tab photograph (pictured below at right) by Samsung South Africa back in June. This was followed that same month by more rumors, including
a story
from
Tinh Te
claiming the Galaxy Tab runs Android 2.2 on an ARM Cortex-A8-based processor clocked at 1.2GHz, with 16GB of internal flash memory that can be upgraded to a 48GB memory card.
The report also said the device offers a seven-inch Super AMOLED screen, weighs 370 grams (13 ounces), and runs on a 4000 mAh battery.

Earlier this month, Samsung-Firmwares claimed that the Galaxy Tab would debut Sept. 3 at the IFA show and feature a 1GHz Samsung S5PC110 CPU.
More recent leaked reports, as summarized yesterday by our sister publication eWEEK, suggest the Galaxy Tab will include 3G, Wi-Fi, a 16:10 screen ratio, SDHC memory expandability, and a DMB tuner for TV viewing. Some reports also confirm the presence of a front-facing camera for video calling, says eWEEK. The tablet is expected to be available to CDMA carriers sometime in early September, says the story
KT announces "Identity Tab"
According to TodayKorea, as reported by AkihabaraNews, Korean carrier KT has announced an "Identity Tab" Android tablet that appears to be somewhat similar to the Galaxy Tab from Korea's Samsung. Although no manufacturer is listed, there is likely no Samsung connection aside from the Korean angle and the name.
The seven-inch, multitouch Identity Tab is said to be based on a 1GHz Qualcomm Snapdragon CPU. It will offer 8GB of internal memory along with an SD card reader, says AkihabaraNews.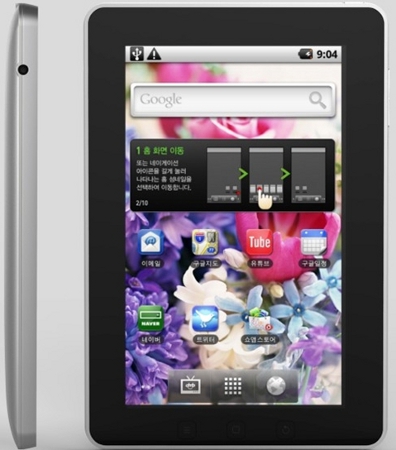 KT's Identity Tab
Source: TodayKorea
Other listed specs include Wi-Fi, a DMB TV tuner, a gyro-sensor, and a three-megapixel camera. The tablet is available now for 300,000 Won (about $252) or free with a 27,000 Won (about $23) 24-month contract, says the story. The contract is said to include a "50G" WiBro (similar to 4G WiMAX) unlimited data plan and a Wi-Fi Wibro data card.
Availability
The NotebookItalia story on the Toshiba Tablet Folio 100 may be found here.
The Carrypad story on the Toshiba AC100 and Tegra 2 benchmarks should be here.
Samsung's Galaxy Tab teaser page may be found here, and the eWEEK story on the Galaxy Tab may be found here.
The AkihabaraNews story on KT's Identity Tab may be found here, and the Korean-language TodayKorea story it's based on should be here.
---
This article was originally published on LinuxDevices.com and has been donated to the open source community by QuinStreet Inc. Please visit LinuxToday.com for up-to-date news and articles about Linux and open source.