Jan 8, 2010 — by LinuxDevices Staff — from the LinuxDevices Archive — 6 views
Nvidia announced the latest in its family of ARM-based SoCs (system on chips), claiming up to four times the performance of the previous generation. The Tegra 250 includes eight processors including a dual-core ARM Cortex-A9 CPU, streams 1080p HD video, and offers "days" of battery life, the company says.
Nvidia's Tegra 250 is a follow-up to the company's previous Tegra processors, all of which have included ARM cores, video processors, imaging processors, audio processors, and ultra-low power GeForce graphics processing units. The initial three Tegras, all of which use ARM11 cores, are as follows:
The APX 2500, introduced in February 2008, offers a 600MHz clock speed, 720p HD encode/decode, and supports displays up to 854 x 480 pixels
The Tegra 600, intro'd in June 2008, offers a 650MHz clock speed, 720p HD encode/decode, an IDE interface, and supports displays up to 1280 x 1024 pixels
The Tegra 650, also from June 2008, offers an 800MHz clock speed, 720p video encoding, 1080p decoding, and supports displays up to 1280 x 1024 pixels
When the SoCs were announced, Nvidia emphasized its support for Windows Mobile and Windows CE. However, the number of devices Nvidia was hoping for somehow never materialized, and in February of last year it announced it was porting Tegra to Google's Linux-based Android software stack. Notable Tegra-based devices available with Windows include "smartbooks" such as Mobinnova's Elan, and Beam, along with Inventec's Rainbow, plus Microsoft's very own Zune HD, a PMP (portable music player).
With the new Tegra 250, Nvidia is actively supporting both Windows CE/Mobile and Android. In addition, according to one recent rumor, Google will incorporate a Tegra in an upcoming Google Chrome OS netbook reference design.
The Tegra 250 is now being touted as a SoC "specifically designed for tablets." Cnet quotes Mike Rayfield, GM of the company's mobile business, as saying "the tablet is a good entree from a carrier's standpoint. It would avoid the confusion of people getting clamshells and assuming they're getting a Windows PC."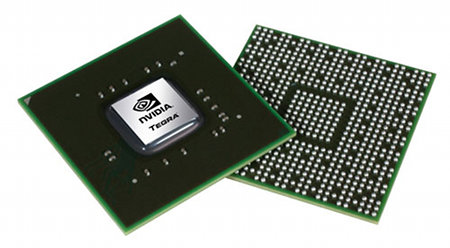 Nvidia's Tegra 250
According to the company, the Tegra 250 (above) includes eight independent processors overall, which may be "used together or independently to optimize power usage at all times." The CPU, clocked at up to 1GHz, is a dual-core version of ARM's Cortex-A9, diagrammed below in a single-core configuration. Nvidia calls this "the world's first dual-core CPU for mobile applications," though TI previously announced a similar, A9-based entry in the form of its OMAP4430 and OMAP4440.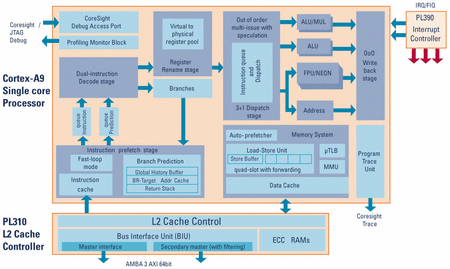 Cortex-A9 in single-core configuration
(Click to enlarge)
Nvidia says the 40nm Tegra 250 delivers up to four times the performance of the previous Tegras, and ten times the performance of "the processors used in smartphones today," while still offering sterling battery life. The chip delivers over 16 hours of HD video playback or 140 hours of music on a single charge, the company claims.
Compared to the earlier Tegras, the Tegra 250 provides dual-display support, bumps maximum resolution up to 1920 x 1080 pixels via HDMI or 1600 x 1050 on an LCD, and has HD encode as well as decode, says Nvidia. The company further claims twice the graphics performance of the previous generation Tegras, plus support for OpenGL ES 2.0 and hardware acceleration for Adobe's Flash 10.1.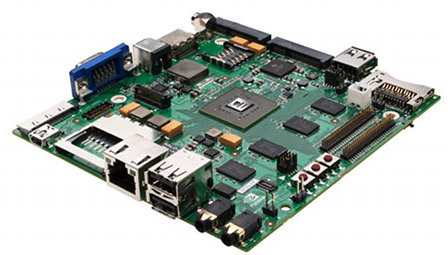 Nvidia's Tegra 250 development kit
Nvidia also announced a Tegra 250 Developer Kit (above) that includes the SoC itself, memory, and a variety of real-world ports. Although specifications for the kit were not released, the board clearly includes Ethernet, USB ports, audio I/O, slots for flash cards, and a video output.
Various prototype Tegra 250-based tablets are said to be on show at Nvidia's Consumer Electronics Show (CES) stand in Las Vegas, including the Ultra, a device designed by Seattle-based Innovative Converged Devices (ICD). The Ultra, whose operating system was not disclosed, is showing off 1080p video streamed via a "pre-commercial" Verizon 4G network and Motorola modem, according to Nvidia.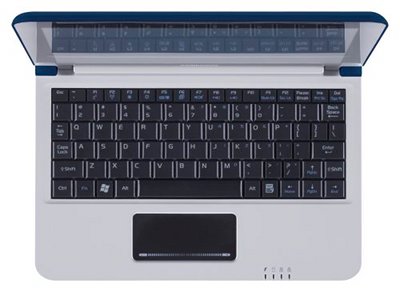 Mobinnova's Beam: coming soon to Android?
(Click to enlarge)
Meanwhile, Mobinnova says its Beam device (above) has been upgraded to the Tegra 250, and also includes 512MB of RAM and SSDs (solid state disks) ranging in size from 8GB to 64GB. The device will ship with a GSM cellular modem intended to connect to AT&T's network, the company adds. As before, the device runs Windows CE with a Mobinnova-developed interface, but there are reportedly plans to release an Android version.
Nvidia's Rayfield stated, "Consumers can now get the tablet experience they've always dreamed of and they can leave the power cord at home. Only Nvidia Tegra can make this happen. We're driving tomorrow's tablets today."
David Wadhwani, VP and GM of Adobe's platform business, stated, "We are pleased with the quality of Flash based videos, games and other rich Web based content that we see with Nvidia's Tegra mobile processor. Mobile devices like tablets, smartbooks, and smartphones are now able to play smooth, HD content delivering hours of stutter-free video without draining your battery."
KC Kuo, CEO of Mobinnova, stated, "We like to say the Mobinnova Beam is a 'smartbook on steroids.' The Beam meets our company's goal of providing next generation, 'cloud ready' products that allow easy, enjoyable and instant access to content for hours, even days. We look forward to connecting this device to AT&T's mobile broadband service."
Availability
According to Nvidia, the Tegra 250 is being demonstrated at its CES booth (South Hall 4 - Booth #35912). More information on the SoC may be found on the company's website, here.
The Cnet story alluded to above can be found here.
---
This article was originally published on LinuxDevices.com and has been donated to the open source community by QuinStreet Inc. Please visit LinuxToday.com for up-to-date news and articles about Linux and open source.