Jun 14, 2010 — by Eric Brown — from the LinuxDevices Archive — 1 views
Samsung's upcoming, 7-inch Galaxy Tab Android tablet will offer a 1.2GHz ARM Cortex-A8 processor, says Tinh te. Meanwhile ARMdevices.net reports on a five-inch, Android tablet from Acorp selling for $88 in volume, and one Canonical exec says it will release a tablet version of Ubuntu Linux early next year, while founder Mark Shuttleworth says it won't.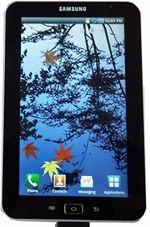 The Samsung Galaxy Tab was tipped earlier this month by Samsung South Africa on Twitter, along with the photo at right, as it appeared on Engadget. The seven-inch tablet was said to offer AMOLED technology and run Android and Samsung's TouchWiz UI. Last week, Samsung confirmed it was producing an Android tablet, but offered no more details.
Now, Vietnamese technology site Tinh te has filled in some more information, said to be provided from an unnamed Korean source. Tinh te calls the tablet the "Galaxy Tape," although we imagine that Galaxy Tab is the more likely name.
In any case, the tablet runs Android 2.2 on an ARM Cortex-A8-based processor clocked at 1.2GHz, with 16GB of internal flash memory that can be upgraded to a 48GB memory card, says the story. A microSD slot is also said to be provided, holding up to 32GB cards.
The seven-inch screen uses Samsung's Super AMOLED technology, found on several of the company's high-end smartphones, says the story. Super AMOLED technology expands upon Samsung's earlier AMOLED (active-matrix organic light emitting diode) displays, already claimed to offer rich colors, easy readability in sunlight, and superior contrast and viewing angles. Super AMOLED is said to maintain these qualities while also being brighter, clearer, less reflective, and more power efficient.
Weighing 370 grams (13 ounces), the Galaxy tablet runs on a 4000 mAh battery, says Tinh te. The tablet is due to ship in September, and will ship with e-reader software, as well as magazine content provided by Samsung and other content partners, says the story.
Acorp spins five-inch ARM9-based Android tablet
Reports are still emerging about new tablets shown at the Computex show, which ended over a week ago. On ARMdevices.net, for example, video reporter "Charbax" has posted a YouTube video showing a Computex tablet demo from a Taiwanese company called Acorp.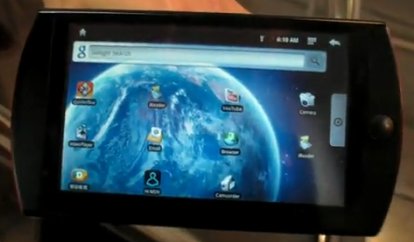 Acorp's five-inch Android tablet
(Source: ARMdevices.net)
The company's unnamed five-inch tablet will sell for $88, but only in units of 1,000 or more, according to the video (see below). A seven-inch model will soon follow that costs $100 in the same volume OEM quantities.
The tablet runs Android 1.5 on an ARM9-based 600MHz Rockchip processor, but a newer version of Android will arrive soon, says the video. The processor appears to be the RK2808 processor that ARMdevices.net previously reported is incorporated in the under-$100, Android-ready HiVision PWS700CA netbook. The RK2808 is from China-based Rockchip, and is billed as an ARM926-based multimedia processor that primarily targets Android and Windows CE smartphones.
The RK2808 is said to support mobile-TV formats including CMMB and DVB-T, and a T-DMB demodulator is under development. The processor, which started shipping late last year, offers a CMOS sensor with both still-image and digital video functions, as well as support for touch input and GPS.
Not all of those features are reported in Charbax's video of the Acorp tablet. However, the demo does reveal that the tablet's resistive touchscreen offers 800 x 480 resolution, YouTube support, and if we understood one response from the Acorp rep correctly, a mobile TV receiver.
Acorp's tablet being demo'd on YouTube


(Source: ARMdevices.net)
Is Canonical prepping Ubuntu for tablets?
A Canonical exec says that his company will develop a version of Ubuntu targeted at tablets for release in late 1Q 2010, says IDG News in a story by Agam Shah appearing on NetworkWorld.
The story quotes Chris Kenyon, Canonical's VP of OEM services as saying the Ubuntu tablet edition will offer a simplified user interface that offers quick access to the most commonly used applications. Based on the upcoming Ubuntu 10.10, "Maverick Meerkat," the Linux distribution will add on-screen keyboard features and compatibility for multitouch drivers, Kenyon was said to have stated.
Since the story broke, however, German technology site Golem.de ran a brief interview with Canonical founder Mark Shuttleworth in which he denied the report, saying that Kenyon was "misunderstood." There is no tablet-specific version of Ubuntu in the works, Shuttleworth was quoted as saying.
According to The Register's Bill Ray, whose story alerted us to the Golem.de report, Shuttleworth's version makes more sense. "Competing with Android and Meego, not to mention iOS, would seem optimistic to the point of self-delusion," he writes.
We're not so sure, however. The consumer tablet market is still quite young, and none of the OS entries to date are without their flaws on a tablet platform.
In fact, the news of an Ubuntu tablet edition is not exactly surprising after the company's announcement last month of a fast-boot version of the Ubuntu called Ubuntu Light. At the time, the company revealed that the technology was based on a new netbook- and tablet-oriented desktop environment called Unity that would also drive the Ubuntu 10.10 Netbook Edition, due in October.
Unity was said by Canonical to be designed for netbooks and "related touch-based devices." It includes a new panel and application launcher for fast access to commonly used applications, and removes screen elements that are rarely used in mobile and netbook computing, said the company.
Somewhat ambiguously, IDG News' Shah now says that Canonical will "also will merge the tablet and netbook OS under a lightweight Linux version called Ubuntu Light." Shah notes, however, that this is not the same fast-boot version of Ubuntu Light that the company announced last month.
According to IDG News, Canonical has already signed deals with Freescale, Texas Instruments, and Marvell, presumably to help develop tablet reference designs using the companies ARM-based system-on-chips for Ubuntu tablets. In addition, Canonical is collaborating with Intel to "improve power-states," presumably in regard to the Intel Atom, and it has talked with display companies like Pixel Qi to help optimize Ubuntu for the latest touchscreens.
A number of tablets have already shipped running Ubuntu, including, most recently, the Sharp Netwalker PC-T1.
Availability
The Tinh te story on the Samsung Galaxy tablet may be found here.
The ARMdevices.net story on the Acorp Android tablet should be here.
The IDGNews report on Canonical's tablet plans may be found on NetworldWorld, here.
The Golem.de story about Mark Shuttleworth denying the Ubuntu for tablets rumor may be found here, with the translated version here.
The story in The Register that alerted us to the Golem.de report may be found here.
---
This article was originally published on LinuxDevices.com and has been donated to the open source community by QuinStreet Inc. Please visit LinuxToday.com for up-to-date news and articles about Linux and open source.