Oct 6, 2010 — by Eric Brown — from the LinuxDevices Archive — views
Android is now the most popular operating system among U.S. smartphone buyers in the past six months, with 32 percent share, and has grown to represent 19 percent of smartphones used in the U.S., says The Nielsen Company. In other Android news, Google filed a counterclaim against Oracle, denying copyright infringement related to the search giant's use of Java in Android.
The last few months have brought a weird mix of good news and bad news for Google and its Linux-based Android operating system (OS). The bad news almost all derives from patent lawsuits against Google or its hardware vendor partners, including a Google-targeted suit from Oracle (see farther below).
The good news stems from numerous reports from research firms claiming that Android is growing fast in market share, app usage, and customer appreciation both in the U.S. and around the world.
According to a recent special report on the Android phenomenon from Newsweek, Google told the publication that some 250,000 Android phones are being activated every day, up from 200,000 in August.
Meanwhile, Samsung is selling so many Galaxy S Android phones these days that last week it decided to drop support for Symbian in future phones. This followed a similar announcement from Sony Ericsson last month. (See links for these stories at the end of the page.)
Nielsen: Android dominates U.S. smartphone sales
As of the end of August, Android represented 32 percent of smartphones purchased in the U.S. in the past six months, says The Nielsen Company. By comparison, Research in Motion (RIM) represented 26 percent during that period with its Blackberry phones, and Apple iOS (iPhone) accounted for 25 percent of the market. The period was said to include the first month of iPhone 4 sales.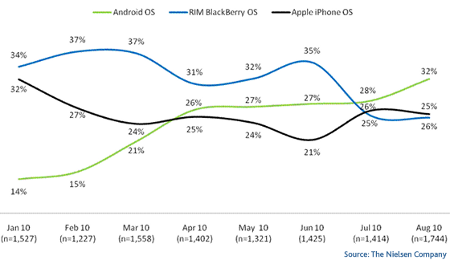 Top 3 U.S. smartphone OS purchases from Jan. 2010 through Aug. 2010
Source: Nielsen
(Click to enlarge)
Among all current U.S. smartphones in use today, Blackberry now represents 31 percent of the market, "though its lead over Apple is declining," says The Nielsen Company. Some 28 percent of active smartphones are Apple iPhones, compared to 19 percent for Android.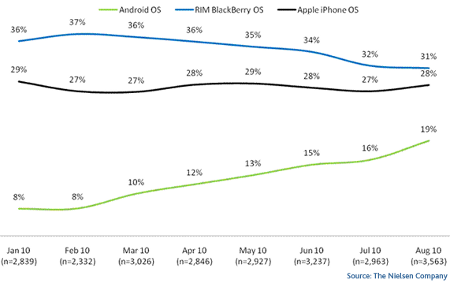 Top 3 U.S. smartphone OS ownership share from Jan. 2010 through Aug. 2010


Source: Nielsen
(Click to enlarge)
In early August,
Nielsen projected
that Android had jumped past Apple for a second-place 27 percent market share among new smartphone subscribers in the U.S. during the second quarter. RIM won top honors in the category for its BlackBerry OS with 33 percent, although that was down from 36 percent in the previous quarter.
Google countersues Oracle on Android patents
In August, Oracle sued Google for patent and copyright infringement over Google's use of Java in Android. On Monday, Google filed a counterclaim in California district court, asking the judge to dismiss Oracle's suit and render the patents Oracle holds invalid, according to a story in our sister publication, eWEEK.
Oracle, which purchased Sun Microsystems and renamed it Oracle America in January, had accused Google of infringing seven Java patents and other copyrights. In its countersuit, Google denied Oracle's claims of patent and copy infringement related to its use of Java in Android, says the Clint Boulton story in eWEEK.
Google, which sponsors and directs Android development but does not "own" the open source operating system, also countered that Oracle has unfairly singled out Android after years of supporting other open source software.
To demonstrate inconsistency on the part of its accuser, Google said that in 2006, Oracle complained when Sun refused to release all of Java to open source, retaining control over the use of Java on mobile devices, says the story. Google stated that Oracle advanced its support for fully open Java in February 2009, but changed its tune after acquiring Sun in January 2010.
Oracle and Sun have since "ignored the open source community's requests to fully open-source the Java platform," says the Google countersuit.
Apple started the Android lawsuit trend in March when it sued HTC over Android-related patents. Last week, Microsoft joined in the fun, suing Motorola for patent infringements related to Android.
Boulton quotes IDC analyst Al Hilwa as commenting, "Microsoft suing Motorola casts additional shadows on Android, but I don't see any sign that Google will step in with any promise to indemnify Android OEMs for patent infringement liabilities, so that uncertainty continues in the market."
Availability
The Newsweek story on Android's rapid rise should be here. The eWEEK report on Samsung dropping Symbian may be found here, and its earlier report on Sony Ericsson's Symbian abandonment should be here.
The Nielsen Company report on U.S. smartphone OS share may be found here.
The eWEEK story on Google's countersuit against Oracle may be found here.
---
This article was originally published on LinuxDevices.com and has been donated to the open source community by QuinStreet Inc. Please visit LinuxToday.com for up-to-date news and articles about Linux and open source.