Mar 8, 2010 — by Eric Brown — from the LinuxDevices Archive — 3 views
AT&T launched its first Android phone, the Motorola Backflip, for $100 after rebate — and with Yahoo as the default search engine. Meanwhile, at our sister publication, eWEEK, analysts sort through the impact of Apple's Android-related patent lawsuit against HTC, suggesting Palm or even Microsoft could be the next targets.
Motorola introduced its Android-based Backflip phone in early January at the Consumer Electronics Show. AT&T confirmed last month that it would introduce the phone today, and the carrier is now offering the device for $100 (with the usual two-year contract and $100 rebate).
The Backflip is the first Android-based handset sold by AT&T, which is known for having a U.S. exclusive on Apple's iPhone. For now, anyway, the carrier appears to be the exclusive provider of the Backflip, as well.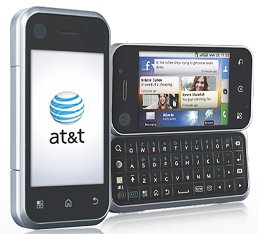 AT&T brands the Motorola Backflip.
The Backflip runs Android 1.5 and the MotoBlur UI on a 528MHz Qualcomm processor with 2GB of memory, says Motorola. The phone is equipped with a 3.1-inch, 480 x 320 pixel touchscreen, WiFi, Bluetooth, GPS, and a five-megapixel camera. The unique design features both a reverse-flip QWERTY keyboard and a "Backtrack" touchpanel on the back of the device.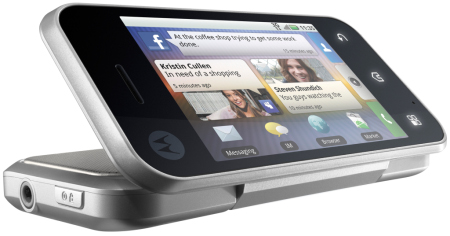 Motorola Backflip in mid flip
As
eWEEK
's Clint Boulton reported last week, AT&T confirmed that the Backflip will offer Yahoo as the default search engine instead of Google Search. This would be the first Android phone we've heard of that did not offer Google Search as the default. The AT&T Backflip page, meanwhile, does not mention search at all, but says that the phone provides Yahoo's email app.
According to the story, it will be easy for users to switch to Google if they prefer. Boulton notes that while AT&T and Yahoo have had a long-running partnership, it is possible that Apple may have pressured AT&T to switch to Yahoo as part of its growing feud with Google (see below). The iPhone uses Google search as the default, but Apple is reportedly considering jumping to Microsoft's Bing, adds Boulton.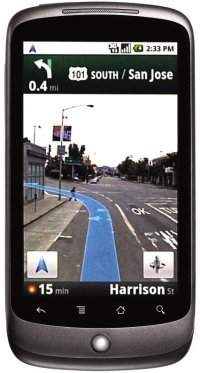 Will Apple's HTC patent lawsuit snare Microsoft too?
Apple filed a lawsuit against HTC on March 2, alleging that its Android-based phones, including the Google-branded Nexus One (pictured at right), violated some 20 patents related to the iPhone's interface, architecture and hardware. Ever since, analysts have been sorting through the lawsuit and speculated on its potential impact on HTC, Google, and Android in general.
Now, at least one analyst believes that if Apple is successful, the company may next go after Microsoft and its Windows Phone 7 design, according to a story in our sister publication, eWEEK.
The Apple lawsuit, which was filed with both the U.S. District Court in Delaware and the U.S. International Trade Commission, was announced with a pointed quote from Apple CEO Steve Jobs, saying, "We think competition is healthy, but competitors should create their own original technology, not steal ours." After the iPad was announced in January, Jobs was reported to have told Apple employees that Google was trying to "kill the iPhone," and then vowed, "We won't let them."
Indeed, Apple's lawsuit against HTC is widely seen as a flanking maneuver against Google, writes Nicholas Kolakowski in eWEEK. Since Android is open source, and Google does not own the platform, however, Apple was forced to go after a surrogate, in this case the main Android handset manufacturer, HTC. The company also happens to have manufactured the Google-branded Nexus One smartphone.
If Apple is successful, writes Kolakowski, the patents appear to be broad enough to also cover the upcoming Windows Phone 7, which Microsoft is developing with assistance from HTC. The possibility was raised in an email to eWEEK by Roger Kay, an analyst with Endpoint Technologies Associate: "If Apple is prepared to claim a certain level of intellectual property, it could go after Microsoft on the same grounds as it went after HTC."
"Everyone has been treating multitouch as open territory, and it may not be," Kay is further quoted as saying. "Apple may still own certain key pieces [of the relevant multi-touch patents]. That could put a damper on potential licensors of the Windows Phone 7 interface."
Yet, in an earlier eWEEK story, Don Reisinger claims that multi-touch technology, which only recently started appearing on Android phones, is not part of the lawsuit. Although the suit does cover basic touch technology such as using a swiping motion to unlock the phone, or the ability to track touch gestures in any direction on the screen, there is no mention of "pinch-to-zoom" or other multi-touch gestures in the lawsuit, writes Reisinger.
Still, if Apple wins the lawsuit, Android might be forced to lose much of its niftier qualities, he suggests. Other technologies covered in the suit are said to include a 15-year old "object-oriented graphic system," as well as the ability to automatically shut off the display when the phone is held to one's ear.
Adding to the speculation about future lawsuits, meanwhile, Reisinger suggests that it is Palm who might be the next one to be slammed by the Apple legal team. The companies have been squabbling over access to iTunes since the Palm Pre launched last June. Apple, meanwhile, is already involved in an ongoing legal feud with Nokia.
Will Microsoft take on Android too?
Meanwhile, over at the AndroidGuys, Ryan Gallagher suggests that Microsoft may also soon decide to take on Android, pressuring Google or one of the Android phone vendors to pay up for the privilege of using a variety of Linux-related patents. Since Microsoft signed a patent agreement with Amazon.com over the Kindle e-reader two weeks ago, the company has followed up with similar agreements that cover the use of Linux technology with Panasonic and IO Data. If Apple is successful in forcing a settlement with HTC, Microsoft might be emboldened to push its Linux patent enforcement into Android territory, suggests the story.
Further information

The Motorola Backflip is available now from AT&T for $100, after a $100 rebate, with a two-year contract, says the carrier. More information may be found at AT&T's Backflip page, here.
The eWEEK story about AT&T's choice of Yahoo search for the Backflip may be found here.
The eWEEK story regarding the possible impact on Microsoft from Apple's patent lawsuit against HTC may be found here, and their earlier story exploring the details of the suit may be found here.
The AndroidGuys story on the potential for Microsoft to enforce its Linux patents with Android vendors may be found here.
An Engadget story analyzing Apple's patent claims in detail may be found here.
---
This article was originally published on LinuxDevices.com and has been donated to the open source community by QuinStreet Inc. Please visit LinuxToday.com for up-to-date news and articles about Linux and open source.