Mar 18, 2011 — by Eric Brown — from the LinuxDevices Archive — views
Apple has questioned Blaze Software smartphone browser benchmarks claiming that the Google's Android-based Nexus S ran 52 percent faster than the iPhone 4. Meanwhile, Android continued to lead iOS in Millennial Media's February smartphone ad impression stats, but has leveled off to 51 percent, dropping three points.

As we head into next week's CTIA Wireless 2011 (Mar. 22-24) in Orlando, the mobile industry is debating new Blaze Software web browsing benchmarks claiming that Google's Android 2.3-based, Samsung-manufactured Nexus S (pictured) ran 52 percent faster than Apple's iOS 4.3-based iPhone 4.
As reported in our sister publication, eWEEK, Apple is disputing the company's methodology in the benchmarks, which were said to have compared the phones in 45,000 tests across 1,000 Fortune 1000 websites.
Blaze Software loaded multiple pages several times at different times over Wi-Fi, and found that the Nexus S registered a median load time of 2.133 seconds, versus the iPhone 4's 3.254 seconds. The Nexus S proved faster than iPhone 4 in 84 percent of the websites tested, with the iPhone 4 beating the Nexus S in 16 percent, according to Blaze's findings.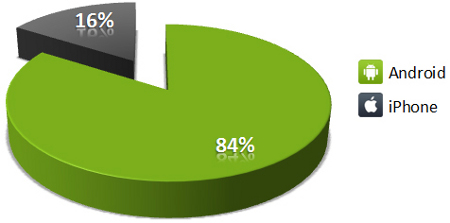 Percent of 45,000 browser page-loading tests with faster performance; Android 2.3-based Google Nexus S vs. Apple iPhone 4
Source: Blaze Software
"This demonstrates Android wasn't just faster overall, but rather provided a faster browsing experience 4 times out of 5," stated Blaze CTO Guy Podjarny.
Blaze also found that Android's load-speed advantage was neutralized on mobile-optimized sites. The Nexus S was said to have recorded a median load time of 2.085 seconds vs. the iPhone 4.3's 2.024 seconds on mobile websites. On standard sites, the Nexus S was said to have enjoyed average load time of 2.180 seconds, or 59 percent faster than the iPhone's 3.463 seconds.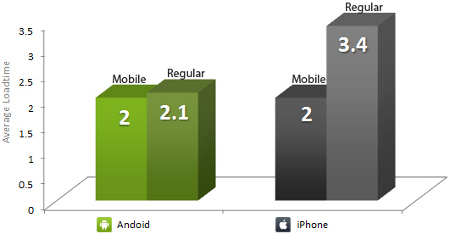 Average page-loading times (in seconds) for Android and the iPhone on mobile-optimized sites vs. standard sites; Nexus S vs. iPhone 4, over 45,000 tests
Source: Blaze Software
Apple disputes the validity of the tests, however, because they do not use the actual Android WebKit and Apple Safari browsers that ship with the phones. The tests instead use custom WebView for Android and UIWebView for iPhone testing applications, which are based on embedded web viewers.
While Blaze claims that page-load performance of its the embedded browsers is identical to the official browsers, Apple spokeswoman Trudy Muller told The Register that UIWebView did not use the Safari browser updates featured in iOS 4.3. As a result, the performance differs from that of Safari. For example, she notes, Safari integrates the Nitro JavaScript engine, claimed to run up to twice as fast as its predecessor.
"They didn't actually test the Safari web browser on the iPhone," Muller was quoted as saying.
Blaze's Podjarny wrote another post acknowledging that Apple's real-world iPhone page loads "could be faster," and invited Apple to help it adjust its tests to reflect those changes. However, he suggested the differences would be minor, and maintained that Blaze stands by its statement that Android's embedded browser is faster than the iPhone's.
Podjarny appeared to suggest that the tests reflected a universal advantage of Android over iOS, saying that similar differences were likely to appear on other similar phones, as well as in Android vs. iOS tablet tests. While both phones offer similar 1GHz Cortex-A8 processors — a Samsung S5PC110 "Hummingbird" on the Nexus S and an Apple A4 on the iPhone 4 — at least one commenter on the Blaze site noted that the chips are not identical, and other technical variables might be skewing the universality of the results.
Millennial Media: Android levels off on ad impression lead
Millennial Media's latest monthly report of ad impressions on its U.S.-based mobile ad network revealed that for the third month in a row, Android continued to dominate iOS on U.S. mobile ad impression share. However, its 51 percent share in February represents a drop from from 54 percent share in January, according to the mobile ad firm. Apple's iOS dropped one percent to 27 percent while Research in Motion (RIM) rose 3 percent to 14 percent impression share, the study says.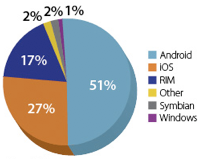 Smartphone OS mobile ad traffic in February on Millennial Media network
Source: Millennial Media
The study suggests a leveling off of Android's meteoric rise. Millennial's December report showed that
Android claimed 46 percent
of U.S. ad impression share compared to 32 percent for iOS, up. In October, the two platforms were said to
have tied for the first time at 37 percent
.
This month, Millennnial has also begun measuring traffic from tablets, gaming consoles, and other connected devices. The company found that in February, iOS, led by the iPad, accounted for 80 percent share, while Android trailed with 17 percent, said to be based largely on sales of the Samsung Galaxy Tab.
Millennial cites a recent IDC report, claiming that Millennial is the third largest mobile ad network behind Google AdMob and Apple's iAd.
Last week, ComScore released its latest report on U.S. smartphone market share, estimating that for the first time Android surpassed RIM's BlackBerry for first place, according to another story in eWEEK. In January, Android rose 3 percentage points from the previous month to 31.2 percent share, while RIM fell to 30.4 percent from December's 31.6 percent, said ComScore. Apple's iOS rose only 0.1 percent to 24.7 percent, says the research firm.
---
This article was originally published on LinuxDevices.com and has been donated to the open source community by QuinStreet Inc. Please visit LinuxToday.com for up-to-date news and articles about Linux and open source.