Jan 14, 2011 — by Eric Brown — from the LinuxDevices Archive — views
As pundits predict resurgent iPhone sales with Verizon's iPhone 4 launch this week, Canalys projects Android will shrug it off and continue to grow at more than twice the rate of the iPhone in 2011. Meanwhile, Android claimed 46 percent of U.S. ad impression share in December compared to 32 percent for Apple iOS, says Millennial Media.
Earlier this week, Apple and Verizon Wireless announced that the iPhone 4 will go on sale to Verizon Wireless customers on Feb. 10, breaking the AT&T exclusive on iPhone sales. As our sister publication eWEEK noted, many analysts see this as a chance for Apple to win back the momentum in the smartphone market from Android. (The publication also posted a slide-show report on the potential impact of the Verizon iPhone on Android.)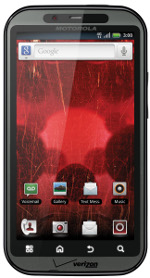 Yet, some observers, including eWEEK's Don Reisinger, were underwhelmed by the announcement. Reisinger notes that iPhone voice and data sessions cannot currently coexist on Verizon's CDMA network, and there were no details on an iPhone model that might support the carrier's upcoming 4G LTE network.
Meanwhile, says Reisinger, Android vendors pressed the envelope at CES by announcing dual-core and 4G smartphones. These included Motorola's Verizon-destined, Tegra 2-based Droid Bionic (pictured).
Canalys: Android will grow at twice the rate of iPhone
Despite Verizon's iPhone 4 announcement, as well as continuing concerns over fragmentation, Android will keep on growing in 2001, says a new report from Canalys.
In fact, this year Android will continue to grow at "more than twice the rate of its major smartphone competitors," says the market research firm, which mentions only the iPhone as a rival.
According to new Canalys Q3 2010 estimates (see chart below), the Google-backed platform already claims a 25 percent share of the worldwide smartphone market, with over 20 million shipments of Android-based smartphones worldwide. Due in large part to the drop in prices for Android phones, worldwide shipments grew more than 1,000 percent through the first three quarters of 2010 over the same period in 2009, says Canalys.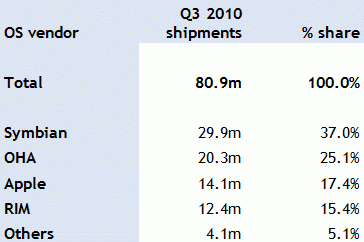 Worldwide smartphone shipment share by OS, Q3 2010
Source: Canalys
In November,
Canalys reported
U.S. smartphone shipment stats for the same quarter (see chart below). Here, Android's 3Q smartphone share in the U.S. was 43.6 percent, while Apple took 26 percent and RIM had 24 percent, says the study.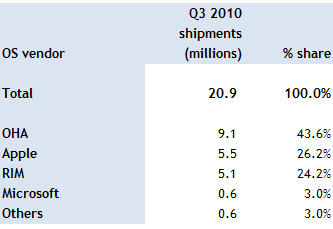 U.S. smartphone shipment share by OS, Q3 2010
Source: Canalys
The chief problem for Android this year will not be the Verizon iPhone, but rather fragmentation, says Canalys. "The growth of Android has been phenomenal, but so too has the number of related devices launched with different hardware and software specifications," stated Canalys Principal Analyst Chris Jones.
"The need to differentiate has pushed vendors to create customized user interface overlays for their Android devices," continued Jones. "As additional investment is required to ensure compatibility with each operating system upgrade, this has hampered vendors' efforts to stay up-to-date with the latest Android iteration on current devices."
Yet, this problem should begin to ease later this year, said Jones. "We believe that [Android] growth will continue as the pace of Android OS upgrades slows."
Android pushes past iOS on ad impressions, says Millennial
Android broke a two-month statistical tie with Apple's iOS in U.S. smartphone ad impressions in December, grabbing 46 percent of hits, according to a Millennial Media study. In November, the research firm estimated that Android and iOS were tied for 38 percent of ad impression share, and each platform commanded a 37 percent share through October, according to an eWEEK report on the new study.
"For the first time, we saw Android surpass iOS as the largest smartphone operating system on our network last month, with an eight percent month-over-month increase and 46 percent of the impression share," stated Millennial, which bills itself as the largest free-standing mobile ad network in the U.S.
Apple's iOS represented 32 percent of the impression share, RIM's Blackberry OS grabbed 16 percent, and Microsoft Windows Mobile devices secured two percent of impressions, says the study.
Millennial also found Android collected 55 p

ercent of ad revenue through December compared to 39 percent for iOS. Overall, ad requests from Android phones to Millennial's network grew more than 3,000 percent in 2010, says the study.
Not surprisingly, Apple is still top dog in smartphone impressions broken down by vendor rather than OS. Apple grabbed 21 percent vendor share in December, ranked against 15 other manufacturers.
The new figures come one week after ComScore estimated Android passed iOS in U.S. smartphone share, with 26 percent. According to an NPD Group study released in November, meanwhile, Android shipped on about 44 percent of new smartphones in the U.S. in the third quarter,and the Droid X (pictured above, at right) was the best-selling Android phone in the quarter.
Availability
More on the Canalys' worldwide 3Q smartphone study and projections on smartphone OS growth study may be found in this Canalys page.
More on the Millennial Media December smartphone ad impression study may be found on this Millennial Media page.
---
This article was originally published on LinuxDevices.com and has been donated to the open source community by QuinStreet Inc. Please visit LinuxToday.com for up-to-date news and articles about Linux and open source.