Feb 9, 2011 — by Eric Brown — from the LinuxDevices Archive — views
Android's worldwide smartphone sales grew 888.8 percent in 2010 and moved past RIM in the fourth quarter to take second place behind Symbian with 22.7 percent, says Gartner. Meanwhile, IDC estimates that Android pushed the 87.2 percent growth in the global smartphone market in 2010, and ComScore says Android continues to lead iOS for second place in U.S. smartphone subscriber share.
Fourth quarter 2010 smartphone reports have been piling up this week, and they spell more good news for Android. Gartner released its worldwide quarterly smartphone report on Feb. 9, estimating that Android grew 888.8 percent in 2010. In the fourth quarter, Android advanced to the number two position for 2010 as a whole, overtaking Research in Motion (RIM) with over 67 million units sold for a total 22.7 percent share, says the research firm.
Hot-selling Android phones in the fourth quarter

included the HTC Desire, Droid Incredible (pictured), and Evo 4G, as well as the Samsung Galaxy S line and the Motorola Droid X and Droid 2, says Gartner.
Symbian's market share dropped further in 4Q 2010 to 32.6 percent or 32.6 million units, says Gartner. Apple maintained its share of the smartphone market to 16.0 percent in the fourth quarter, and achieved the number four position for 2010 as a whole at 15.7 percent, slightly behind RIM's 16 percent, says Gartner.
Android overtook Nokia's Symbian unit sales during the fourth quarter of 2010. However, because Symbian is also used by Fujitsu and Sharp as well as in legacy products from Sony Ericsson and Samsung, "This aggregated volume kept Symbian slightly ahead of Android," stated Roberta Cozza, principal research analyst at Gartner.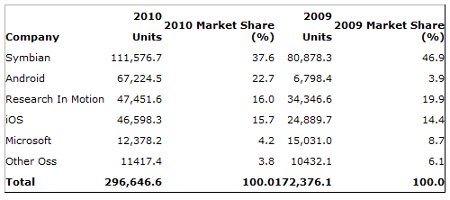 Worldwide smartphone sales to end users by OS in 2010 (thousands of units)
Source: Gartner
(Click to enlarge)
In the vendor race, Nokia remained the clear leader in global mobile phone sales, with 461.3 million units, or 28.9 percent share for the year, says Gartner. Yet this represented a 7.5 percent drop from 2009. Nokia's share of the smartphone market dropped 6.7 percentage points from 2009, says the research firm.
Financially hurting Nokia is expected to clarify its smartphone strategy on Feb. 11. Rumors for the new direction range from a renewed push behind the Linux-based MeeGo to a radical jump to Android — or even the adoption of Windows Phone 7.
Worldwide mobile device sales to end users totaled 1.6 billion units in 2010, a 31.8 percent increase from 2009, says Gartner. Of this total, smartphone sales to end users were up 72.1 percent from 2009, representing 19 percent of total mobile communications device sales in 2010. Meanwhile, worldwide mobile phone sales to end users were said to have reached 32.7 percent growth in 4Q 2010, with 452 million units shipped to end users.
The industry's progress is being hampered somewhat by continuing shortages of components, says Gartner. These are said to include camera modules, touchscreen controllers, and active-matrix organic light-emitting diode (AMOLED) screens.
Still, soaring smartphone demand continues to push the industry forward. Smartphone trends expected to be on view at Mobile World Congress next week in Barcelona include "3D technology, improved user interfaces around touch, faster networks on LTE technology, and new forms of payments, such as near field communication," says Gartner.
IDC: Android pushes smartphone market's 87.2 percent growth
On Feb. 7, IDC released its own fourth quarter 2010 numbers, as reported in more detail by our sister publication eWEEK. IDC does not break down smartphone shipments by operating system in its "Worldwide Quarterly Mobile Phone Tracker," but says that Android was the leading force in the segment's searing fourth quarter growth.
Vendors shipped 100.9 million smartphones in 4Q 2010, up 87.2 percent from the 53.9 million shipped during the same period in 2009, says IDC. For the full year, worldwide smartphone shipments totaled 302.6 million, up 74.4 percent from 173.5 million in 2009, says the research firm.


Top five worldwide smartphone vendors, Q4 2010
Source: IDC
(Click to enlarge)
Ramon Llamas, an IDC senior research analyst, stated:
Android continues to gain by leaps and bounds, helping to drive the smartphone market. It has become the cornerstone of multiple vendors' smartphone strategies, and has quickly become a challenger to market leader Symbian. Although Symbian has the backing of market leader Nokia, Android has multiple vendors, including HTC, LG Electronics, Motorola, Samsung and a growing list of companies deploying Android on their devices.
Two of those companies — Samsung and HTC — took the fourth and fifth slots respectively in overall vendor market share for both the fourth quarter and 2010 as a whole, says IDC. Yet, while still significantly behind market leaders Nokia, Apple, and RIM, the Android-focused Samsung and HTC are seeing smartphone shipments growing at much higher rates. Samsung leads the way with 438.9 percent growth for the quarter and 318.2 percent growth for the year.
Nokia lost considerable share over the last year, ending at 33.1 percent, while RIM lost a bit of share and Apple's percentage grew slightly. Apple took second place for the quarter at 16.1 percent while RIM took the second place slot for the year, also with 16.1 percent, says IDC.
ComScore: Android builds lead over iOS in U.S.
Also on Feb. 7, ComScore released its fourth quarter numbers counting total smartphone subscribers in the U.S., as reported in more detail by eWEEK. Last month, ComScore reported that Android had for the first time surpassed Apple iOS in U.S. smartphone subscribers, taking second place behind RIM. The new report, based on December's findings instead of November's, show that Android has increased that lead, moving up to 28.7 percent share, up from 26 percent in November and 21.4 percent in September.
What's more, Android's 7.3 percent point change increase in OS market share was way out ahead of Apple (0.7 percent) while RIM, Microsoft, and HP/Palm all lost share, says ComScore. As eWEEK notes, "The trend should be alarming to RIM, whose BlackBerry OS has lost two percentage points to Android for each of the last few months."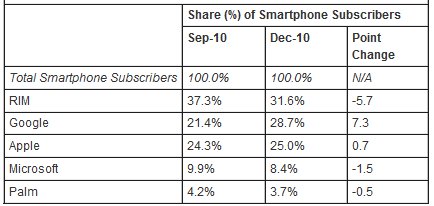 Total U.S. smartphone subscribers age 13+, in three month period ending Dec. 2010
Source: ComScore MobiLens
ComScore's U.S. smartphone numbers arrived more than a week after mobile researcher
Canalys projected
that more than 33.3 million of the 101.2 million smartphones shipped worldwide in 4Q 2010 were based on Android. As such, Android became the world's leading smartphone platform, said the study.
One more reminder of Android's ascension comes from Piper Jaffray, which on Feb. 8 projected Android will reap $1.3 billion in mobile advertising in 2012. Android accounted for $130 million of Google's $850 million in mobile ads in 2010, says the analyst firm.
---
This article was originally published on LinuxDevices.com and has been donated to the open source community by QuinStreet Inc. Please visit LinuxToday.com for up-to-date news and articles about Linux and open source.