Jun 23, 2011 — by Eric Brown — from the LinuxDevices Archive — 2 views
Archos announced two high-end Android 3.1 tablets that use Texas Instruments dual-core 1.5GHz OMAP4 processors. The eight-inch Archos 80 G9 and 10.1-inch Archos 101 G9 are both offered with a 250GB hard disk drive option, available 3G, as well as standard Wi-Fi, Bluetooth, GPS, and HDMI.
Archos' updated G9 version of its 10.1-inch Archos 101 Android tablet and the new eight-inch Archos 80 take the lead role in the company's expanding pack of Android tablets. These include a seven-inch, $220 Archos 7c Home Tablet announced in April, as well as an even cheaper Arnova 7 tablet revealed earlier this week that starts at just $99 (see farther below).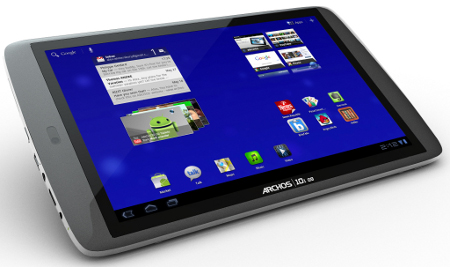 Archos 101 G9
(Click to enlarge)
Archos is once again keeping its prices low, with the 101 starting at $349 and the 80 beginning at $279 for the Flash-only versions, according to the company. Both tablets run the recently announced
Android 3.1
, which is said to fix some of Honeycomb's stability problems, among its other virtues. (By the time the tablets ship in September, an
Android 3.2 upgrade
should be available, although Archos makes no mention of a possible upgrade.)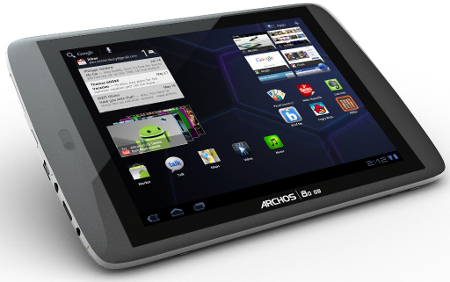 Archos 80 G9
(Click to enlarge)
Both tablets feature a Texas Instruments (TI) OMAP4 system-on-chip (SoC), with dual ARM Cortex-A9 cores running at 1.5GHz. Though it wasn't further identified, the processor is likely the
OMAP4440
, since the faster, 1.8GHz
OMAP4470
won't start sampling until the second half of the year.
The OMAP4440 supports dual 12-megapixel cameras as well as recording 1080p 3D videos, but Archos saves money by offering only a single front-facing webcam (megapixels not stated) with 720p video recording. 1080p playback is supported on both of the tablets, says Archos.
The OMAP4 processor is a major upgrade to the earlier Archos 101's 1GHz OMAP3x ARM Cortex-A8 SoC. The OMAP4 is claimed by Archos to offer "50 percent more raw computational power" in web page load times compared to an unnamed Honeycomb tablet running on a 1GHz, dual-core Nvidia Tegra 2 processor. Presumably, Android 3.1 has been optimized to support the OMAP4 line, just as Android 3.2 is said to extend optimization to the dual-core Qualcomm Snapdragon.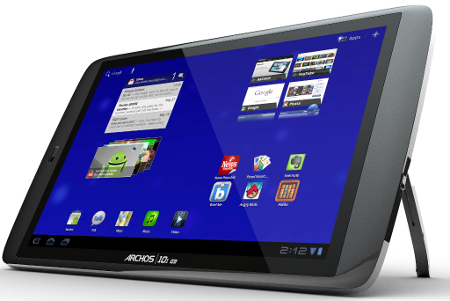 Archos 101 G9 with kickstand deployed
(Click to enlarge)
RAM is not detailed, but the tablets ship with 16GB of internal flash — twice what the earlier Archos 101 provided as standard issue. An external microSD slot is also supplied.
Both G9 tablets are available in versions that supplement the above-mentioned flash memory with Seagate 250GB hard disk drives (HDDs). The latter are said to supply room for up to 50 hours of 1080p video.
Some previous Archos tablets have supplied HDD storage as an option, including last year's seven-inch Archos 70, but hard disk drives are rare on tablets. Presumably, Archos believes that the advantage of storing gobs of media locally without monkeying around with SD cards and USB offloads is worth the extra weight, space consumption, and potential for impact damage.
As indicated in the spec list below, the HDD models do add a bit to the size, and even more to the weight, with the 101 and 80 G9 models weighing in at 27.7 and 21.9 ounces respectively, says Archos. However, even the Flash models are a bit on the heavy side, with weights listed at 23.8 and 17 ounces respectively. By comparison, the 10.1-inch Samsung Galaxy Tab 10.1 weighs 20.1 ounces.
The battery is not listed, but the tablets are said to last up to 10 hours with standard Internet use, or seven hours with video.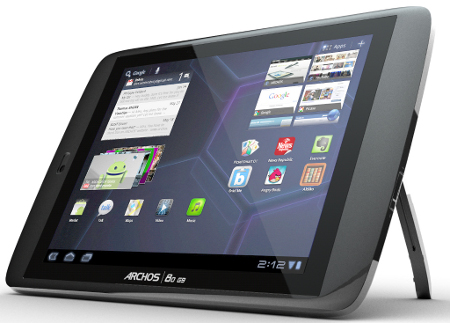 Archos 80 G9 with kickstand
(Click to enlarge)
The Archos 80 G9 offers an unusual eight-inch screen size, with 1024 x 768 resolution and a 4:3 aspect ratio. The Archos 101 G9 provides a 10.1-inch, 1280 x 800 screen with a 16:10 ratio, says the company. Presumably, these are capacitive screens, considering the resolution and Honeycomb OS, but Archos doesn't appear to say.
Other features seem to be identical on both models. The G9 tablets provide Wi-Fi, Bluetooth 2.1, and GPS, plus USB and mini-HDMI ports. The tablets also provide built-in speakers and microphone, as well as a range of sensors, says the company.
3G is available via an optional, $49 3G Stick that plugs into one of the two USB 2.0 ports in a "protected" slot. The 3G access is said to be available with a no-contract pay-as-you-go plan, although pricing was not listed, and it's not clear which carriers will be providing service.
As is typical from a company with deep portable media player (PMP) roots, dating back to when Linux was the OS of choice, Archos provides exhaustive media format support. According to Archos, the G9 tablets are the only tablets able to decode 1080p H264 High Profile videos.
In addition, Archos has replaced the standard Android multimedia apps with its own "boosted" apps for video and music. However, the company says it also offers Google's full suite of mobile applications, including Android Market and Adobe Flash.
Features and specifications listed for the Archos G9 tablets include:
Processor — Texas Instruments OMAP4 @ 1.5GHz
Memory — 16GB internal flash memory; external microSD slot (RAM not stated)
Storage — Seagate 250GB HDD (on HDD models only)
Display — 8-inch 1024 x 768 (Archos 80) or 10.1-inch 1280 x 800 (Archos 101)
Wireless:

802.11b/g/n
Bluetooth 2.1
GPS
3G stick (optional via USB)

Other I/O:

USB slave
USB host
mini-HDMI

Camera — 720p-ready front-facing webcam
Audio — speakers, microphone
Other features — G-sensor, vibrator, compass, kick-stand
Battery — Li-Ion with up to 7 hours video, 10 hours Internet, 36 hours music
Dimensions:

Archos 80 Flash — 8.90 x 6.11 x 0.46 inches (226 x 155.3 x 11.7mm)
Archos 80 HDD — 8.90 x 6.11 x 0.58 inches (226 x 155.3 x 14.7mm)
Archos 101 Flash — 10.86 x 6.59 x 0.50 inches (276 x 167.3 x 12.6mm)
Archos 101 HDD — 10.86 x 6.59 x 0.61 inches (276 x 167.3 x 15.6mm)

Weight:

Archos 80 Flash — 17 oz (465 g)
Archos 80 HDD — 21.9 oz (599 g)
Archos 101 Flash — 23.8 oz (649 g)
Archos 101 HDD — 27.7 oz (755 g)
Availability
The Archos 80 G9 and 101 G9 will be available at the end of September, and will be shown in the beginning of that month at the IFA show, says Archos. Pricing starts at $279 for the Archos 80 G9 and $349 for the Archos 101 G9. More information on the G9 tablets may be found at the Archos G9 site.
Also this week Archos' Arnova division has posted information on a new Arnova 7 Android tablet said to cost only $99. We hope to get around to this latest Arnova soon, but in the meantime, more information may be found in this TFTS report, as well as on Archos' Arnova site.
---
This article was originally published on LinuxDevices.com and has been donated to the open source community by QuinStreet Inc. Please visit LinuxToday.com for up-to-date news and articles about Linux and open source.