Nov 28, 2006 — by LinuxDevices Staff — from the LinuxDevices Archive — 3 views

ARM is now the third most popular architecture among Debian Linux users who run "popularity-contest," a Debian utility that anonymously collects user system data. ARM rose from seventh to third in nine months, largely thanks to Linksys's NSLU2, says NSLU2-Linux project lead Rod Whitby.
As the original pure community-based Linux — excuse me, "GNU/Linux" — Debian has long included far more free software packages than any other distro. At this writing, the unstable branch offers 22,106 packages, with 19,727 available in testing and 17,492 in stable.
The popularity-contest package is a small utility that inventories system architecture, installed packages, and the times that application files were last accessed or modified. This is said to help Debian developers track which Debian packages are installed and used the most — useful information when creating installation media or partial mirrors, for example.
It has to be said that the information generated by popularity-contest is also great fun for users to look at, since it shows how other people are using Linux.
In any case, as of the latest data compiled today, ARM is currently used by 460 popularity-contest users, behind only AMD64 with 2,057 users, and i386 with 16,636 reported users. The chart and table below offer complete data on all reported architectures.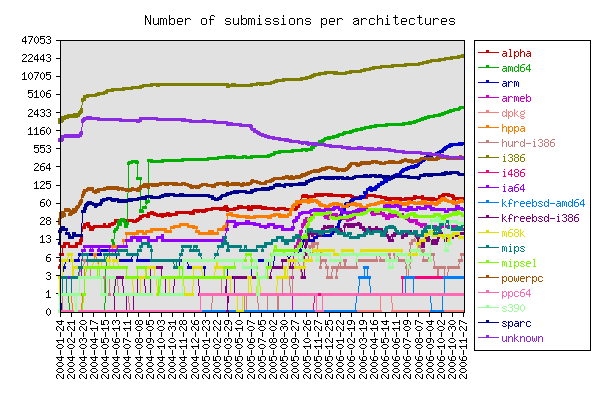 Popularity-contest architecture report, for Nov. 27, 2006
(Click to enlarge)
| | |
| --- | --- |
| i386 | 16636 |
| amd64 | 2057 |
| arm | 460 |
| powerpc | 267 |
| unknown | 254 |
| sparc | 132 |
| alpha | 49 |
| hppa | 44 |
| ia64 | 32 |
| mipsel | 25 |
| s390 | 18 |
| mips | 17 |
| armeb | 14 |
| kfreebsd-i386 | 12 |
| m68k | 10 |
| hurd-i386 | 5 |
| kfreebsd-amd64 | 2 |
| i486 | 2 |
| ppc64 | 1 |
ARM's rise — courtesy of the SLUG?
Rod Whitby, leader of the NSLU2-Linux Project, credits Debian's increasingly good support for Linksys's NSLU2 with helping ARM become a first-class Debian architecture citizen. Whitby writes:
A long term goal when I started the NSLU2-Linux project almost 2.5 years ago was to have the Linksys NSLU2 become a fully supported mainstream Linux distribution device.

In the last two months, the NSLU2 has driven the ARM architecture to third place in Debian popularity (measured by results reported by the Debian popularity contest package.

The port of the Debian installer to the NSLU2 [story] has caused the Arm architecture to outpace all of PowerPC, Sparc, Alpha, HPPA, and MIPS to become the third most popular Debian architecture behind x86 and AMD64. Ninety percent of those ARM installations are NSLU2 devices.

The meteoric rise of the NSLU2 in Debian can be seen in the graph here.

In the same time it takes to make a baby (nine months), the NSLU2 has taken the ARM architecture from 7th place to 3rd place in Debian architecture popularity.

This is, of course, the outcome of a lot of hard work by a lot of people, including (but not limited to) the NSLU2-Linux core team and developers, the OpenEmbedded developers, the Debian-arm porters, and the Debian-installer and Debian-kernel teams.
Lots more details about the Linksys NSLU2 (aka Slug) can be found in the Related Stories below.
---

This article was originally published on LinuxDevices.com and has been donated to the open source community by QuinStreet Inc. Please visit LinuxToday.com for up-to-date news and articles about Linux and open source.