Aug 6, 2009 — by Eric Brown — from the LinuxDevices Archive — 8 views
An IDC study predicts that open source software will grow at a 22.4 percent rate to reach $8.1 billion by 2013, says eWEEK. Meanwhile, in its annual SEC filing, Microsoft has added Linux vendors Canonical and Red Hat to its list of rivals, and acknowledges the growing threat of Google's Android, says TechFlash.
According to the IDC study, "Worldwide Open Source Software 2009-2013 Forecast," open source software (OSS) sales are being accelerated by the recession, as well as increasing acceptance from enterprise customers, according to a Darryl Taft story in our sister publication, eWEEK. The forecast of a 22.4 percent rate through 2013 for total revenues of $8.1 billion is considerably higher than IDC's 2008 forecast, says the story.
Michael Fauscette, group VP of Software Business Solutions at IDC, was said to have stated, "The open-source software market has seen a strong boost from the current economic crisis. OSS is increasingly a part of the enterprise software strategy of leading businesses and is seeing mainstream adoption at a strong pace."
The IDC study also indicated that hybrid business models are increasing, with closed-source vendors offering more OSS solutions, on-premises software vendors offering SAAS (software-as-a-service), SAAS vendors offering on-premises versions, and OSS vendors offering both open-source and proprietary solutions, according to eWEEK.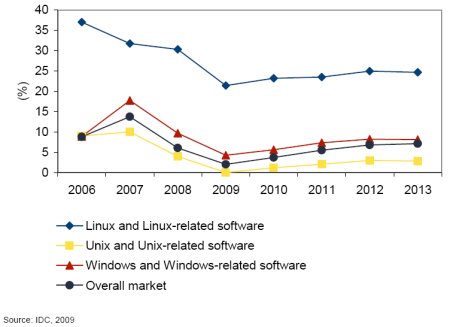 Worldwide software revenue year-over-year growth rates 2006-2013; from earlier Linux software study (Source: IDC)
(Click to enlarge)
The study seems to back up various
anecdotal reports
of increasing open source sales, while reinforcing the message of a related
IDC study on Linux software
announced in April. Sponsored by the Linux Foundation, the study projected that spending on Linux-related software would grow 21 percent this year, and 23.6 percent through 2013, compared to two- and five-percent growth, respectively, for the general software market.
While Linux-related software was projected to grow from $12.3 billion in 2008 to $35.5 billion in 2013, Microsoft was projected to move from a $149 billion mark in 2008, to $206 billion in 2013. Meanwhile, the slower-growing Unix was still expected to dominate over Linux in five years, as its share will grow from $69 billion to $74 billion in 2013, according to IDC.
Microsoft gets the Linux jitters
While the IDC study shows Microsoft software enjoying an approximate six to one advantage over Linux in 2013, the software giant appears to be taking the Linux threat more seriously, according to a widely disseminated story by Todd Bishop at TechFlash. In fact, Microsoft has added some highly tuxified names to a list of key competitors in its most recent Form 10-K filing with the Securities and Exchange Commission (SEC), reports Bishop.
The filing adds Linux distro vendors Canonical, the sponsor of Ubuntu, and Red Hat (Red Hat Enterprise Linux), to the list of competitors for Microsoft's Client division. Previously, Red Hat was listed only as a competitor for its Microsoft Business and Server & Tools divisions, writes Bishop.
Embedded Linux makes the enemies list
The Microsoft filing (see link below) also stated that Linux had "gained some acceptance, especially in emerging markets, as competitive pressures lead OEMs to reduce costs and new, lower-price PC form-factors gain adoption." Microsoft goes on to state, "Partners such as Hewlett-Packard and Intel have been actively working with alternative Linux-based operating systems."
Here, Microsoft appears to be referring to the Intel-backed Moblin and HP's Ubuntu-based Mi netbook distributions. In fact, the filing notes several growing threats from embedded Linux in mobile devices and netbooks.
"The Windows operating system also faces competition from alternative platforms and new devices that may reduce consumer demand for traditional PCs," states the filing. "Competitors such as Apple, Google, Mozilla, and Opera Software Company offer software that competes with the Internet Explorer Web browsing capabilities of Windows products. User and usage volumes on mobile devices are increasing around the world relative to the PC. OEMs have been working to make the Google Android mobile operating system more compatible with small form-factor PCs or netbooks."
As Bishop notes, Google, Apple, and the somewhat surprising Opera, are all new to Microsoft's list of potential mobile device and browser software foes. Opera recently got a boost when it was chosen to be bundled with the intriguing new open-platform Zii Egg portable media player (pictured below) and open source Plaszma Linux platform from Creative Technology subsidiary ZiiLabs.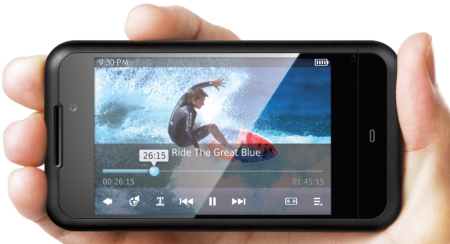 Zii Egg PMP with Opera inside
(Click to enlarge)
The previous year's filing listed only Mozilla as a browser rival, reports Bishop, also noting that it was the first filing where Microsoft mentioned Android. Google's upcoming
Chrome OS
was not listed, however.
The filing follows another announcement that indicates Microsoft may be taking open source more seriously. In late July, it released its first open source Linux code contribution, in the form of 20,000 lines of code released under GPLv2 for three Linux device drivers. The drivers are designed to speed the performance of Linux when it's run in a Microsoft Hyper-V virtual machine.
Availability
The eWEEK story on IDC's open source study may be found here. The TechFlash story on Microsoft's Form 10-K filing filing may be found here.
The Microsoft filing itself should be here.
---
This article was originally published on LinuxDevices.com and has been donated to the open source community by QuinStreet Inc. Please visit LinuxToday.com for up-to-date news and articles about Linux and open source.