May 19, 2009 — by Eric Brown — from the LinuxDevices Archive — 11 views

[Updated: 2:30PM] — Moblin.org has released the beta version of its open-source Linux "Moblin v2.0 for Netbooks and Nettops" stack. The Moblin beta shows extensive upgrades in the user interface (UI), including a new toolbar (pictured), and an "m_zone" home page that aggregates social networking content.
(Click for larger view of Moblin v2 beta's new toolbar)
Several Linux distributions are expected to embrace the Moblin v2 stack for netbook-specific versions expected to arrive this Fall. Linux distro vendors hope that the revitalized and refocused stack, which originally targeted mobile Internet devices (MIDs) instead of netbooks, will help win back Linux netbook market share lost in recent months to Microsoft's Windows XP, as well as preempt Microsoft's upcoming Windows 7, which is being billed as a netbook-capable OS. Moblin v2 should also raise the bar for Google's Linux-based Android, which will soon appear on low-end netbooks, but so far is still very much a smartphone stack.
First to announce was Novell, which announced earlier this week that it was working closely with Intel on the project, and is readying a Moblin v2 version of SUSE Linux. With today's announcement, Novell released a preview screenshot showing a beta version of its community version of SUSE, OpenSUSE, based on Moblin v2 (see image below).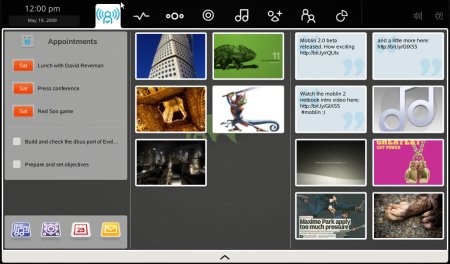 Novell-sponsored OpenSUSE beta incorporating Moblin v2, showing customized version of m-zone interface
(Click to enlarge)
As promised when the second alpha version of Moblin v2 arrived in late March, the beta version shows off the eye candy of the new UI. Optimized for netbooks and nettops, the new interface and core applications were developed using the Clutter animation framework, and depend heavily on "GL and the physics engine," says the Moblin.org project. The UI is also said to be based on other open source applications including DRI2 and KMS.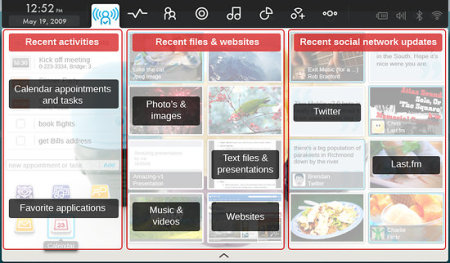 Main m-zone home screen
(Click to enlarge)
"We feel the code has reached a level where both developers and enthusiasts can play with it," writes Imad Sousou, Director, Intel Open Source Technology Center, in his blog announcement. "While fine tuning, bug fixing, and polishing is ongoing, so is performance improvement, all of which you should start seeing rolled into the weekly builds."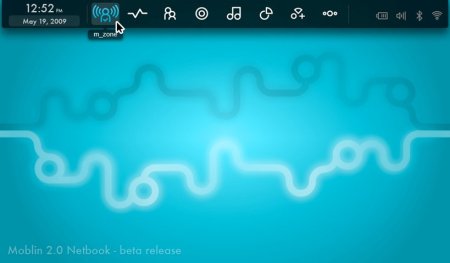 Moblin v2 Toolbar
(Click to enlarge)
Moblin's new top-line toolbar (pictured above) appears only when the cursor exposes it, thereby saving screen space. The toolbar is divided, left to right, into time and date, a selection of icon-like "panels," and system information. The panels include features such as status, people (contacts), Internet, media, pasteboard, applications, and zones.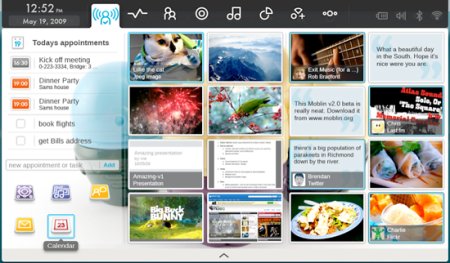 M-zone appointment screen
(Click to enlarge)
In addition to new top-of-screen toolbars, the key addition is the m_zone, which acts as a home screen for at-a-glance access to various activities. These include synchronized calendar items, tasks, appointments, recently used files, and real-time updates from social networking sites, says Moblin.org. The display is divided into recent activities, recent files and websites, and recent social network updates. The latter currently offers feeds from Last.fm and Twitter, but more services will be added in future releases, says the project.
Other highlights of the Moblin v2.0 beta release are said to include:
Optimized web browser — Based on new Mozilla browser technology revised into a Clutter shell, the Moblin browser includes features such as video embedding and the latest Flash plug-in.
Zoomable media player — Users can zoom from viewing all media down to focusing on an individual picture, movie, or audio track. The media player can detect and index media on external USB devices, as well as networked UPnP devices, says Moblin.org.
UI for connection management — The updated connection manager (ConnMan) now offers improved UI.
Support for Linux desktop applications — Support for desktop applications is provided via GNOME Mobile technologies.
The available Moblin beta images should work on any Intel-based netbook or nettop, writes Sousou. Specific tested models are said to include:
Acer Aspire One
Asus eeePC 901, 1000H
Dell Mini 9
MSI Wind
Lenovo S10
Samsung NC10
HP Mini 1010 and 1120NR (only using wired networking for now)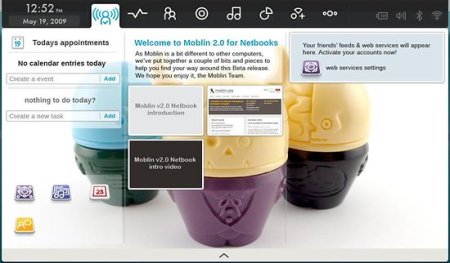 Moblin v2 web service set-up page
(Click to enlarge)
In early April, Intel formally handed over control of its Linux-based, Moblin mobile device stack to the nonprofit Linux Foundation (LF), yet it still seems to be the clear leader in the initiative. There has been some speculation that the nonprofit LF may encourage expansion of the Intel Atom-focused stack to support other platforms where Google's Android might otherwise take hold. (Alternative platforms could include other x86 platforms such as Via's Nano, as well as mobile ARM-based system-on-chips (SoCs) from Texas Instruments (TI), Freescale, and Qualcomm.)
The fast-booting Moblin v2 for Netbooks will be followed up next year with a Moblin v2 for MIDs version that focuses on the next-gen heir to the Atom — Intel's Moorestown processor. This version of Moblin is slated to offer support for VoIP, and developers from Intel's Moblin and Nokia's Maemo have begun collaborating on a telephony stack called oFono that could work on either Linux-based mobile device platform.
Availability
The Moblin v2 beta for Netbooks and Nettops may be downloaded here. More information, tours, videos, etc. may be found here.
---

This article was originally published on LinuxDevices.com and has been donated to the open source community by QuinStreet Inc. Please visit LinuxToday.com for up-to-date news and articles about Linux and open source.