Jun 6, 2011 — by Eric Brown — from the LinuxDevices Archive — 48 views
Ubuntu sponsor Canonical says that Ubuntu 10.10 is now available pre-loaded on three Asus Eee PC netbooks: the 1001PXD, 1011PX, and 1015PX. Meanwhile, System76 announced a dual-core Intel Atom N570 version of its Ubuntu 11.04-powered Starling netbook, as well as a new 15.6-inch "Pandolin" laptop that runs Ubuntu on an Intel Core i5 or i7 processor.
Asus launched the now-waning netbook craze with a Xandros Linux-ready Eee PC 4G back in 2007. Several more Linux models followed, including the Intel Atom-powered Eee PC 901 and 1000. But by 2010, it was hard to find an Asus Eee PC with Linux — or many Linux netbooks from other vendors for that matter.
It's still open to debate whether this was due more to high returns on the Linux units or the marketing muscle of Microsoft, which used the netbook market to goose a few more years of duty from Windows XP. (Nevertheless, we've continued to cover some of the more notable Eee PC netbooks, such as the new AMD Fusion-powered Eee PC 1215B, with the idea that some Linux users will want to wipe Windows 7, which has now replaced XP, and load their favorite distro.)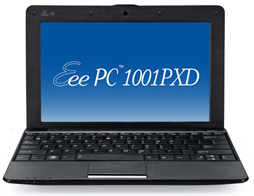 Asus Eee PC 1001PXD
Now, it seems, Asus might be coming around to Linux again, at least in a limited way. Last week at Computex, the Taiwanese manufacturer announced a MeeGo Linux based
EeePC X101
netbook, and Canonical says last November's
Ubuntu Linux 10.10
("Maverick Meerkat") was being offered on three Asus Eee PC models: the 1001PXD, 1011PX, and 1015PX.
All three netbooks feature Intel Atom processors and 10.1-inch displays. They had already shipped with Windows 7 and Asus' Linux-based Express Gate fast-boot installation, but according to Canonical are now available with Ubuntu 10.10 as well.
Eee PC 1001PXD
The Eee PC 1001PXD (pictured above) is listed by Asus as running Windows 7 Starter on a single-core, 1.66GHz Intel Atom N455 processor. Available with 1GB of DDR3 RAM and a 250GB hard disk drive (HDD), the netbook provides 1024 x 600 resolution, 802.11b/g/n, Bluetooth 2.1, and a 0.3-megapixel webcam, says the company.
Other features are said to include audio basics, a USB 2.0 port, Ethernet port, a VGA port, and a memory card reader. The 10.31 x 7.01 x 1.02~1.44-inch, 2.8-pound Eee PC 1001PXD is touted for offering up to 8.5 hours of battery life. The Windows model, anyway, is available for $264.38 on Amazon.com.
Eee PC 1011PX
The Eee PC 1011PX also features a 10.1-inch 1024 x 600 display, but it moves up to offer an optional 1.66GHz, dual-core Intel Atom N570 in addition to the N455. Equipped with up to 2GB of DDR3 memory on the listed Windows version, the Eee PC 1011PX provides a 250GB or 320GB HDD, says Asus.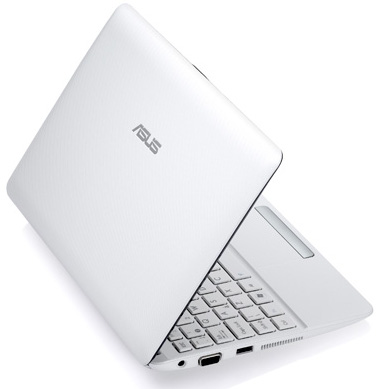 Eee PC 1011PX
Like the 1001PXD, the 1011PX features 802.11b/g/n and a 0.3-megapixel webcam, and also offers a VGA connector, Ethernet port, three USB 2.0 ports, an audio jack, a memory card reader, and Bluetooth 3.0, says the company.
According to Softpedia
, the netbook is aimed primarily at the European market, where it debuted last month.
Eee PC 1015PX
Like the Eee PC 1011PX, the Eee PC 1015PX offers a choice of an Atom N455 or dual-core N570 processors. All the other details appear to be identical to the 1011PX except that the 1015PX also supplies an option for a 500GB HDD. Like the Eee PC 1011PX, it also offers a claimed 11 hours of battery life with an optional six-cell battery that boosts the weight from 1.1 to 1.25 kilograms. Amazon has it on sale starting at $320.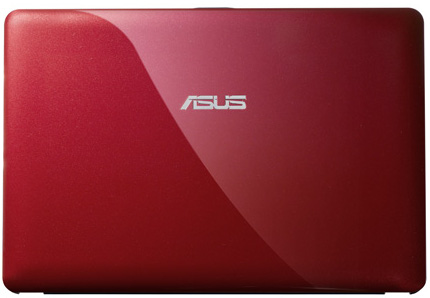 Eee PC 1015PX
According to Canonical, all the Ubuntu versions come with Mozilla Firefox and Adobe Flash pre-installed.
Stated Chris Kenyon, VP OEM Services at Canonical, "We expect the slim form factor and great design of Eee PC, combined with the great performance delivered with Ubuntu, to produce a real performer in the marketplace."
Stated Stanley Chang, product director at Asus, "To fulfill the various needs of a diverse market and user base, the strategic alliance with Ubuntu is absolutely a win-win cooperation."
System76 tweaks Starling, announces Ubuntu-ready Pandolin
After updating its Starling NetBook last July — with Ubuntu 10.04 running on an Intel Atom N455 processor as well as a thinner, lighter design — System76 has quietly upgraded the netbook again. Noticed first, apparently, by Liliputing, along with a new Pandolin laptop (see farther below), the upgraded Starling NetBook now offers the aforementioned, dual-core, 1.66GHz N570. In addition, the $385+ system now ships with the latest Ubuntu 11.04, complete with the controversial new Unity desktop environment.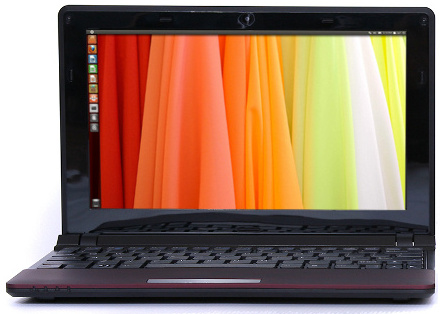 Starling NetBook, 2011 version, in optional coral red color
Other Starling features appear to be similar, including 2GB of DDR3 RAM, a 250GB to 600GB HDD, 802.11b/g/n, and Ethernet. Also provided are a VGA port, three USB 2.0 ports, headphone and microphone jacks, and an SD reader, says System76.
The 10.47 x 7.28 x 0.72~1.0-inch netbook weighs two pounds with the standard three-cell battery (a six-cell battery costs $60 more). A 0.3-megapixel webcam is also said to be available, and an optical drive costs $85 extra.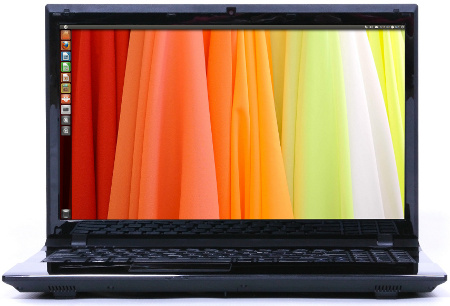 Starling Pandolin
The new
Pandolin
is a full-fledged 15.6-inch laptop, starting at $699. It runs 64-bit Ubuntu 11.04 on a choice of the latest "Sandy Bridge" Core i5 and i7 processors, ranging up to the quad-core 2.2GHz
Core i7-2720QM
. This top-of-the-line option adds $235 to the price over the standard 2.3GHz Core i5-2410M.
The Pandolin offers up to 8GB DDR3, as well as up to a 600GB HDD, says System76. The netbook offers 1366 x 768 resolution on the 15.6-inch display, and provides advanced features like USB 3.0, a gigabit Ethernet port, an HDMI port, and a 1.3-megapixel camera, says the company.
---
This article was originally published on LinuxDevices.com and has been donated to the open source community by QuinStreet Inc. Please visit LinuxToday.com for up-to-date news and articles about Linux and open source.