Jan 10, 2012 — by LinuxDevices Staff — from the LinuxDevices Archive — views
AT&T, Verizon Wireless, and Sprint announced a bevy of Android smartphones — and a few tablets — on the first day of this week's Consumer Electronics Show (CES) in Las Vegas. Highlights include the Sony Xperia Ion phone at AT&T, the Motorola Droid 4 and Razr Maxx on Verizon, and Sprint's first LTE phones: the Samsung Galaxy Nexus and LG Viper.
Media analysts who proclaimed carriers would keep a low profile at the 2012 Consumer Electronics Show in Las Vegas were sorely mistaken. AT&T, Verizon Wireless, and Sprint all announced major Android-based smartphones and tablets on Jan. 9. We hope to look at some of these in more depth in the future, but in the meantime, here's a bird's eye view.
AT&T: Sony Xperia Ion, a Pantech tablet, and a "phablet"
AT&T arguably made the loudest noise at CES, unveiling five handsets and a 4G Long-Term Evolution (LTE) tablet from Pantech as part of its 2012 Developer Summit. The phones included the first Xperia smartphone under the Sony brand, the Ericsson partnership having been consigned to history.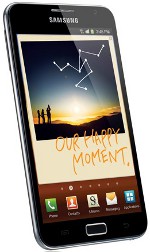 Perhaps the most high-profile handset was the Samsung Galaxy Note "phablet" (pictured at left), which was announced by Samsung back in September. The smartphone's 5.3-inch, Super AMOLED HD (1280 x 800-pixel) screen provides some tablet-type real estate to work with for consumers and business types alike.
Powered by a 1.4GHz dual-core processor, the hybrid device is equipped with eight- and two-megapixel cameras and up to 32GB of storage. The Galaxy Note also boasts the S Pen digital pen input technology and software to let users draw, sketch, or write.
AT&T has not priced the device, nor has it stated which version of Android will run on it when it launches in the "coming weeks." The device was originally announced with Android 2.3 ("Gingerbread").
Two more Samsung Android handsets are coming from AT&T in the coming months. First is the Samsung Galaxy S II Skyrocket HD, a supercharged version of the Samsung Galaxy S II Skyrocket phone Samsung released in November.
The Skyrocket HD smartphone is powered by the same 1.5GHz, dual-core processor and features the same 4G LTE cellular service as the original, but offers a larger 4.65-inch Super AMOLED screen with 1280 x 720 resolution. This 9.27mm-thick phone will run either Android 2.3 or Android 4.0 ("Ice Cream Sandwich") when it ships in "the coming months," says AT&T.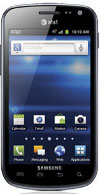 AT&T will also sell the Samsung Exhilarate (pictured at left), a so-called "green phone" that will sell for below $50. The Exhilarate is equipped with a four-inch Super AMOLED screen composed of 80 percent recycled post-consumer materials and fitted with an eco calendar and calculator, says AT&T. It also offer dual cameras, voice recognition, and access to AT&T U-verse Live TV service, says the carrier.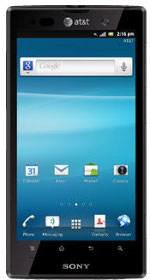 Sony's Xperia Ion 4G LTE smartphone (pictured at right) is the first smartphone to be sold under the Sony brand in the United States, following the dissolution of the Sony Ericsson partnership late last year. Launching on AT&T in the second quarter, the Xperia Ion runs Android 2.3 on a 1.5 GHz. dual-core processor, says the carrier. The phone offers a 4.6-inch HD display and a 12-megapixel camera.
The Xperia Ion is the lastest in a growing line of Sony Ericsson Xperia phones, including the most recent Xperia Ray, and it shares the PlayStation certification of the Xperia Play gaming phone. Separately at CES, Sony announced an Xperia S smartphone that is similar to the Xperia Ion, but adds NFC and provides a smaller 4.3-inch display.
AT&T is also introducing some more affordable Android options from Pantech. The Pantech Burst 4G LTE Android smartphone, which has a four-inch Super AMOLED screen, will sell for $50 on a two-year contract, beginning Jan. 22, in titanium or ruby red. Earlier Pantech phones have included the Pantech Breakout, available on Verizon.
AT&T will also offer the Pantech Element, a 4G LTE, Android 3.2 tablet. This eight-inch, waterproof (IP57-rated) tablet features dual cameras, says the carrier.
The Element will sell for $300 with a two-year data deal, starting Jan. 22, and may be purchased together with the Burst phone on contract for $250 for a limited time. (More information should eventually appear on the Pantech website.)
Verizon: Motorola's Droid 4 and Razr Maxx
Leading off its CES announcements, Verizon Wireless reteamed with its first Android phone partner Motorola Mobility to debut the Droid 4 by Motorola. This 4G LTE, QWERTY slider phone updates the original Droid line, most recently upgraded with last summer's Droid 3.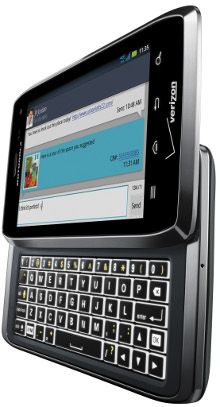 Motorola Droid 4 (left) and Razr Maxx
(Click on either to enlarge)

Powered by a dual-core, 1.2GHz processor with 1GB of RAM, the phone runs Gingerbread, but will be upgraded to ICS later this year. Like the Droid 3, the Droid 4 is available in both 16GB and 32GB versions, measures half an inch thick, and supplies a four-inch qHD (960 by 540-pixel) display.
The Droid 4 finally moves the Droid line up to an eight-megapixel camera, which is said to provide 1080p HD video capture. The phone's five-row QWERTY keyboard, meanwhile, features edge-lit keys for fast typing, says Motorola.
The Droid 4 includes enterprise software, as well as the Webtop docking app to go along with Motorola's several optional docking stations. A Smart Actions application is provided to automate frequent daily tasks, such as switching to lower power at night or firing off alerts to users, says Motorola. (More information on the Droid 4 may be found in this Motorola fact sheet.)
Next up, Verizon is expanding its Motorola Droid Razr line, offering the original device in purple — yes, purple — to join the existing black and white models. In addition, it unveiled a new Razr Maxx smartphone fitted with a stronger battery to give users 21 hours of talk time on a single charge, according to Motorola. At 8.99mm, it's thicker than the 7.1mm (0.28-inch) Razr in order to accommodate the bigger battery.
The Droid 4, Razr, and Razr Maxx will all be available from Verizon in the coming weeks. The Droid 4 has not been priced, but shoppers can get the Razr in purple for $200 instead of the previous $300, and the Maxx goes for $300, both on two year contract. Both Razrs will get the bump to ICS later this year, says Motorola.
Verizon also said it will roll out Samsung's Galaxy Tab 7.7 tablet on its 4G LTE network. Announced by Samsung in September, the 7.7-inch, 12-ounce tablet offers a Super AMOLED Plus display with 1280 x 800 HD resolution, and runs Gingerbread on a 1.4GHz, dual-core processor.
In addition, Verizon joined forces with LG Mobile on the Spectrum. This 4G LTE Gingerbread phone boasts a 4.5-inch "True HD" In-Plane Switching (IPS) display, says Verizon. The Spectrum is powered by a Qualcomm 1.5GHz, dual-core processor, and includes an eight-megapixel camera and front-facing 1.3-megapixel camera for video chat, says Verizon. The Spectrum will be available Jan. 19 for $200 on contract, and will get the ICS flavor this year, says the carrier.
Sprint debuts first LTE devices with Galaxy Nexus, LG Viper
Last but not least, Sprint said it joined Verizon in selling the Samsung Galaxy Nexus, the first ICS smartphone, and it is also introducing the Gingerbread-powered LG Viper with 4G LTE.
Sprint introduced the handsets at CES to trumpet them as the first two devices powered by the carrier's long-anticipated 4G LTE network. Sprint CEO Dan Hesse said the carrier, which continues to offer its 4G WiMAX network, will launch its LTE network first in Atlanta, Dallas, Houston, and San Antonio in the first half of 2012. The company expects to launch 15 4G LTE handsets, tablets and data cards this year.
Introduced late last year by Verizon, the the Samsung Galaxy Nexus has a 4.65-inch HD ((1280 by 720) Super AMOLED screen and is powered by a 1.2GHz, dual-core processor. The "pure Google" phone also provides a near field communication (NFC) radio, and both five- and 1.3-megapixel cameras.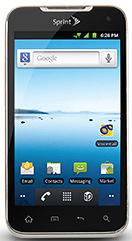 The newly announced LG Viper 4G LTE smartphone (pictured) is powered by a 1.2GHz dual core-processor, and offers a four-inch WVGA display, says Sprint. The Viper is said to feature an NFC radio, and both a five-megapixel rear camera and a VGA front-facing webcam. Up to 32GB of storage is said to be available via the microSD slot.
Sprint call the Viper an "eco-friendly" phone, noting its 35 percent recycled-plastic construction, and a charger with a no-load consumption rating of .03 Watts.
The Galaxy Nexus and LG Viper from Sprint mark the second and third smartphones to support the Google Wallet mobile payment service, which lets consumers tap and pay via the NFC connection at retailers such as Gap, Macy's, and Toys R Us. Sprint will provide pricing and availability closer to each phone's launch date.
Clint Boulton is a writer for eWEEK. Eric Brown also contributed to this report.
---
This article was originally published on LinuxDevices.com and has been donated to the open source community by QuinStreet Inc. Please visit LinuxToday.com for up-to-date news and articles about Linux and open source.