Nov 10, 2011 — by LinuxDevices Staff — from the LinuxDevices Archive — 1 views
Motorola's $300 Droid Razr is pricey, and its non-removable battery doesn't last long. But in every other way, this thin, cutting-edge design breathes new life into its manufacturer's legacy, according to this eWEEK review.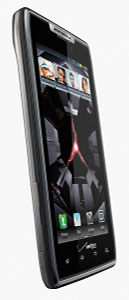 Motorola Mobility is clearly taunting me. One year after purchasing the Android OEM's serviceable Droid X smartphone, I am playing with a phone that blasts it apart in speed and aesthetic beauty: the Motorola Droid Razr, which goes on sale Nov. 11 for $300 on contract from Verizon Wireless.
The Droid Razr is the phone the Droid X should have been. I didn't consider the Droid X with its 4.3-inch screen to be clunky a year ago, but I can't help but think that's the case viewing it next to the Razr, which breathes new life into Motorola's best-selling Razr feature phone legacy.
The handset runs Google's Android 2.3.5 "Gingerbread" handset with a 1.2GHz processor and 1GB of DDR2 RAM on Verizon Wireless' 4G LTE (Long Term Evolution) network.
Verizon's 4G LTE is typically a force in Fairfield County, Conn. Ookla's Speedtest application showed the phone getting anywhere from 12 to 16 megabits per second download speeds, and 5 to 8Mbps upload speeds on a consistent basis.
Applications such as Angry Birds, Netflix, YouTube and Facebook and Twitter for Android hummed along beautifully on this handset, which is a super-thin 7.1 millimeters, or 0.28 inches, compared to 0.4 inches for the Droid X.
It's even thinner than Samsung's thin Galaxy S II smartphones, which measure around 8.9 millimeters, or 0.35 inches. It also weighs a full ounce less than my Droid X, only 4.5 ounces, which is in my opinion the ideal weight for a phone.
While Motorola has been outfitting its premium smartphones such as the Motorola Atrix and Droid Bionic with qHD (Quarter High Definition) screens for the last several months (the Droid X launched with a 4.3-inch, 854 x 480 pixel screen), the Razr's screen is a gorgeous 4.3-inch Super AMOLED Advanced qHD display with 960-by-540 resolution. It's easily the best Motorola handset screen to date.
Moreover, the screen is super-sturdy. A smartphone so thin needs to be sturdy, so Motorola has packed this gadget in Corning Gorilla Glass for the screen and Kevlar — yes, the synthetic fiber renowned worldwide for comprising bullet-proof vests — as the enclosure. For added protection, it has a water-repellent coating.
Phone calls were great on this device, whose thinness made it a real joy held up to the ear, and I detected no tinny sounds or echoes. Pictures shot with little latency via the eight megapixel camera, which is complemented by a 1.3MP webcam in front for video chats. Video shot from that rear-facing camera captured in 1080p HD and output at 1080p via HDMI to my TV.
Also, it should be noted that the virtual QWERTY keyboard is different than even that of the Droid Bionic, offering crisp, white lettering against a jet black backdrop, something that really stands out on this device.
The phone has many of the requisite apps and access to the 300,000 apps in the Android Market. The free MotoCast app lets users stream music, pictures and documents from their computers through the Razr, adding some nice media portability. Motorola has also added what it calls a Smart Actions app, which is a personal phone management assistant of sorts that boosts battery life and automates utilities.
No, not like Apple's Siri virtual assistant. What Smart Actions does is let users create rules that trigger the phone to perform certain actions, such as silencing itself, or turning off power-draining features to preserve the battery based on where a user is with their Razr. Smart Actions will automatically launch news in a widget in the morning, open Google Maps to optimize it for use in the car.
The phone, which has 16GB of internal storage, expandable to 32GB with a microSD card, also connects to Motorola's docking stations, allowing users to port the Razr's content to a larger display.
To my mind, the only thing that could make this aesthetically-pleasing, speedy handset better than it is would be if it were loaded with the new Android 4.0 "Ice Cream Sandwich" platform, with holographic icons and soft navigation buttons, among other perks. Alas, we must wait until next year for that on the Razr.
Drawbacks
Motorola packed this puppy with a 1780 mAH battery, which I assumed would provide a full day's use. It did, albeit for e-mail, web browsing, phone calls and texting.
What OEMs won't tell you — and what is incumbent on me to tell you — is that whether you're using 3G or 4G LTE networks, the phone's battery goes kaput fast when you stream video or play a lot of games. Anything that involves a lot of data.
I tested the Razr's power source by playing TV episodes on mute as I worked on other stories. On a full charge, the Razr made it through just two and a half X-Files episodes. X-Files run about 45 minutes per episode, which means I wore down the battery in less than two hours. The battery got hot, but not fry-an-egg-on-it hot the way the HTC Evo and other phones before the Razr cooked.
So if you're going to be out and about and watching Netflix or a lot of YouTube, make sure you bring your Razr's charger. Don't think about swapping out the battery either — it's enclosed and non-swappable, which on the plus side lends itself well to the thinness and lightweight design of the Razr.
Also, at $300, the Razr is as pricey as a phone on contract gets here in the U.S. That will ward off some who perhaps want to buy Verizon's Samsung Stratosphere 4G LTE QWERTY slider for half the price, or even a shiny new Apple iPhone 4S for $200.
Conclusion
Of course, if you place a premium on speed and cutting-edge design without concern for the hardware cost, you can't go wrong with the Razr. It's the top of its class from Motorola, and the Android OEM was on top of its game for this smartphone.
Clint Boulton is a writer for eWEEK.
---
This article was originally published on LinuxDevices.com and has been donated to the open source community by QuinStreet Inc. Please visit LinuxToday.com for up-to-date news and articles about Linux and open source.