Jul 19, 2011 — by LinuxDevices Staff — from the LinuxDevices Archive — 6 views
Motorola's Droid 3 is a nice addition to the Android smartphone family Verizon Wireless began selling in October 2009, according to this eWEEK review. With a new keyboard, an eight megapixel camera, and Android 2.3 ("Gingerbread"), this device is "the best of the Droids yet."
I've spent the last week using the Motorola Droid 3 ($199.99 on contract from Verizon Wireless). I can easily avow that the handset is the best of the Droids yet — that is better than its two predecessors, the original Motorola Droid and Droid 2.
The Droid 3 has a crisp 4-inch, qHD (quarter-high-definition) display running at 960 by 540 pixel resolution, and it's powered by a 1GHz dual-core chip. (As noted in earlier LinuxDevices coverage, this is a Texas Instruments OMAP4430.) The chip facilitated application data well for a 3G smartphone trying to live on Verizon's increasingly 4G-centered network.

Motorola Droid 3
(Click to enlarge)

The device is half an inch thick, 2.52 inches wide and 4.8 inches long. The phone has a soft, black-matte finish that feels cozy in the hand, so long as one can get over the extra weight of the keyboard and the fact that that QWERTY slider feels like another piece of equipment on the phone.
While the larger screen (the first two Droids had 3.7-inch touch-screens) is welcome, the Droid 3 is as heavy as they come at 6.5 ounces, more than a half ounce heavier than either of its cousins.
That's due to the larger battery (1,540mAh compared with the Droid 2's 1,400mAh supply), larger touch-screen and QWERTY slider, which adds a fifth row of keys dedicated to numbers only.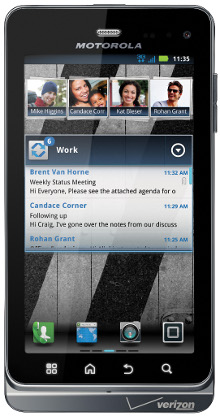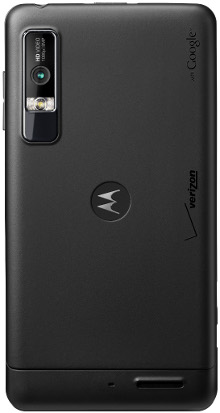 Droid 3, front and back


(Click on either to enlarge)

This keyboard is great, featuring soft, perfectly raised and spaced keys for fast, accurate typing. The Droid 3's QWERTY slider alone may endear the phone to many messaging-heavy folks in the consumer and enterprise sectors.
This phone also runs Android 2.3 "Gingerbread," which is my personal favorite Android build so far for the aesthetic appeal — particularly the improved soft keyboard, which employs wider keys.
Phone calls across Connecticut and to family in rural West Virginia were satisfactory, but applications and messaging still rule the roost with the Droid 3. Facebook and Twitter for Android, YouTube, and the new Google+ mobile application with Huddle group messaging all worked as well as I expected.
Droid 3 offers a work-play mix
The Droid 3 has something of a split personality, in that it's as much for consumer media as it is for work. What do I mean by that?
Well, this handset offers "mirror mode," allowing users to splash photos, videos and more onto a TV screen via an HDMI (High-Definition Multimedia Interface) output cable. (Unfortunately, that is not included with the phone, though you can buy one from Motorola for $39.99.)
Also, while the previous Droids used five megapixel cameras, the Droid 3 sports a fine eight megapixel sensor, and lets users set up the phone to automatically tag photos. There is also a mini front-facing camera for video chat, though it's nothing to boast about.
Video playback is in 1080p HD. This looked great porting YouTube videos or personally-shot movies on the larger TV screen at home. The Droid 3 has 512GB of RAM, which is on the light side, but boasts 16GB of on-board storage, expandable to as much as 32GB of external storage.
On the flipside, Motorola wants users to use the Droid 3 as an enterprise phone. How do I know that? It's global-ready, letting users access voice and data plans from over 200 countries.
For IT administrators, the Droid 3 offers device and SD card encryption, complex password support, and remote data wipe of both the device and SD card.
More to the corporate point, this device comes preloaded with the Citrix GoToMeeting Web-conferencing application and Citrix Receiver, the desktop virtualization application. (These apps are also available separately in the Android Market.)
GoToMeeting worked fine; just click a link in an email or launch the application from the icon and enter the meeting number to hear your fellow collaborators and view meeting content.
From the tutorial and set-up steps alone, it's clear to me that Receiver tries to fit a lot on a smaller screen. It's got to be extremely hard to really enjoy accessing business applications from such a small display.
Droid 3's battery lasted me for a full day of texting, Web browsing, emailing and video watching. If pressed, I'll still take an HTC Thunderbolt, or the newish Samsung Droid ChargeDroid Charge, over the flagship Motorola Droid smartphones. It's not a question of functionality so much as form.
I can recommend the Droid 3 to any shopper seeking an Android phone with a big, full QWERTY keyboard that runs media and enterprise applications with ease. But if a consumer's prerequisite is for a smartphone with only a big touch-screen for input, this phone is not for them.
Further information
For more images of the Motorola Droid 3, see this eWEEK slide show. Information stemming from an iFixit teardown of the device may also be found on eWEEK.
Clint Boulton is a writer for eWEEK.
---
This article was originally published on LinuxDevices.com and has been donated to the open source community by QuinStreet Inc. Please visit LinuxToday.com for up-to-date news and articles about Linux and open source.