Mar 2, 2010 — by Eric Brown — from the LinuxDevices Archive — 28 views
ADI Engineering announced a line of 3.46 x 4.33-inch single board computers (SBCs) with PoE+, multimedia, and DVI/VGA video expansion daughtercards. The Cinnamon Bay SBCs are built around Intel's Z5xxP- and -PT Atom processors and offer Arium's microSD-bootable AE Linux distro.
ADI Engineering, which has no relation to chipmaker Analog Devices, Inc. (ADI), bills itself as the "Open IP ODM." Back in 2002, the company aligned itself with Timesys to offer Linux on ADI's family of Intel XScale development platforms. The Charlottesville, Virginia-based Original Design Manufacturer (ODM) now focuses on x86-based SBCs, wireless equipment, and "custom design-through-production solutions."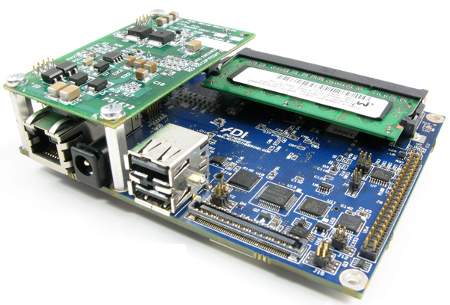 Cinnamon Bay SBC, with PoE+ daughtercard on left


(Click to enlarge)
ADI says its Cimmamon Bay SBCs support a wide range of embedded applications such as industrial controls, digital signage, interactive kiosks, IP media displays, military, medical, gaming, and point of sale (PoS) terminals. They're available in three models, all of which measure 3.46 x 4.33 inches (88 x 110mm). The A530P and A510P models are respectively based on Intel's Z530P (1.6GHz) and 1.1GHz Z510P
automotive-oriented Atom CPUs
.
The company also offers an A520PT model that can withstand temperatures ranging from -40 to 185 deg. F (-40C to +85 deg. C) and is designed to meet a variety of industrial, military, automotive, and outdoor applications, says the company. This board uses the extended-temperature Z520PT Atom processor, clocked to 1.33GHz. (This CPU appears to have replaced the 1.6GHz PT model, which is no longer listed by Intel.)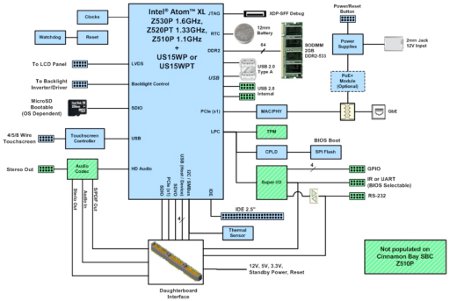 Cinnamon Bay SBC block diagram


(Click to enlarge)
The Cinnamon Bay SBCs ship with 256MB, expandable to 2GB of DDR2 RAM, and offer a bootable microSD slot, as well as a header for a PATA 2.5-inch storage port, says ADI Engineering. For video, the boards provide a 24-bit LVDS connector, and offer hardware video decoding of MPEG2/4, H.264, VC1, and WMV9, at up to 1080p quality, says the company. A touchscreen controller and LCD backlight power input are also said to be provided.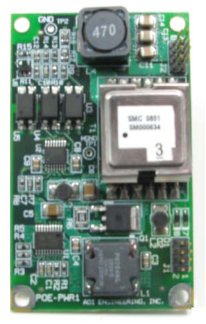 The Cinnamon Bay SBCs are equipped with a gigabit Ethernet port that supports Power over Ethernet (PoE) via an optional daughtercard. The port also supports IEEE 1588 Ethernet packet time-stamping and 802.1as sync, says ADI Engineering.
The boards provide two USB Host ports, and the A530P and A520PT models also provide two additional USB headers for a total of four potential USB ports. Other I/O, including serial, IR, and discrete I/O are available via headers. Power consumption is said to run at 3.5 Watts under operation, or 500mW down to 160mW in various sleep states.
ADI also offers a proprietary daughtercard slot that supports three "off-the-shelf" daughtercards now available. These include an 802.3at PoE+ card (pictured at right), which is said to be backward-compatible to regular 802.3af PoE operation. The PoE+ IEEE802.3af standard, which was ratified by the IEEE in September, improves on the original by providing up to 25 Watts as opposed to 15.4 Watts. The 802.3at PoE+ daughtercard can not only power up the SBC, but has 20 Watts left over to power other daughtercards or peripherals, says the company.
The IP Media daughtercard, meanwhile, is larger than the Cinnamon Bay SBCs at 3.46 x 9.45 inches (inches (88 x 240mm), and is designed as a multimedia break-out board for digital signage and other media-rich apps. Pictured below, the card offers digital and analog HD and SD video out, audio I/O, WiFi and cellular radios, and an SDIO slot, among other features (see block diagram below spec list).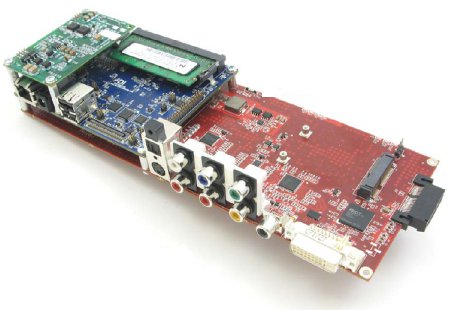 IP Media daughtercard (large red board under SBC with PoE+ card on top)
(Click to enlarge)
Finally, there's a video expansion card (pictured below) that offers either DVI or VGA capability. The daughtercard, which fits snugly underneath the SBC, and is similarly sized, also provides a PCIe slot, more USB and RS-232 ports, and discrete I/O, says ADI.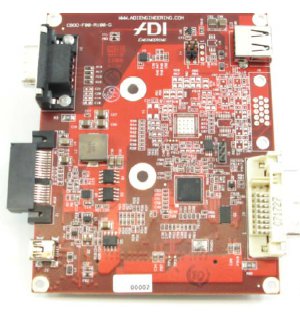 DVI/VGA daughtercard
Specifications listed for the Cinnamon Bay SBC A530P, A510P, and A520PT boards include:
Processor — Intel Atom Z530P 1.6GHz (A530P), 1.1GHz Z510P (A510P), or extended temperature 1.33GHz Z520PT (A520PT)
Chipset — Intel System Controller Hub US15WP (A530P and A510P) or extended temperature US15WPT (A520PT)
Memory — 256MB (expandable to 2GB) DDR2 via SODIMM
Flash — Bootable microSD slot
Storage — PATA 2.5-inch notebook port (1 x header)
Expansion cards (via ADI daughtercard connector):

802.3at Power over Ethernet (PoE)
IP Media — digital and analog HD and SD video out, audio I/O, and WiFi and cellular radios
DVI or VGA expansion — DVI or VGA out, PCIe slot, more USB and RS-232 ports, plus discrete I/O

Display:

24-bit LVDS via 1 x connector
Analog resistive touchscreen controller (4-, 5-, and 8-wire)
LCD backlight power (1 x connector)

Networking — 1 x gigabit Ethernet port with optional POE+ and support for IEEE 1588 Ethernet packet time-stamping and 802.1as sync
Other I/O:

USB — Up to 4 x USB 2.0 Host ports; 2 x Type A ports plus 2 x via header (A530P and A520PT only)
1 x RS232 via header (A530P and A520PT only)
1 x IR port/UART via header (A530P and A520PT only)
Discrete I/O — 4 bits via header (A530P and A520PT only)
Debug connector (XDP-SFF)

Audio — Intel High Definition audio codec and stereo audio out (A530P and A520PT only on both)
Other features:

Trusted Platform Module (A530P and A520PT only)
Watchdog timer
Real-time clock with 12mm coin cell
LEDs for power, IIDD

Operating temperature — 32 to 158 deg. F (0 to 70 deg. C) for A530P and A510P; -40 to 185 deg. F (-40C to +85 deg. C) for A520PT
Power — 12V (optional POE+)
Power consumption — 3.5W active, 500mW in S3 sleep state, and 160mW in S4 and S5 sleep states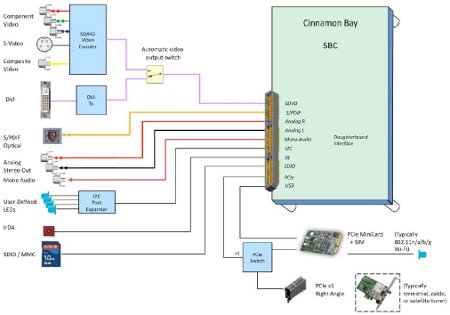 IP Media daughtercard block diagram


(Click to enlarge)
Arium AE Linux
The Cinnamon Bay SBCs are available with development kits, one of which ships with Arium AE Linux. There also appears to be another kit that supports Windows Embedded.
Arium's AE Linux distribution is targeted for headless designs requiring a small file system and kernel footprint, says Arium. The company is known primarmily for its Linux-ready SourcePoint debugging software and related ECM-XDP3 JTAG emulator.
The Cinnamon Bay SBCs can directly boot AE Linux from a microSD card, says the company The AE Linux root file system takes up 117MB, and the kernel image consumes 4.2MB for a total of 122MB, says Arium. After boot, AE Linux is said to use only 10.6MB and 172KB of buffers and cache out of the SBCs 256MB to 2GB of DRAM.
Built from unmodified public distributions, AE Linux is said to offer the following components:
Tool-chain to build both kernel and applications, including ready-to-run binaries
Source tree with all make files, et cetera to build a 2.6.29.3 kernel
BusyBox 1.14.1 target utility package
Operational file system image for the target
Scripts for operations such as copying a file system image
Documentation on how to install the kit and get started 2GB microSD card containing a ready to boot root file system and kernel
Stated Larry Traylor, Arium CEO, "For developers who are looking to build a low cost, headless system, AE Linux is a good choice. ADI Engineering's Cinnamon Bay is the perfect SBC platform for creating highly-integrated Linux solutions based on AE Linux, with low development costs per seat and a shortened time-to-market."
Stated Steve Yates, President, Founder and CTO of ADI Engineering, "Cinnamon Bay SBC specifically targets deeply embedded applications not well served by existing COM or SBC approaches."
Availability
The Cinnamon Bay SBCs appear to be available now. ADI Engineering lists 1ku direct OEM pricing as $179 (A510P), $259 (A530P), and $299 (A520PT). More information may be found here.
AE Linux also appears to be available now on the Cinnamon Bay SBCs, and is also available for free download at Arium, here.
---
This article was originally published on LinuxDevices.com and has been donated to the open source community by QuinStreet Inc. Please visit LinuxToday.com for up-to-date news and articles about Linux and open source.