May 18, 2011 — by Eric Brown — from the LinuxDevices Archive — 3 views
Attachmate named Nils Brauckmann president of its new SUSE business unit — and also affirmed its commitment to SUSE Linux, the OpenSUSE project, SUSE Studio, and SUSE Manager. Aside from shedding the Mono project, all SUSE projects will be continued, and there are no plans to change packing or pricing, says the company.
After acquiring Novell and laying off hundreds of employees earlier this month at Novell, including the entire staff of the Mono project — which re-emerged as a new "Xamarin" start-up — Attachmate moved to reinforce its commitment to SUSE Linux. Now reorganized into a separate SUSE business unit headquartered in Nuremberg, Germany, where SUSE Linux was born, SUSE is being helmed by 20-year Attachmate and Novell veteran Nils Brauckmann.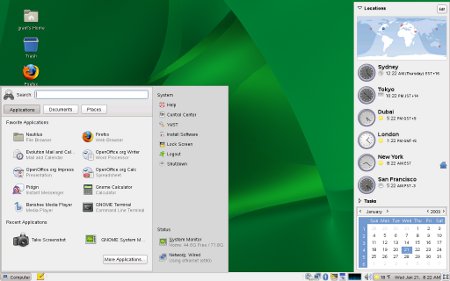 SLED 11 SP1, main screen
The new president and general manager of SUSE joined Attachmate in 1994. Brauckmann has held various management roles across sales, marketing and support organizations in EMEA at Attachmate. Previously, he served in cross-functional and international management positions for Siemens Nixdorf and Novell, says the company.
"By operating SUSE as a separate business unit focused on the Linux marketplace, we can accelerate our delivery of high-value Linux solutions that help organizations enhance growth, reduce costs, tame complexity and spur innovation," stated Brauckmann. "Now we are sharpening our focus on making SUSE Linux Enterprise the preeminent Linux distribution across physical, virtual and cloud environments."
Brauckmann went on to state that "we recognize and celebrate the value of the openSUSE Project and will remain a strong supporter of the openSUSE community," referring to the Novell sponsored community-based version of SUSE Enterprise Linux Desktop (SLED) and Server (SLES). "We reiterate our long-term commitment to the open source communities at the heart of our ecosystem," Brauckmann added.
The SUSE leadership team is said to comprise:
Nils Brauckmann — president and general manager
Ralf Flaxa — vice president of Engineering
Ronald de Jong — vice president, EMEA Sales
Terri Hall — vice president, North America Sales
John Delk — vice president, Strategic Accounts, Partners & Alliances – North America
Michael Miller — head of Global Alliances, Marketing, and Product Management
According to the Register, Brauckmann was vice president of sales and marketing for EMEA at WRQ, a one-time rival of the company in host connectivity and application modernization software. WRQ and Attachmate eventually merged, NetIQ being added to the combined companies' business later, says the story.
Brauckmann told the Register that now that SUSE has spun off as its own unit, SUSE should be able to prosper. Aside from the now-shedded Mono .NET clone technology, which Brauckman says SUSE will continue to support with customers under contract, "the rest of the SUSE roadmap stays intact," he told the publication.
In addition, SUSE has no plans to change the packing and pricing for SUSE Linux, as well as the SUSE Studio development tool, or the SUSE Manager server management tool.
According to the story, the Novell side of Attachmate will retain Open Enterprise Server — a set of NetWare services running on top of a SUSE Linux kernel — as well as NetWare, GroupWise, and various directory and identity management tools. The SUSE unit will maintain development labs in Provo, Utah, Beijing, China, and Bangalore, India, says the story.
Novell quadrupled SUSE Linux revenues since its reorganization in 2003, but Red Hat "has been able to stay about a factor of five times as large through its own expansion into middleware and through the popularity of its Enterprise Linux stack," says the Register. Attachmate now has over 65,000 customers and "is probably a bit larger than Red Hat in terms of revenue stream," although Red Hat is expected set to break the $1 billion mark this year, says the story.
Stated Jeff Hawn, chairman and CEO of the Attachmate Group, "By dedicating focused resources to the brand, we are providing our teams the agility and adaptability required to support the rapidly growing enterprise Linux market."
---
This article was originally published on LinuxDevices.com and has been donated to the open source community by QuinStreet Inc. Please visit LinuxToday.com for up-to-date news and articles about Linux and open source.