Dec 21, 2009 — by LinuxDevices Staff — from the LinuxDevices Archive — 13 views
Intel announced its new "Pineview" Atom processors, touting a 20 percent improvement in average power consumption and a smaller package size. The N450, aimed at netbooks, is a single-core Atom processor clocked at 1.66GHz, while the D410 and D510, single- and dual-core respectively, target entry-level desktop PCs, the company says.
The new Atoms have been expected for months, though Intel surprised the industry by moving their launch up to today. The overall "Pine Trail" platform, which includes not only the new Pineview Atoms, but also the NM10 southbridge nicknamed "Tiger Point," was originally set for launch either Jan. 3 or Jan. 10, according to a variety of reports and purportedly leaked Intel documents.
Last week, however, two new Intel motherboards featuring Pine Trail were revealed and even benchmarked by resellers, perhaps convincing the chipmaker that it could no longer keep a lid on any relevant product information. (For details, which include speed test results and comments on the chipset's graphics capabilities, see our earlier coverage, here.)
Further, courtesy of a pair of separate leaks, we're already aware of two netbooks that will pack Pineview CPUs. For example, Lenovo's IdeaPad FL5-B3 was revealed last month by documents that appeared on the Federal Communications Commission website. It will include the 1.66GHz CPU, a 10.1-inch display, 2GB of RAM, and a 250GB hard disk drive, according to the FCC documents.
Asus' Eee PC 1008P, meanwhile, was depicted via photos leaked on the Hardware Zone website. A revamp of the manufacturer's Eee PC 1008HA netbook, the device includes a 10.1-inch screen along with other typical netbook ingredients, adding an HDMI port.
Space savings and lower power consumption
According to Intel, its overall Pine Trail platform — or "kit," as the chipmaker referred to it in this morning's announcement — shrinks the number of chips required to develop an Atom-based device down to two: the "Pineview" CPU package, plus the NM10 I/O controller.
Of the three Pineviews announced today, all clocked at 1.66GHz, the N450 is designed to replace Intel's N270 — the "chip that launched a thousand netbooks." The D410 and D510, meanwhile, are designed to replace the Atom 230 and Atom 330, respectively. The latter two parts are now described as targeting "entry-level desktop PCs," Intel having given up on its awkward "nettop" moniker.

The N450 (right) apparently retains the N270's 45nm manufacturing process and BGA (ball grid array) size of 22 x 22mm. But, instead of requiring a separate northbridge and southbridge — for the N270, these were the 945GCSE and 82801GBM — it needs only the NM10 I/O controller, for a substantial savings in both board real estate and power consumption.
A northbridge is no longer necessary because the N540, along with the D410 and D510, brings its memory controller and graphics core (the GMA3150) on-die, as pictured below. Calling this "a first in the industry on x86 chips," Intel says the total chipset footprint for netbooks has decreased in size by approximately 60 percent, while entry-level desktop PCs get a nearly 70 percent reduction in footprint.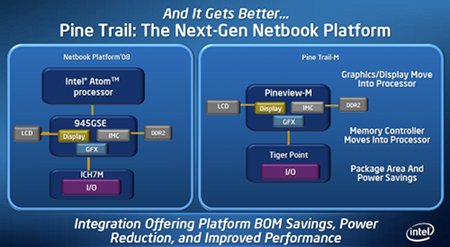 Intel's upcoming Pine Trail chipset
Source: Intel
(Click to enlarge)
As for power usage, Intel says the new N450 has a 5.5 Watt TDP, while the D410 and D510 have TDPs of 10 and 13 Watts, respectively. While these figures initially sound unimpressive, it's worth remembering that because no northbridge is required, the only additional power draw comes from the NM10, which consumes under two Watts. The chipmaker claims its total kit for netbooks now uses 20 percent less power than before, while the entire package for nettops — oops, "entry-level desktop PCs" — now requires 50 percent less.
| | | | | | |
| --- | --- | --- | --- | --- | --- |
| | Clock speed | Cores | Second-level cache | Memory (DDR2) | TDP |
| N450 | 1.66GHz | 1 | 512KB | 667MHz | 5.5 Watts |
| D410 | 1.66GHz | 1 | 512KB | 667/800MHz | 10 Watts |
| D510 | 1.66GHz | 2 | 1MB | 667/800MHz | 13 Watts |
The new Pineview CPUs
Source: Intel
Intel said today it has shipped over 40 million Atoms for netbooks and entry-level PCs since June 2008. (This figure apparently pertains to the N270, 230, and 330, and does not include the Z5xx "Silverthorne" CPUs, announced in April 2008 and now a mainstay of many embedded devices.) The chipmaker added that it has more than 80 design wins already for the Pine Trail platform, including Asus, Acer, Lenovo, Dell, MSI, Toshiba, Samsung, and Fujitsu.
The bulk of the new systems will feature Windows 7 Starter or Home Basic operating systems, according to Intel. But, the chipmaker touted its Moblin Linux distribution as "an alternative for customers who desire a customizable and differentiated user interface," and Dell is said to be preparing an Ubuntu Linux-ready N450-based netbook. Other new netbooks featuring N450 processors have reportedly already been announced by Asus, Fujitsu, MSI, and Intel itself (the latter a revised Classmate design). "
Mooly Eden, Intel corporate VP and GM of the company's PC Client group, stated, "The Intel Atom processor has fueled an entirely new category of computing over the last year and a half, and we think the growth will continue. We're excited to be delivering the next-generation Atom platform and working across the industry as we head into a second phase of growth, powering innovative new system designs with better performance, smaller footprints and better battery life."
While Intel made no mention of the fact today, it has promised another Atom platform known as "Moorestown," apparently intended to replace Silverthorne. Expected to ship later this year, Moorestown will include a SoC (system on chip) codenamed "Lincroft" and an I/O hub codenamed "Langwell," and will offer a tenfold reduction in idle power consumption, the company has claimed.

Intel's new N450, D410, and D510
Source: Intel
(click to play)

Availability
Intel did not announce pricing for the N450, D510, or D510, but said systems based on the new chips will be available on Jan. 4 at existing price points.
---
This article was originally published on LinuxDevices.com and has been donated to the open source community by QuinStreet Inc. Please visit LinuxToday.com for up-to-date news and articles about Linux and open source.