May 1, 2008 — by Eric Brown — from the LinuxDevices Archive — 2 views

MontaVista Software announced that its Carrier Grade Linux distribution supports P.A. Semi's "PWRficient" dual-core 2GHz PowerPC processor. The news comes only a week after Apple revealed plans to acquire P.A., a fabless semiconductor firm.
P.A. Semi href="/NS7626583293.html" target="new">first unveiled its ultra-low-power "PA6T" micro-architecture in late 2005, and started sampling the Linux-friendly PWRficient PA6t-1682M a little over a year later. The unveiling came months after Apple switched from PowerPC to Intel, apparently crushing P.A.'s rumored hopes of being acquired by Apple and becoming its in-house chip design division.
Apple's x86 move left P.A. to pursue PowerPC's other market niches, including telecom infrastructure equipment. There, the PWRficient chips appear to have achieved some success. According to P.A., the PA6T-1682M was alpha-tested by 10 development partners, and attracted 100 initial customers, including the likes of Curtiss-Wright, Extreme Engineering Solutions (X-ES), Mercury Computer Systems, Performance Technologies, Splitted-Desktop Systems, and Themis Computer.

Now, with power efficiency and longer battery life gaining ever more importance across server, desktop, and especially mobile device segments — and P.A.'s chips actually shipping (and selling) — Apple may have re-thought its estimation of the company's value. P.A. is led by Dan Dobberpuhl (pictured at right), a former VP of broadband processors at Broadcom, and a 20-year veteran of DEC's Alpha chip design team. P.A. says Dobberpuhl also led development of StrongARM and SiByte processors, architectures renowned for power efficiency.
Its pending acquisition suggests that Apple may return to its PowerPC roots, at least with some products. But, given Apple's penchant for not sharing technology with other companies, where will the buy-out leave P.A.'s other customers?
MontaVista, for one, appears bullish, wasting no time in getting out a press release about its readiness to support PWRficient chips. P.A.'s currently shipping parts were clearly designed for telecom applications, so perhaps Apple will not guard the parts too jealously.
Alternatively, perhaps MontaVista too could be acquired by Apple, and put to work developing Carrier Grade Mac OS X? Given MontaVista's formative role in shaping Carrier Grade Linux, the notion may not be as far-fetched as it sounds at first blush. MontaVista calls its CGE product the "most widely-deployed Linux in the carrier grade market." Launched in 2002, CGE a year later became the first distribution to register compatibility with the Carrier Grade Linux (CGL) specification. And today, CGE is "preferred" by seven of the top eight network equipment providers, MontaVista claimed last November when it last updated the product.
Another Carrier Grade vendor supporting P.A.'s chips is Wind River, which had PWRficient ports of both the Linux and VxWorks versions of its Platform for Network Equipment product ready from the start. Wind River's Workbench tools also support the PWRficient chips and their dev board, the vendor has said.
The power-efficient, dual-core PA6t-1682M (pictured top-of-page) is equipped with dual PA6T cores clocked at 2GHz apiece. The chip has a TDP (thermal design power) of 25 Watts — roughly 3-4 times lower than other similarly equipped processors fabricated on 65 nanometer technology, the company claims. Designed specifically for telecom, according to P.A., the chip also has a programmable SERDES (serializer-deserializer) for flexible interfacing with high-speed communications circuits.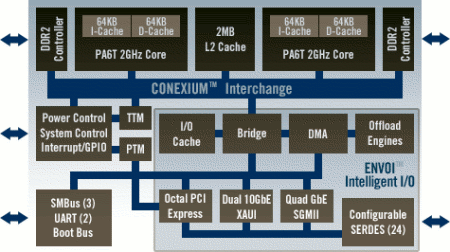 PWRficient PA6t-1682M block diagram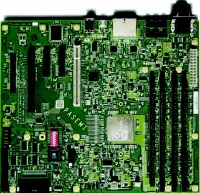 PAEV evaluation board
(Click to enlarge)
An ATX development board called the PAEV-1682M-001 (pictured at right) is available for the chip. It is said to run Linux, QNX Neutrino, and VxWorks, with additional OS support announcements expected soon. Wind River's Workbench supports the chip under both Linux and VxWorks, says P.A.
As with Carrier Grade Linux (CGL) distributions from Wind River and Performance Technologies, MontaVista Linux CGE 5.0 recently achieved CGL 4.0 registration.
Stated Patrick MacCartee, director of product management at MontaVista, "A combination of MontaVista's expertise in real-time processing and Linux power management with P.A. Semi's cutting-edge high-performance, low-power processors is a winning combination for embedded device developers."
Availability
MontaVista Linux CGE for the PA6T-1682M PWRficient processor is available now, says the company.
---

This article was originally published on LinuxDevices.com and has been donated to the open source community by QuinStreet Inc. Please visit LinuxToday.com for up-to-date news and articles about Linux and open source.