Jan 25, 2007 — by LinuxDevices Staff — from the LinuxDevices Archive — 4 views
Six of the world's largest telecommunications companies have officially launched a non-profit organization dedicated to creating a common mobile Linux software platform. Founded by Motorola, NEC, NTT DoCoMo, Panasonic Mobile Communications, Samsung Electronics, and Vodafone, the LiMo Foundation is inviting membership and participation from application and middleware developers.
The collaboration of giants now known as the LiMo Foundation was first announced in mid-June of last year. The group's goals and official name remained a mystery until today, while the sheer stature of the companies involved led to much speculation about their intentions.
NTT DoCoMo is the world's largest telecommunications company, and indeed, one of the largest companies in the world. Motorola is the world's second-largest handset vendor, behind Nokia. Motorola, Panasonic, NEC, and Samsung may well rank first, second, third, and fourth in terms of the volume of Linux-based phones shipped to date. Thus, the LiMo Foundation could have the power to unify the Linux mobile phone market in a way that standards bodies — and there are many working to standardize Linux for mobile phones — can only dream of.
The LiMo Foundation says it aims to create the "world's first globally competitive, Linux-based software platform for mobile devices." It aims to achieve this by defining:
An API specification
An architecture
References to open source code
New source code-based reference implementation components (to be developed and contributed by Foundation members)
Specifications for referenced third party software
The Foundation has published a very high-level whitepaper about its technology development plans. The five-page paper includes a diagram showing the scope of the group's work. The areas in green on the diagram below represent areas where LiMo members will be able to make contributions, the paper says.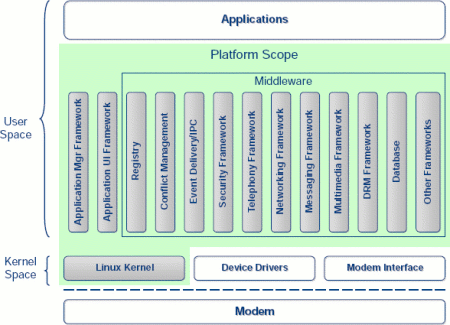 LiMo Foundation architecture
(Click to enlarge slightly)
The whitepaper offers brief definitions of components within the architecture that the Foundation intends to develop. A few hints are given about existing open-source components likely to be adopted. For example, the description of the Application UI Framework says that GTK+ will be included.
Licensing and certification plans
In the simplest terms, LiMo will publish specifications that define a common, low-level, Linux-based operating system. It will also distribute test suites that help phone vendors and software developers self-certify their products against the specification. Products demonstrating conformance will be allowed to sport a Foundation trademark logo.
From a legal perspective, it appears that the LiMo Foundation will license its APIs to members on a royalty-free basis, using a "Foundation Public License" (FPL). Of course, the kernel and middleware defined by the Foundation's specifications will remain under open source licenses such as the GPL.
The FPL in a way resembles the GPL, requiring that modifications be contributed back on a non-discriminatory basis to all other Foundation members. However, the license forbids source code distribution to non-members of the Foundation under any terms.
Instead, non-members such as third-party application developers will be able to license the Foundation's APIs under a "Foundation API" license, and its header files under an "Object Code License."
The FPL license will have two variants. One version encompasses patents as well as copyrights, and will be required for "Common Core" software components that are mandated by LiMo specifications. A second copyright-only FPL variant will be optionally available for "Non-Common Core" components, enabling Foundation members to license patented technologies to one another.
Foundation membership at the "Founder" level is closed; however, membership remains open at the "Core" and "Associate" levels. The three are structured as follows…
Founder:

First year fee, $800,000
Ceases to exist after five years (Founders can become Core members)
Appoints representatives to Executive, Architecture, and Requirements Councils
Can "access, modify, and commercially ship product using Foundation code

Core:

First year fee, $400,000
Can participate in all Councils, and lead working groups
Can "access, modify, and commercially ship product using Foundation code"

Associate Member:

First year fee, $40,000
Can participate in Requirements Council and working groups
Can "access and modify Foundation code"
Mobile Linux "standards" — an embarrassment of niches?
Seemingly everyone involved with Linux-based mobile phone development shares the common goal of standardization, and the outlined goals of the LiMo Foundation appear to overlap with at least four parallel efforts:
However, to date no single effort appears to have gathered much commercial momentum. While LiMo's API will essentially be proprietary, its ambitious effort to create an open framework for industry collaboration represents one of the most interesting applications yet for open-source software, and a truly fascinating experiment in mixing open, closed, and collaborative software development models.
---

This article was originally published on LinuxDevices.com and has been donated to the open source community by QuinStreet Inc. Please visit LinuxToday.com for up-to-date news and articles about Linux and open source.