Feb 28, 2011 — by Eric Brown — from the LinuxDevices Archive — 8 views
China Unicom announced its own Linux-based, Android-like WoPhone operating system, with initial phones to be offered by Huawei and Beijing Tianyu Communication Equipment. The WoPhone announcement follows last week's news that China Unicom rival China Mobile will offer four Asus smartphones and a tablet running the carrier's new OMS 2.0 (OPhone) Android variant on a new TD-CDMA-ready Marvell PXA920 processor.
China Unicom, the much smaller rival to China Mobile in the Chinese mobile carrier market, will embed WoPhone with its own 3G applications, according to a TMC.net report for which Xinhuanet.com was credited. According to the report, WoPhone "is developed on the basis of Android" and is "compatible with several different mobile phone operating systems." The nature of that compatibility was not clarified.
According to a Wall Street Journal report, WoPhone is not actually based on Android, but rather is an original Linux-based mobile distribution. It would appear, then, that the distribution is "Android-like," but is not primarily borrowed from Android code.
Since Android is an open source operating system, of course, anyone can use it to build their own versions. Licensing is only required if someone wants to use popular Google mobile apps, such as Google Maps, which are often considered key to the Android experience.
The first Chinese Android variant was China Mobile's OMS distribution, which runs on phones branded under the "OPhone" moniker (see farther below). Another China-localized Android spin-off, called Tapas, was launched by Kai-Fu Lee, the former president of Google China.
Mobile phone makers including Huawei Technologies and Beijing Tianyu Communication Equipment have participated in the development of the WoPhone platform, says TMC.net. The Wall Street Journal adds that Samsung, HTC, and ZTE have all committed to offer WoPhone phone models, and that WoPhone would also support tablets.
China Unicom will soon launch a developer community and application download platform designed for WoPhone, says TMC.net. The story notes that the carrier first said it would build a mobile operating system called "UPhone" back in 2009. While China Unicom apparently did not offer more technical details about WoPhone, the earlier UPhone was expected to offer an application shop, widgets, and support for 3D hardware speedup, touchscreens, and GPS services, says the story.
WoPhone devices will be sold at a range from CNY 1,000 to CNY 2,000 (about $150 to $300), and be oriented to medium- and low-end users, says TMC.net. At publication time, there was no information available on WoPhone on the China Unicom site.
Asus and Marvell to collaborate on OPhone 2.0 phones
On Feb. 23, China Unicom's larger rival China Mobile announced that Asus was developing four OPhone 2.0 phones, meaning that they are based on version 2.0 of China Mobile's two-year-old "OMS" Android variant. The world's largest carrier by subscriber base will exclusively offer four Asus phones — the T10, T20, T25 and T60 — as well as a tablet, supporting its TD-SCDMA (Time Division-Synchronous Code Division Multiple Access) network, says a story in Forbes.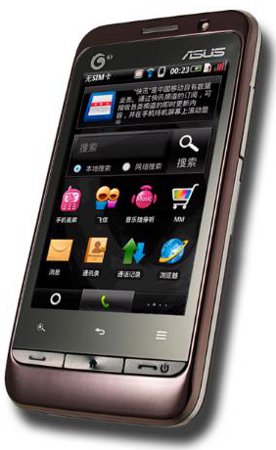 Asus T10
Marvell, meanwhile,
announced
that two of the four Asus phones — the T10 (pictured) and T20 series - will be based on a new processor that integrates TD-SCDMA support, called the Marvell PXA920. The processor appears to be a China Mobile-specific version of the 1.2GHz, ARM/XScale architecture
PXA978
chip announced in mid February (see farther below for more details).
According to Forbes, all the Asus devices will run on Marvell processors, and the first phone — the T10 — will ship in March. The phones are said to sell for about CNY 2,000 ($300). Asus told Forbes it would also modify one of its upcoming Eee Pad Android tablets to work with OMS/Ophone 2.0.
Asus' fairly modest mobile phone effort is primarily focused in Europe, but soon, "China will be our biggest mobile market," Benson Lin, Asus' head of mobile devices, was quoted as saying. "China is very important to our future," Lin told Forbes, noting that if Asus only tapped five percent of China Mobile's 590 million subscribers, the total would still be "a huge number."
Most handset vendors are waiting for China to upgrade its networks to 4G LTE technology before they announce major products, but Asus believes it can gain an advantage in moving now on 3G, Lin told the publication.
Asus is willing to customize its new phones to Chinese tastes, says the story. The devices will hook up to the Chinese social network RenRen instead of to Facebook, and go to the Baidu search engine instead of Google, says the story.
Baidu is now facing a potential antitrust investigation after the company was accused of blocking and degrading the search query results of a Chinese online encyclopedia website, according to a PCWorld article. The censorship-friendly search engine routinely pulls politically suspect search results at the Chinese government's request, such as a recent song in support of Egyptian revolutionaries, according to RFA.org.
Asus (also known as Asustek) currently sells mobile phones to China Unicom, which uses the WCDMA cellular standard, says the story. Asus claims to be China's second largest provider of laptops, having sold 20 million standalone devices there in 2010, including laptops, motherboards, VGA graphics cards, and optical drives.
The Taiwanese vendor has experimented with Android smartphones only peripherally via a Garmin-Asus partnership with Garmin that was terminated in October. However, it is prepping several Android based tablets and convertibles under the aforementioned Eee Pad brand.
OMS 2.0
China Mobile released version 2.0 of OMS in early February, according to TradingMarkets. The Android spin-off is said to be compatible with technologies such as SVG (Scalable Vector Graphics), voice recognition and generation, and "Windows Mobile API." It is unclear what the API might enable, but it may be some sort of emulator to run WinMo apps.
The new release is also said to offer "next-generation mobile Internet and communications technologies and stronger and more efficient technology R&D for family services."
Marvell PXA920 and PXA978
The Marvell PXA920 processor found inside Asus' T10 and T20 OPhones is "the industry's first single-chip TD-SCDMA solution," according to the chipmaker. The processor is said to deliver "gigahertz speed, dynamic multimedia for mobile TV, live video, gaming," as well as Marvell's new Kinoma UI layer and "software experience."
The Asus T10 and T20 OPhones will also provide Marvell's Avastar 88W8787 chip to enable 802.11n Wi-Fi, Bluetooth 3.0, and FM connectivity, says the company. No other details were provided.
The PXA920 appears to be closely based on the recently announced PXA978, a 1.2GHz processor for mobile devices claimed to be the first to combine 3G UMTS (universal mobile telecommunications system) and TD-SCDMA cellular technology. The PXA978 appears to be based on Marvell's ARM-based XScale architecture. It is fabbed using a 40nm process, clocked at 1.2GHz, and capable of 1080p video playback, says Marvell.
Stated Weili Dai, Marvell's co-founder, "I am proud of the leading role Marvell has played in the development of the TD-SCDMA standard, and I am particularly excited to see the launch of the Asus TD smartphone with the addition of mobile gaming and mobile TV features all in one device."
Stated Benson Lin, Asus' corporate vice president and the general manager of its mobile devices unit, "Asus is very excited to have Marvell as a partner in developing the TD-SCDMA phones. Marvell's single-chip PXA 920 allowed us to produce thinner and lighter phones without compromising any technical performance."
---
This article was originally published on LinuxDevices.com and has been donated to the open source community by QuinStreet Inc. Please visit LinuxToday.com for up-to-date news and articles about Linux and open source.