Jan 5, 2011 — by Eric Brown — from the LinuxDevices Archive — views
Asus unveiled three Android based tablet devices running Android 3.0, due to ship this spring. The tablets include a Snapdragon-based, 7.1-inch "Eee Pad MeMo" tablet, and two 10.1-inch keyboard convertible tablets running on dual-core Nvidia Tegra 2 processors: the Eee Pad Slider, which offers a slide up design, and an Eee Pad Transformer with a fold-up, detachable design.
The Asus (Asustech) tablet announcements were tipped last week via a leaked Asus video and other reports, but with minimal details. Specs are still pretty basic, but one stands out loud and clear: Android 3.0 (Honeycomb).
This would pretty much seem to settle the cyberspace ping-pong battle between Android 2.4 and Android 3.0 as to which is the rightful owner to the "Honeycomb" codename. In short — although the new Asus tablets won't reach consumers until at least April, and Motorola is expected to beat them to market — these are the first formally introduced tablets to use Google's new tablet-oriented Honeycomb version of Android.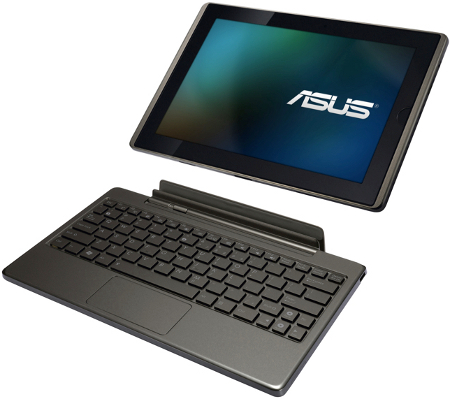 Eee Pad Transformer in detached mode


(Click to enlarge)
While Asus' new convertibles move up to a dual-core Tegra 2, the Eee Pad MeMo settles for a reasonably powerful 1GHz Qualcomm Snapdragon processor. Assuming Asus is not stupid enough to release a severely underperforming tablet — and considering the spate of unusable Android tablets that have popped up in recent months, that's a bigger "if" than it should be — this would seem to put the kibosh on the recent rumor that Honeycomb will require a dual-core ARM Cortex-A9 processor.
According to a PCMag story Monday, Enspert managing director Bobby Cha said that a Tegra 2 type processor would be a minimum requirement for Honeycomb, as would a 1280 x 720 screen. This rumor first appeared in June, although at that point a less demanding processor requirement of 1GHz was listed. That initial rumor was quickly denied by one of the alleged sources of the rumor, however, as well as by Google in an indirect way.
Asus Eee Pad MeMo
As noted, the Eee Pad MeMo runs Android 3.0 on a 1GHz Snapdragon processor. Resolution is not listed for the tablet's 7.1-inch touchscreen.
Although the MeMo uses touch-friendly capacitive technology, a stylus pen is supplied "for handwritten notes," perhaps suggesting an Asian market focus. Considering that the tablet is touted for featuring "HD playback capabilities, mobile gaming, an exciting Web experience," it certainly does not appear to be aimed at a business audience.
Eee Pad MeMo


(Click to enlarge)
A mini-HDMI port can push 1080p HD video playback to an HDTV, says the company. Beyond that and the Honeycomb installation, Asus is mum, however.
Eee Pad Transformer and Eee Pad Slider
These two tablet-convertible netbooks (or netbook-convertible tablets) are each equipped with dual-core Cortex-A9 Nvidia Tegra 2 processors running Android 3.0, says Asus. Both offer 1080p video playback, says the company.
The two devices offer 10.1-inch capacitive touchscreens with iPad-like IPS (in-plane switching) technology claimed to improve the screen's color accuracy and viewing angles. Each is said to offer both a front-facing 1.2-megapixel camera and rear-facing five-megapixel camera.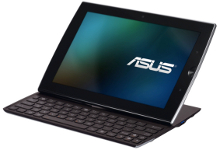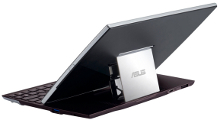 Eee Pad Slider, front and back


(Click on either to enlarge)
In addition, the Slider is said to offer 3G capability while the Tranformer provides a mini-HDMI port. We would be surprised if both features weren't found on both devices, at least as options.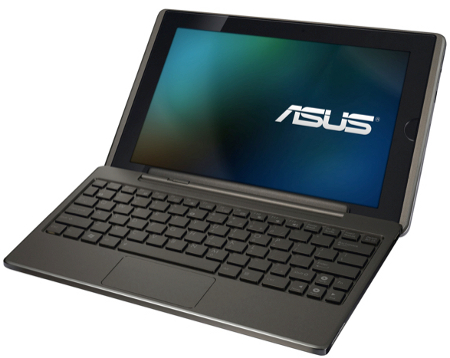 Eee Pad Transformer in netbook mode
(see farther above for detached mode)


(Click to enlarge)
The convertibles appear to differ primarily in their hinge mechanisms. The Eee Pad Slider slides up at an angle to reveal the keyboard. The Eee Pad Transformer on the other hand appears to act more like a standard netbook convertible with a larger detachable keyboard/docking station. With the tablet undocked, the Transformer can run for up to 16 hours, says Asus.
The Asus announcement also included the Windows 7-based Eee Slate EP121, detailed by our sister site WindowsForDevices. The tablet offers an Intel Core i5 dual-core processor, 12.1-inch LED-backlit display with a 1280 x 800 resolution and a wide 178-degree viewing angle, and up to 64GB of solid-state storage, says Asus.
Availability
Asus did not reveal pricing information, but The Inquirer reports that the Eee Pad MeMo will sell for between $500 and $700 in June. The Eee Pad Transformer will ship in April for between $400 and $700, and the Eee Pad Slider will ship in May at an undisclosed price, says the story.
The Inquirer is surprised at the wide price range. This would appear to suggest a wide range of options such as memory, wireless capabilities, and storage. It is odd, however, that the 10.1-inch, Tegra 2-powered Transformer might be had for less than the seven-inch, Snapdragon-powered MeMo.
Yet this is not the first time we have seen smaller tablets costing more. In this case, with the Slider and transformer, Asus could work from existing netbook designs, while with the MeMo it is entering new territory.
More information may be found at the Asus tablet announcement page.
---
This article was originally published on LinuxDevices.com and has been donated to the open source community by QuinStreet Inc. Please visit LinuxToday.com for up-to-date news and articles about Linux and open source.