Jan 20, 2010 — by Eric Brown — from the LinuxDevices Archive — views
Chromium hacker Hexxeh has released a faster, USB-bootable build of Google's Chrome OS called Chromium OS Zero. Meanwhile, ArsTechnica interviewed Google's Engineering Director for Chrome OS, Matthew Papakipos, regarding the past and future of Chrome OS.
Hexxeh's final build of Chromium OS Zero follows earlier, well-regarded releases of versions including Chromium OS Diet and Cherry. Based on the open source Linux Chromium code that Google began to release in late November, with the goal of releasing a final Chrome OS for netbooks later this year, Chromium OS Zero promises major speed improvements "for many users," according to Hexxeh's blog announcement.
The Zero release also offers a reduced, under-250MB download size, enabling storage on a 1GB USB drive. Other Zero features are said to include full extension support, the "beginnings" of multi-language input (no UI yet), new boot-process artwork, and reduced Broadcom delay (presumably for WiFi).
Hexxeh — whose actual name has not been released, as far as we know — has been the primary source for Chrome OS build releases, according to an interview with Hexxeh in TheChromeSource. The builds have been "popular mostly because they work with a lot of existing hardware, plus the builds are small enough to fit on any USB drive," writes interviewer Daniel Cawrey.
Just toying around
As with many open source hacking projects, Hexxeh's Coca-Cola-inspired Chrome builds started as "something fun to toy around with for a bit," according to the U.K.-based developer and university student. When his efforts were discovered by the press, the worldwide attention "killed my small home server stone dead," Hexxeh was quoted as saying. But he kept on coding.
According to the interview, Hexxeh has received considerable assistance both from Google and from other open source developers. Hexxeh says he is still working on vastly improving hardware support, and that he will continue to follow the main Chromium OS source tree, which he says will soon deliver "3G modem support, multi-language support, and a new login UI." He also told Cawrey he is working on implementing Chromium's Flash support, as well as developing an update system, so he won't have to re-release an entire new build with each version, says the story.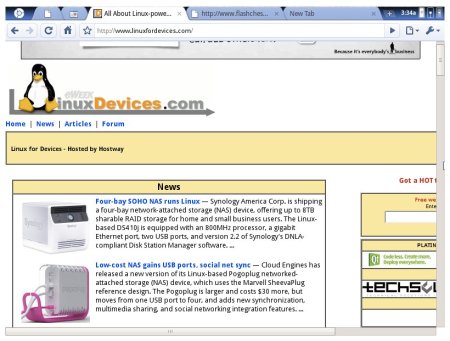 Ursenbach's earlier Chrome OS version, by way of Virtual Box
Shortly after Google released its Chromium code in bits and pieces on Nov. 19, several other third-party builds emerged. These included a
build
(pictured above) saved in the VMDK virtual hard drive format used by VMware, by
gdgt
engineer Jon Ursenbach, and
another build
by Dell employee Doug Anson for the Dell Mini 10v netbook.
Google fills in some Chrome OS blanks

ArsTechnica has published a lengthy interview with Matthew Papakipos, Google's engineering director for the Chrome OS project, held less than two weeks after the Chromium release, but only published this week. The interview, which also includes Google spokesperson Eitan Bencuya, was led by the publication's Ryan Paul and Jon Stokes.
Interview topics include the motivations and origins for developing Chrome OS, the target audience for the OS, and the relationship between Chrome OS and Android. The interview then gets into the technical issues of the media player, native client execution, security, HTML 5, UI issues, and how Google is trying to tackle the same file-handler problem as Windows OLE and the registry, but in the cloud.
As for motivations, Papakipos noted that the project would probably never have launched if not for the phenomenal popularity of netbooks, and to a lesser extent, the rise of more powerful ARM processors, according to the interview. Yet, he also noted that he puzzled over, "Why are they called netbooks; there's nothing net-y about these; they're just laptops that are small." So Papakipos and his colleagues decided it was time to try out a new web-oriented approach for netbooks.
Papakipos also told ArsTechnica that Google didn't rely deeply on demographics and focus groups for Chrome OS. Instead, he said, "We're more like, let's get it working really quick, and let's give it out to 200 people and see what happens, which is what we did."
Later in the interview, Papakipos discusses the tension between the concept of apps and the concept of a browser-based experience. "It's weird because you have this set of tabs, which is browser-managed, and you have the operating system window manager which is managing the set of applications," he told Paul and Stokes. "And Chrome OS, by making them all tabs, we can make the window manager manage those tabs in any way we want. So in some ways, the problem should get cleaner; the user model should get cleaner. Because there's not two kinds of applications. There's really just one kind of application."
Availability
Hexxeh's Chromium OS Zero release may be freely downloaded for Linux, Windows, and Mac desktops here, and Hexxeh's blog announcement should be here.
Google's Chromium page may be found here.
The interview with Hexxeh in TheChromeSource should be here.
The ArsTechnica interview with Google's Matthew Papakipos should be here.
---
This article was originally published on LinuxDevices.com and has been donated to the open source community by QuinStreet Inc. Please visit LinuxToday.com for up-to-date news and articles about Linux and open source.