Jan 11, 2011 — by LinuxDevices Staff — from the LinuxDevices Archive — 8 views
Cisco Systems unveiled a suite of Linux-based "Videoscape" IPTV hardware and software that blends TV and web content a la Google TV. Meanwhile, Verizon Wireless plans to ship 4G LTE versions of Cisco's Android-based, enterprise-focused Cius tablet and Linux-based ISR routers.
Cisco Systems is building Videoscape-branded digital television components for service providers who want to rival Google TV and other systems that combine web and TV content. At the 2011 Consumer Electronics Show in La Vegas last week, Cisco CEO John Chambers showed off Videoscape, which helps consumers search for, access and manage Internet video, cable television, videoconferencing, and other features.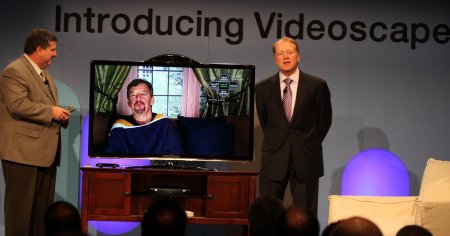 Cisco CEO John Chambers demonstrating Videoscape at CES
Chambers said Videoscape will help consumers watch any of their subscribed TV content from any device, including TVs, tablet computers, and smartphones. He said the service is designed to answer the question: "As video really starts to explode, how in the world are we going to share it in a convenient and simple way, much like the Internet."
Videoscape comprises a media gateway, an IP set-top box (pictured below) and Linux-based software components. The gateway is available in two versions. First, a Cisco TES301 IP Managed Services Gateway product is an application-centric gateway that integrates voice, linear, online video, HSD (high speed data), mobility, and routing, says Cisco. The gateway also delivers home security, video monitoring, and energy management applications, to multiple screens around the house.
Second, a more-advanced Cisco DRG 7000 Series IP Video Gateway offers optimized video presentation to more devices through conversion of multiple MPEG4 streams from multicast to unicast, says the company. This video-centric gateway is said to support DOCSIS 3.0 channel bonding, Multimedia over Coax Alliance (MoCA), and Digital Living Network Alliance (DLNA) standards.

Cisco Videoscape IP Set-top Box


(Click to enlarge)
In a demonstration of the product, Chambers revealed an interface that looked very much like
Google TV's
Android-based user interface, with options to access recorded and on-demand video on the left. Content and application tabs live on the right. Users may also tweet on Twitter or share information on Facebook about content they are watching.
Chambers made a short video with a Cisco Flip video recorder and played it back on a TV via the Videoscape media gateway, which processes voice, data, and video content. Chambers also placed a video call to his cousin in West Virginia, and was able to port content from Videoscape to watch on a smartphone via the IP set-top box.
"We think the future is going to be about reinventing the TV," Chambers said, emphasizing consistency of service quality across any device.
Unlike Google TV, Roku, and devices based on the Boxee IPTV stack, Videoscape won't be sold directly to consumers. Instead, the solution will be sold to cable operators to distribute to their consumers. In the U.S., this could give service providers a measure of control over the content they serve to customers. So far, Cisco has only confirmed that Australia's Telstra is on board for the product.
Cisco hasn't announced pricing or an availability date, but when Videoscape is completed it will work with the company's UMI consumer teleconferencing product.
Cisco Cius tablet to go 4G on Verizon
Also at CES, Cisco Systems and Verizon Wireless announced they are teaming up on a number of 4G broadband initiatives, including offering Cisco's Android-based Cius business communications tablet on Verizon's LTE (Long-Term Evolution) network.
The companies will also develop LTE interfaces for Cisco's second-generation ISR (Integrated Services Routers) aimed at enterprises and SMBs. The ISR routers can run Linux with the help of an Cisco Application Extension Platform.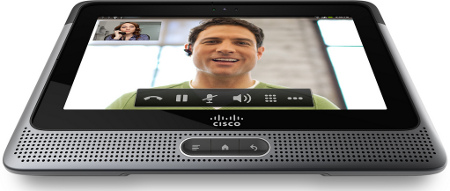 Cisco Cius
The Cius will ship in March in its 3G version and later in the spring on Verizon with a 4G radio, say the companies. Based on a 1.6GHz Intel Atom, the Cius offers a seven-inch touchscreen, 32GB of flash, and 3G and 802.11 a/b/g/n communications. Other features are said to include a 720p-capable front-facing videocam, a five-megapixel still camera, plus an optional HD audio docking station equipped with a telephone handset.
Aimed at enterprise users, the Cius will run Cisco collaboration and communications offerings, including WebEx online conferencing, and will be managed by Unified Communications Manager software. Users also get access to other Android applications. It was unclear whether it would also be supplied with an interface for accessing Videoscape.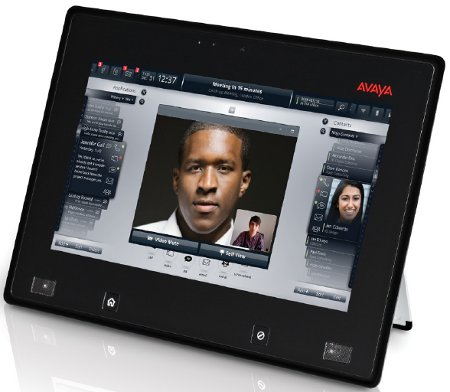 Avaya Desktop Video Device with Avaya Flare Experience
Rival Avaya announced a somewhat similar, Android-based
Avaya Desktop Video Device
in September, and showed it off again at CES. The 11.6-inch tablet device is powered by an Intel Atom, offers HD video and audio capabilities, provides campus-wide mobility via SIP (Session Initiation Protocol) and Wi-Fi, as well as 3G and 4G access, says Avaya.
The tablet is part of Avaya's larger Avaya Flare Experience video communications initiative.
Availability
More information on Cisco Videoscape may be found at its Videoscape page.
Clint Boulton is a writer for our sister publication eWEEK.
---
This article was originally published on LinuxDevices.com and has been donated to the open source community by QuinStreet Inc. Please visit LinuxToday.com for up-to-date news and articles about Linux and open source.